February 7, 2018 | Categories DonorPerfect Update, Featured, Fundraising Strategies, Nonprofit Technology, Social Fundraising, SofterWare Products
Raise More Money with our New Crowdfunding Platform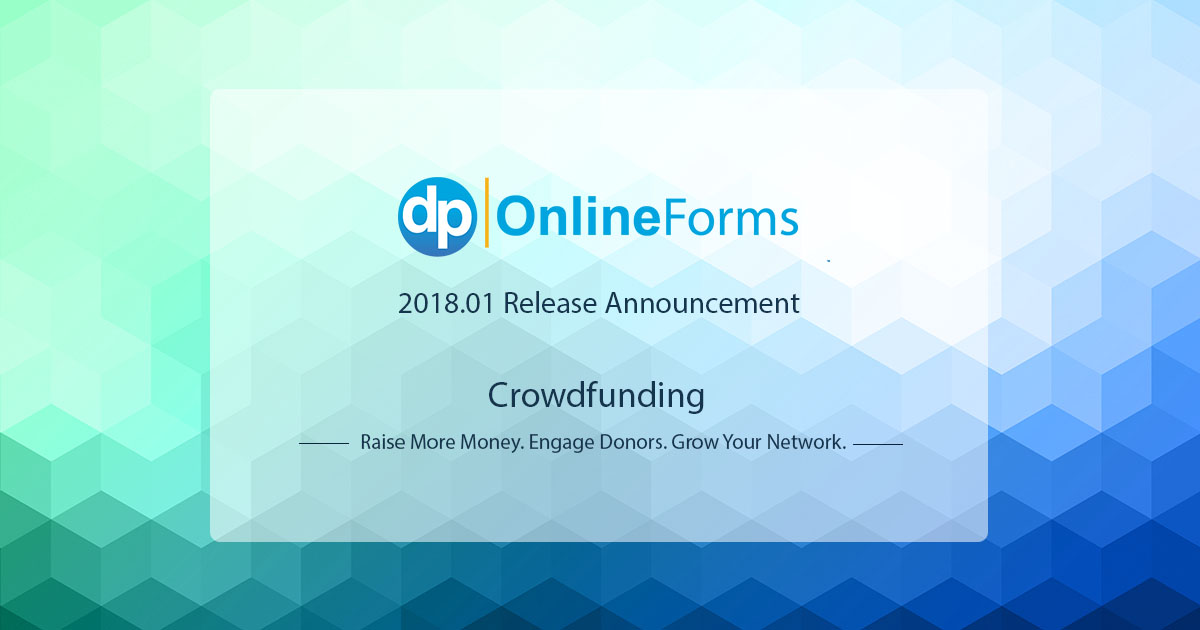 Your donors love your nonprofit and care deeply about your mission. How can you engage them in a meaningful way? With today's release of DonorPerfect Online forms, you can leverage the power of crowdfunding to build a community around your nonprofit and generate more revenue. DonorPerfect's crowdfunding platform offers donors an easy way to support your organization with individual fundraising pages they can create, personalize and share with family and friends.


How Does a Crowdfunding Platform Work for My Nonprofit?
It's quick and easy to get started. Set up your main organizational form with any customized codes (e.g., Thank You Letter, campaign, solicitation, etc.) needed for filtering and reporting in DonorPerfect. When constituents visit your form, they'll click a link to create and edit their own individual pages, inheriting any default values you've set in your form. Gift and donor data collected by all DonorPerfect Crowdfunding pages flows right into DonorPerfect, saving you time on data entry.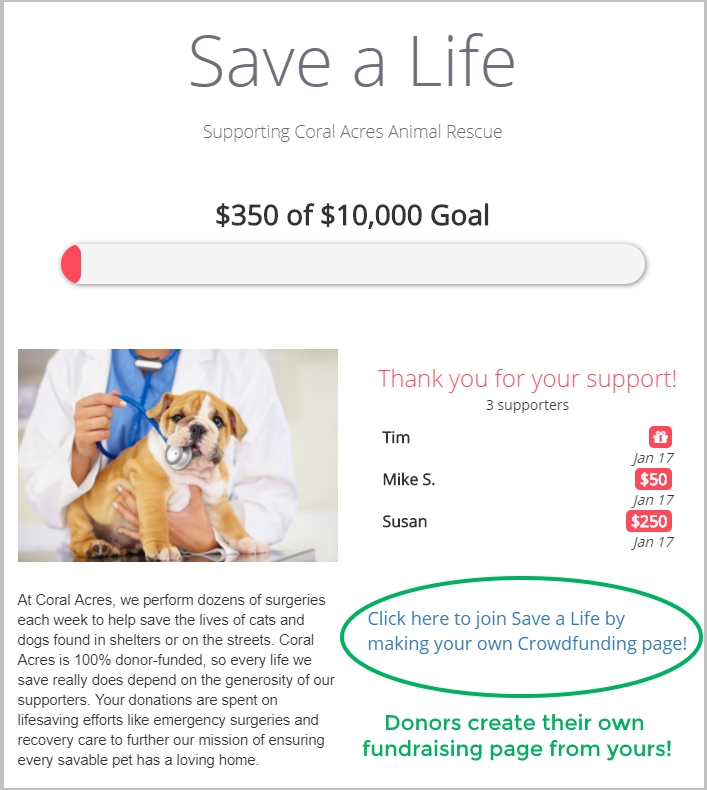 Want to see Crowdfunding forms in action? You can try it out yourself on this live organization form or individual fundraiser's form.


Getting Started with Crowdfunding
With today's release, our crowdfunding platform is available to all DonorPerfect Online Forms Plus users. (Not a DP Online Forms Plus user? Watch this video to learn more and get started now.)
Adding a crowdfunding form takes just a few short steps:
1. Click the Add Form button.
2. Choose the Crowdfunding template.
3. Follow the prompts to complete the setup of your form. We even have tips to help you personalize your organization's story!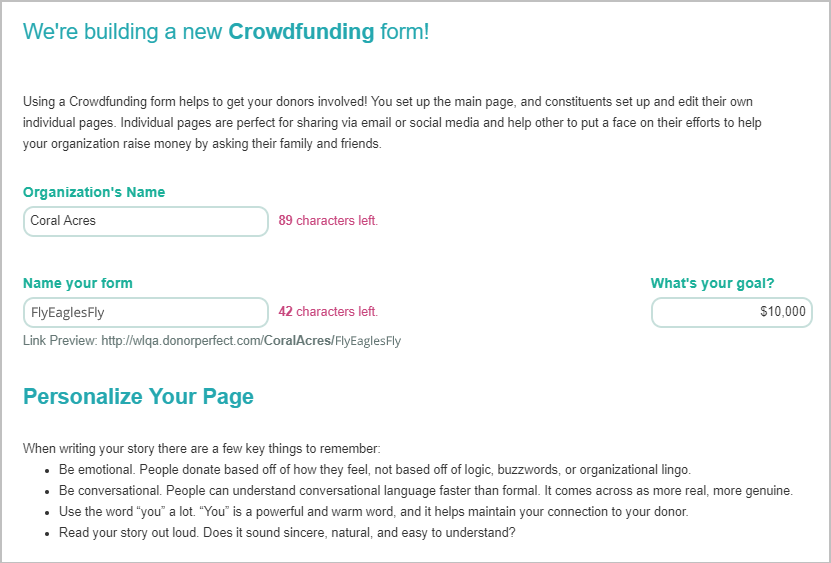 4. Crowdfunding forms are edited like all other forms you create. To edit specific crowdfunding options, such as your organization's story, click Crowdfunding > Organizational Page.
5. In Crowdfunding > Fundraiser List, manage your individual page creators and their pages.
Information about donations received through our crowdfunding platform via your organization form and the individual pages is tracked in DonorPerfect and available in reports and to export.
For full instructions, visit Creating a Crowdfunding Form in the Knowledgebase in DP Community.


See Crowdfunding in our LIVE Webinar!
Explore all the features of Crowdfunding demonstrated on a live system in our FREE webinar on Wednesday, 2/7 at 1PM ET. You'll also have a chance to ask questions via chat. Don't miss it!
Yes, I want to attend the Webinar!

NEW! Streamlined DP Online Forms Template Library
The addition of the Crowdfunding template is not the only change to DP Online Form's Template Library. We've streamlined the process to create every type of form.
Click the Add Form button to go to the new, improved Template Library. Navigate the tabs for each category – Donations, Sign-ups and Surveys, Events and Memberships – to find the specific form you need. The form's description tells you exactly what the form will do when created. To see an instant preview of any form, just click the form's tile. Once you select your form type, click Use this template to create and edit it.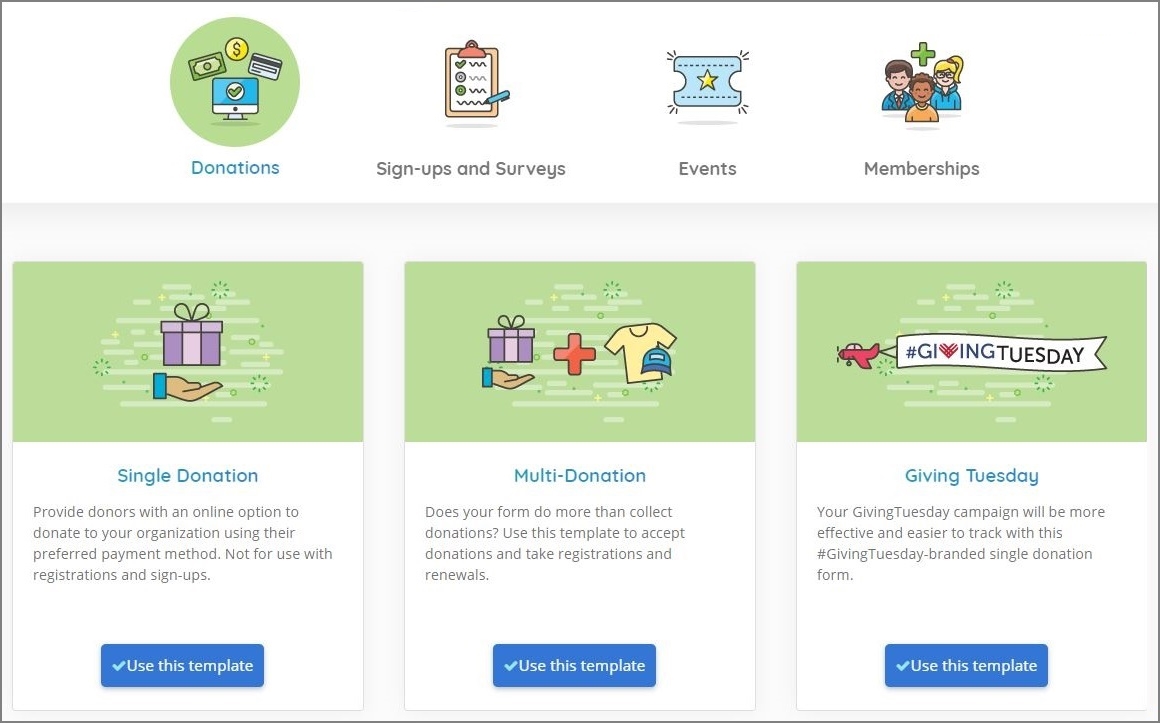 Ready to learn more?
Explore how to add a new form or watch the video to get a better idea what DonorPerfect Online Forms Plus can do.


Release Notes
The release of our new crowdfunding platform and improvements to our Form Template Library aren't the only changes in this release. Read about all of the enhancements and fixes in the DonorPerfect Online Forms 2018.01 Release Notes in the Knowledgebase in DP Community.