Release Announcement: Usability Improvements, Part 2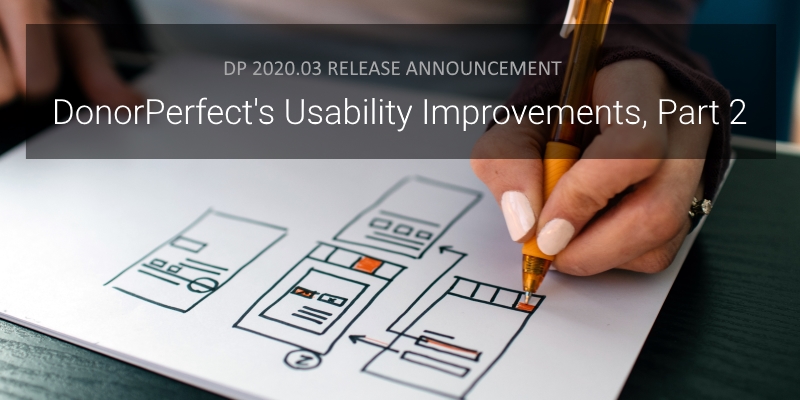 What a difference a month makes! All of our lives have changed dramatically due to the impact of Coronavirus (COVID-19). One thing that hasn't changed is our client's involvement driving improvements in DonorPerfect through our Suggest and Vote program and participation in our new Usability Testing group. We're in awe that many of our clients continued to work with our development team to provide meaningful feedback that helped shape this month's DonorPerfect usability improvements. Despite the challenges we all faced this month, we truly met them together.
Filtering Improvements Mean More Accurate Results
You rely on filtering to pull specific sets of data for accurate reporting. In this release and upcoming releases, we're working extensively with you on ways to improve our filtering to ensure you see the data you need and expect to see. We've improved the "Not Equal To" or <> filter operator. Now, this operator will include NULL results, eliminating the need for a compound filter to specify empty fields. If you've created filters that use the "Not Equal To" operator and want it to return NULL values, you should recreate the filter and delete the old one. This operator will only include the new filter logic in newly created filters moving forward.
Applying Selection Filters
We've also standardized how to apply filters in the Receipts and Notifications tabs in Receipts and in the Export to File Report. You'll no longer check the Set Selection Filter box, but instead, click Apply. Thanks to the clients who provided feedback on this during our Usability sessions. You helped make setting filters easier to understand! Thanks for driving our Donorperfect usability improvements for filters!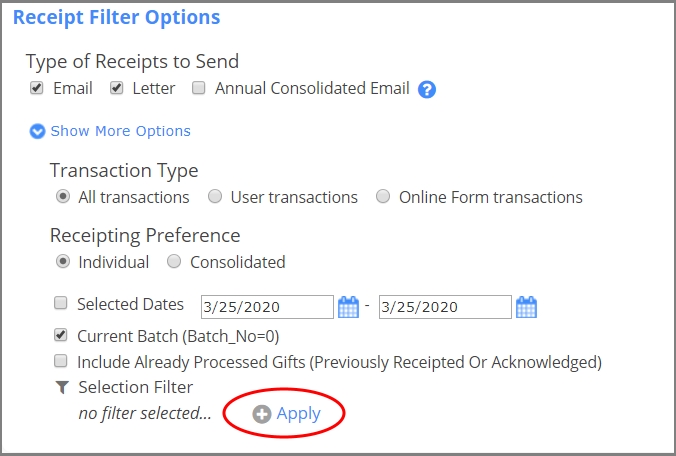 Interested in what else we're improving in DonorPerfect? Want to help shape what usability improvement we work on next? We'd love to have you join us. Click the yellow JOIN GROUP button for the Usability Testing group in DP Community to participate.
Client Feedback That Improved Reports
Last month, we converted seven of our most popular reports to use the same reporting engine that our Easy Reports do. For this release, you asked us to make some changes to the data those reports generate. Here's what changed:
Daily Log and Gifts by Date
The Daily Log and the Gifts by Date reports now only include items with a record type of G (or Gifts). Both will no longer include pledges, soft credits, failed gifts, or other transactions when displaying on screen or exporting. This is how both reports functioned before the migration to the new reporting engine.
Export to Excel Formatting
If you've selected Export to Excel for any of your Easy Reports, you may have noticed that the text on the header row is the same color as the background. No, your eyes weren't tricking you! In this release, we've fixed that.
Dropping the Y in LYBUNT and SYBUNT
Thanks to client feedback during one of our Sprint Review sessions, we've renamed the LYBNTY AND SYBNTY reports. You asked us to rename these reports to LYBUNT and SYBUNT, dropping the last Y in the report name, so that you could easily reference widely-used industry terminology when looking for the report in Report Center. We've also made improvements to the report formatting and fixed which data is included when exporting this report.
Stay On Top of the Latest News with DP's Slider
You have a lot to keep track of right now. We're making that more manageable with a new way to stay on top of all the latest DP news, content, training, and more. Just click the new Bullhorn icon in the upright hand corner, next to Log Out to display curated content in the new DP Slider.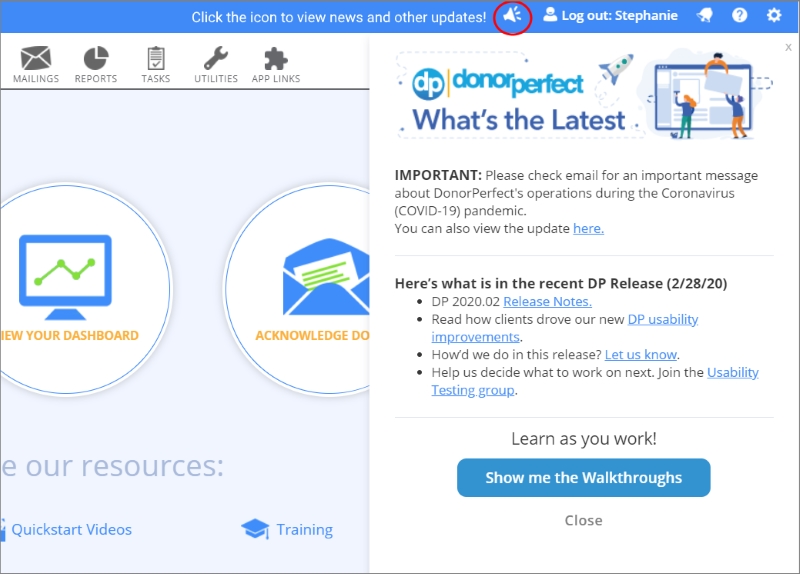 Settings That Stick With You
Has this happened to you? You go to click on the Settings Menu, and it disappears if you move too quickly or too far right on the screen? It's a little thing, but it can be frustrating to have to go back to the icon repeatedly to access your feature. We've fixed that as one of this month's DonorPerfect usability improvements. Now, as you move your cursor down the screen, the settings options persist, meaning they won't disappear. Thanks for telling us about this so we could improve your experience!
Release Notes
DonorPerfect usability improvements driven by clients are not the only updates in this release. Read about all of the enhancements in the DonorPerfect 2020.03 Release Notes in the Knowledgebase in DP Community.
Release Announcement: Usability Improvements, Part 2