August 16, 2017 | Categories Donation Processing, Donor Management, DonorPerfect Fundraising Software, DonorPerfect Update, Featured, Monthly Giving
Updated Features: Monthly Giving Alert and Numeric Field Format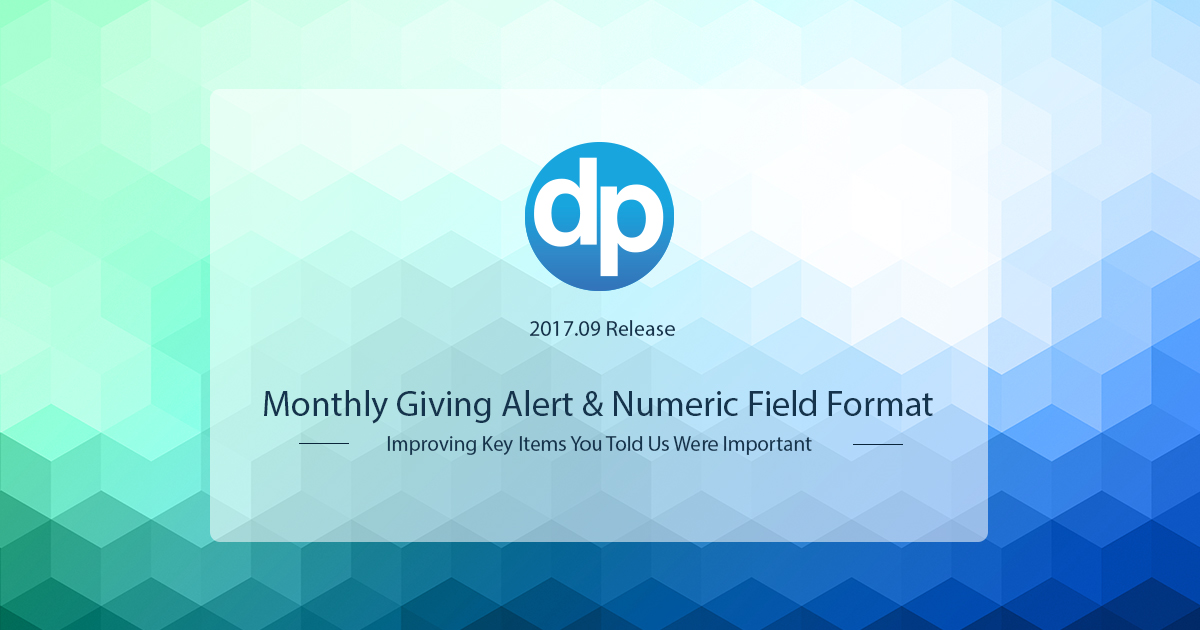 At DonorPerfect, we're just as concerned about the day-to-day details of your nonprofit as we are about the big picture. In this weekend's upcoming release, we're focused in on the details! We've improved some key items you told us were important to your organization like improving alerts for Monthly Giving and adding additional numeric field formatting.
Real-time Monthly Giving Alerts
DonorPerfect Alerts remind you to perform routine but essential tasks. Alerts can help you to follow up on
expired credit cards
,
download WebLink transactions
and send
thank you letters
or
email receipts
. One aspect that you
asked us to improve
was when these alerts get updated. Now, when you process your Monthly Giving payments, the alert will update immediately. If you've signed up for Automatic Monthly Giving, the alert will be disabled since
DonorPerfect processes the payments for you
.
Improved Numeric Field Formatting
Consistent and reliable formatting for your numeric fields in DonorPerfect is important. Using Screen Designer, you can define a range of decimal places from whole numbers to 4 decimals for a numeric field. Fields and tables in the donor's record will display the numeric field as configured. Easy Reports will also display your numeric field's settings consistently. Keep in mind that currency fields will always be formatted with 2 decimal places. Other numeric fields you create can now have up to 4.
DP Community Updates
In addition to product enhancements, your feedback improves how we interact with you and help you. Here are a few NEW things happening in DP Community this month:
Find Your Tribe!
Connect with your peers in the Nonprofit and DonorPerfect community. Check out this
revised list of DP Community Groups
. We revised it based on your feedback and participation in the groups.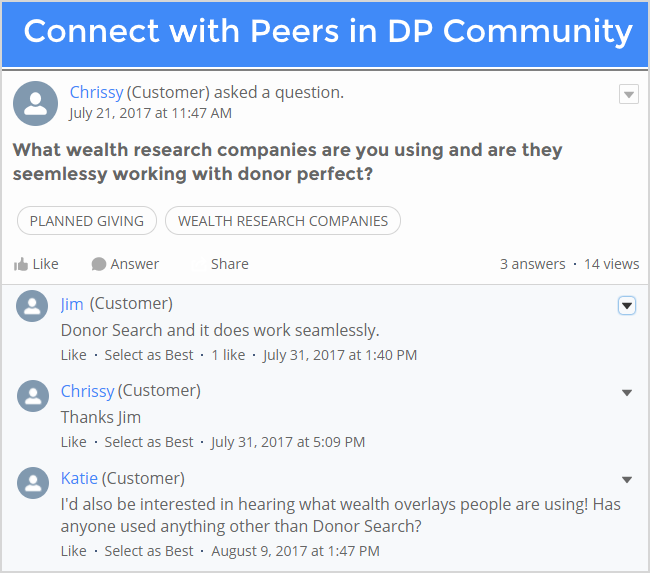 New Reporting Articles in the Knowledgebase
Reporting is one of the best features in DonorPerfect! These three new articles will help you understand and use DP's Reporting features even more. The requests for these articles came directly from talking to you, our customers.
How to Add Reports to the Dashboard
How to Edit an Easy Report
Creating and Scheduling an Easy Report for All Gifts from Last Week
Release Notes
Read about all the 2017.09 enhancements and fixes in the
DonorPerfect 2017.09 Release Notes
. Don't forget to check out the
Suggest & Vote Ideas
section at the top to see how many of your suggestions we've implemented. We love our customers because they have so many great ideas!