July 19, 2017 | Categories Donation Processing, DonorPerfect Fundraising Software, DonorPerfect Update, Featured, Monthly Giving, Nonprofit Technology, SofterWare Products
New Feature: How These DonorPerfect Users Got Started With Automatic Monthly Giving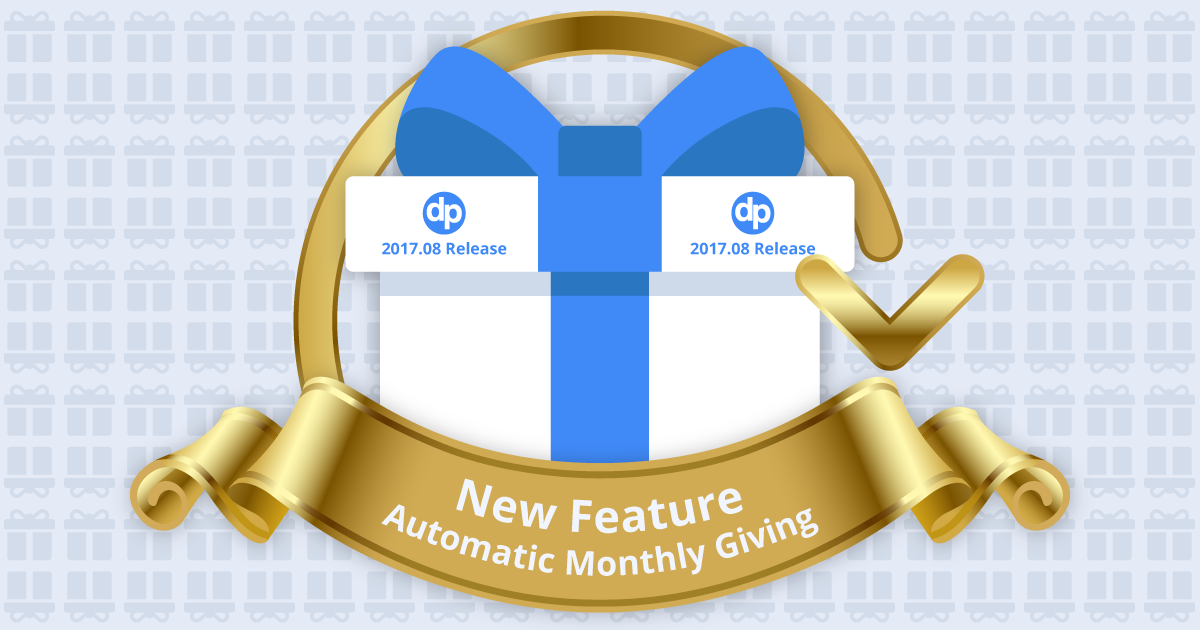 One of the exciting things we get to do here at DonorPerfect is change the way that nonprofits do things. This week is one of those times for us! After months in Beta Testing, we're releasing Automatic Monthly Giving this coming weekend. We cannot wait to share with you the benefits our participants have experienced.
First, What is Automatic Monthly Giving?
Automatic Processing, a seamless service for our Monthly Giving customers, makes processing your monthly gifts even easier. With Automatic Processing, you don't have to remember to go into the Monthly Giving module to process donor payments once a month. DonorPerfect will automatically check to see which pledges in your Monthly Giving program are due and process them for you.
If you'd like to see Automatic Monthly Giving in action, watch this quick video:
You can also visit Setting Up Automatic Processing to learn more about getting started.
So Wait, You're Saying DonorPerfect Will DO MY WORK FOR ME?
Yes, that's exactly what we're saying! We want to be a valued, trusted partner that anticipates what needs to be done and does it for you so you don't have to. Automatic Monthly Giving is the first of many ways we're looking to do that in the future.
Here's What Actual Beta Participants Told Us about Automatic Monthly Giving
Listen to what nonprofits just like you had to say about using Automatic Monthly Giving during the Beta trial period. (Spoiler Alert: THEY LOVED IT!)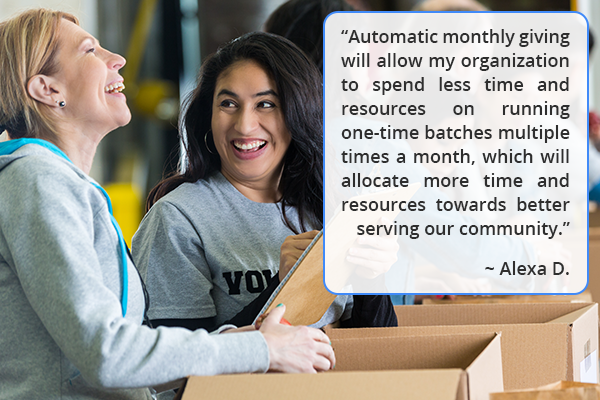 It Saves Time and Money!
"It does the work for me because sometimes I forget to run the donations on the date they are due."
~ Craig F.
"The Automatic process is helping me to keep up with making sure that all payments are being processed on a monthly basis."
~ Brittany
"It's automatic! No manual processing required. It's very easy to see which cards declined… We can have multiple people receive the batch confirmation, which is helpful for our internal workflow."
~ Andrew F.
It was Easy to Set Up and Use
"Just a few clicks to get this enabled and the rest is automatic!"
– Annick S.
"Didn't need to think about it. Verification email was thorough. Downloading batch was simple."
~ Dale L.
"Seriously, this is super easy."
~ Brandon R.
Find Out More! Attend Our FREE Automatic Monthly Giving Webinar
To learn how to set up and use Automatic Monthly Giving, plan to attend our FREE live webinar. We're offering it on two upcoming dates:
Tuesday, July 25, 2017 3:30 PM – 4:30 PM EDT
Monday, August 7, 2017 1:00 PM – 2:00 PM EDT
Don't have a monthly giving program? No problem. Our Monthly Giving Starter Kit can put you on the right track to start a successful program at your nonprofit.
Release Notes
Automatic Monthly Giving wasn't the only update in this release. Read about all of the enhancements and fixes in the
DonorPerfect 2017.08 Release Notes
in the Knowledgebase.