May 23, 2017 | Categories Donation Processing, Donor Management, DonorPerfect Fundraising Software, DonorPerfect Update, Featured, SofterWare Products
Enhanced Feature: Separate Donation and Donors Cover Costs Amounts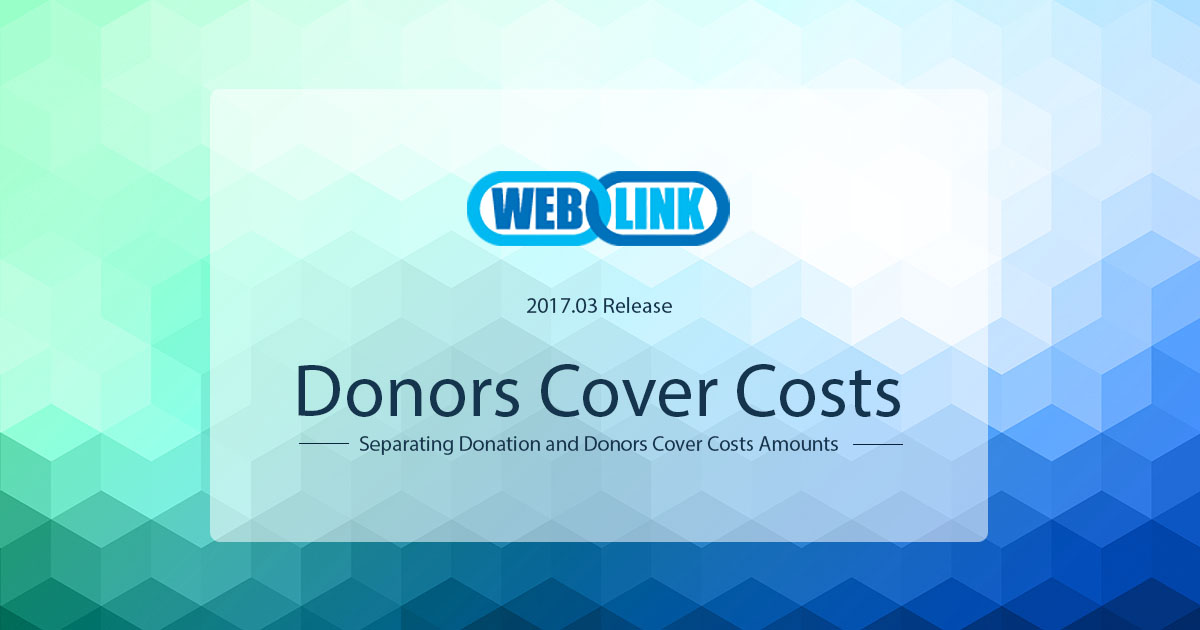 Having donors help to defray the costs of online processing, even by a small percentage, means your donations can do more. WebLink's
Donors Cover Costs
feature allows you to offer donors the option of covering the added fee of processing their online payment. This benefits both you and your donors. Your organization recoups processing costs while donors are assured that 100% of their donation goes to the cause they support. Last night,
new version of WebLink
was released that will give you the option to select whether you want WebLink to record the donation amount and Donors Cover Costs amount as separate transactions or as one transaction. Separating the donation amount from the Donors Cover Costs amount creates transparency and saves time in regards accounting.
Setting Donors Cover Costs Amount Options
If you want your Donors Cover Costs and donation amounts to be recorded separately, open the
System
menu and select
Download Settings
. Then, check the box to
Download Donation and Donors Cover Costs Amount as Separate Transactions
.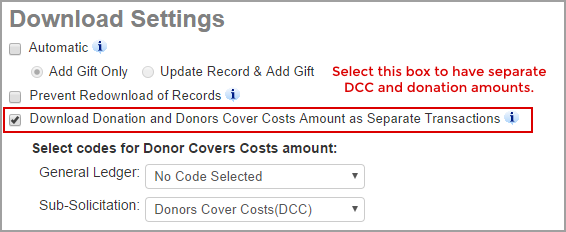 Once selected, you'll have the option to designate which GL fund and Sub-Solicitation code should apply to all forms that have the Donors Cover Costs feature enabled. The Sub-Solicitation code defaults to "DCC" (Note: You can change this.) and applies only to the Donors Cover Costs amount of your donor's gift. To learn more about this feature, visit
Separate Gift and Donors Cover Costs Amount
in the KB.
Reporting on Donors Cover Costs Amounts
Report Center has several reports to help you determine how much money and how many gifts are coming from Donors Cover Costs (DCC) amounts. One method is to run a
Sub-Solicitation Analysis Report
, using a selection filter to set the sub-solicitation code to
"DCC"
. You could also run a
Gift Listing Report
using the same selection filter criteria. Each of these reports track different items so we recommend you check out both to see which best works for your nonprofit. Visit
How Much Money is Coming From Donors Cover Costs (DCC)?
in the KB to learn how.
Clients Like You Suggested This Change to Donors Cover Costs
This improvement to the Donors Cover Costs feature in WebLink came directly from clients like you via
Suggest & Vote
in DP Community. In fact, this wasn't just any idea. You asked and we implemented the
#1 most requested idea
for WebLink! Using Suggest & Vote, it's simple to make a suggestion, as well as see if others have made a similar suggestion. You can also vote on all of the other ideas that have been submitted. This gives us a great deal of insight into what our clients would like to see us work on next, like the suggestion that led to this week's WebLink release. Thanks and keep those great ideas coming!
Release Notes
Changes to the Donors Cover Costs feature aren't the only improvements in this release. Read about all of the enhancements and fixes in the
WebLink 2017.03 Release Notes
in the Knowledgebase in DP Community.