April 12, 2021 | Categories DonorPerfect Fundraising Software, DonorPerfect Update, Featured, Fundraising Strategies
Release Announcement: How to Track Fundraising Trends Over Time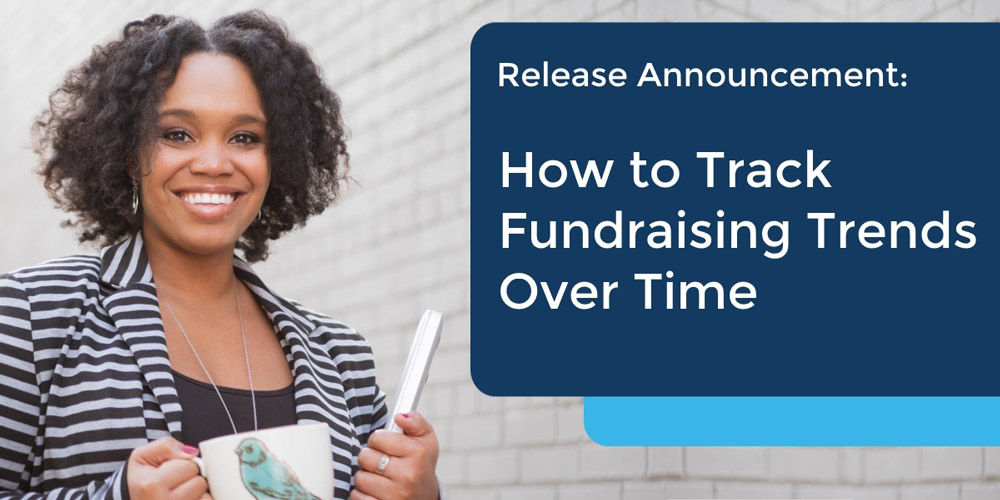 How effective is your nonprofit? Have you raised more money this year than last year? Sometimes, in the day-to-day activities of fundraising, you can lose sight of your overall fundraising goals. Using DonorPerfect's fundraising metrics Dashboard, available in Reports > Dashboard, you can quickly determine how effectively your organization is achieving your goals at a glance and monitor your fundraising trends.
In last month's DonorPerfect release, we added Nonprofit KPIs (Key Performance Indicators) to the Dashboard for real-time insights to measure your fundraising progress. They included Average Gift, Total Donors, Donor Retention, Growth in Giving, and Donor Lifetime Value tiles. In this month's release, we've added two additional charts to the Dashboard that will help you track fundraising trends in your giving and donor retention over the past 24 months.
In this blog
Why Is It Important To Track Fundraising Trends Over Time?
The nonprofit industry is constantly evolving and changing. This is partly because nonprofit organizations exist to catalyze change and to bring about something better in the communities you serve and beyond. Other factors have also contributed to changes in the industry:
COVID-19 has dramatically changed how you relate to donors and fundraise.
Cultural and societal changes have accelerated the pace of change.
Technology advances, like virtual events and video email, offer new and exciting ways to connect with supporters.
Tracking progress over time for your key metrics helps you stay grounded amid change and make data-based decisions about how your fundraising tactics need to evolve and serve your organization over time.
Tracking Fundraising Trends in Your Growth in Giving Rate
Your growth in giving rate measures how effectively you attract new donors, retain existing donors and increase your donors' annual giving amounts. It reflects the percentage increase or decrease for overall fundraising dollars for the current year vs. the previous year.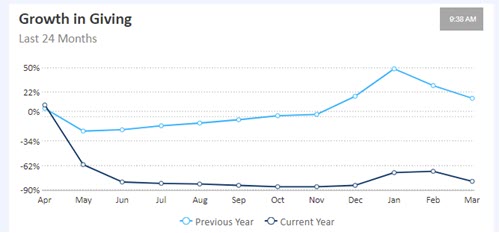 In this month's release, we've added a new Growth In Giving line graph that displays the percentage of change in fundraising dollars by month between the current and previous year over 24-months. Here you can see how your overall giving has grown or decreased over time.
Tracking Fundraising Trends in Your Donor Retention Rate
Your donor retention rate shows the percentage of donors who gave this year and also gave last year. It's a measurement of how well you are engaging and keeping your donors. The average nonprofit organization has a donor retention rate of 43%. That means less than half the donors they acquire won't give again. While you may see a month or two where your donor retention rate occasionally declines, you'll want to monitor how many donors continue to make donations to your organization over time. A sustained donor retention rate enables your nonprofit to grow.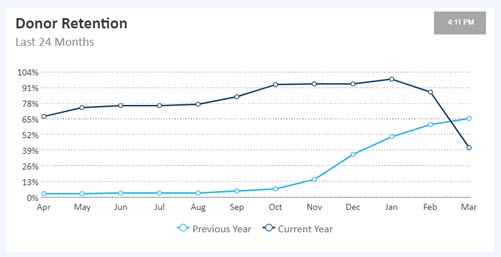 The Donor Retention line graph displays the percentage of donors who gave in the current and previous year by month over 24 months. It tracks the measurement of how many donors continue to make donations to your organization year after year.
Adding The New Fundraising Charts To Your Dashboard
If you don't see the new fundraising charts mentioned in this article on your Organization's Dashboard or in My Dashboard, you can add them now.
Click Reports > Dashboard
Click the Settings (Gear) icon
Select "Restore to Default." This will add all the latest dashboard widgets and charts to your Dashboard.
Read Fundraising Metrics Dashboard Tiles Explained to learn more about how the dashboard tiles and charts help you monitor your fundraising metrics.
Personalize and Format Emails Using The Send Email Feature
Sending an email to donors is a great touchpoint that boosts donor retention and engagement. Within DonorPerfect, the Send Email link allows you to send an email message to the constituent whose record you are viewing. In this month's release, you can now format your email message with a more modern and customized look and feel. Add your logo, change font size and appearance, add HTML formatting and preview your message before sending.
Read Using the Send Mail Feature to discover how you can now format email messages sent from the individual donor's record.
Release Notes
Adding new fundraising charts to the DonorPerfect Dashboard and updating the Send Mail feature are not the only improvements in this release. We've also streamlined how to add or edit credit card and bank account payment methods via the Accounts and Pledges screens. Read about all the enhancements in the DonorPerfect 2021.03 Release Notes in the Knowledgebase in DP Community.