January 6, 2022 | Categories Featured, Social Good
Tax Credit Propels Nonprofits in Greater Philadelphia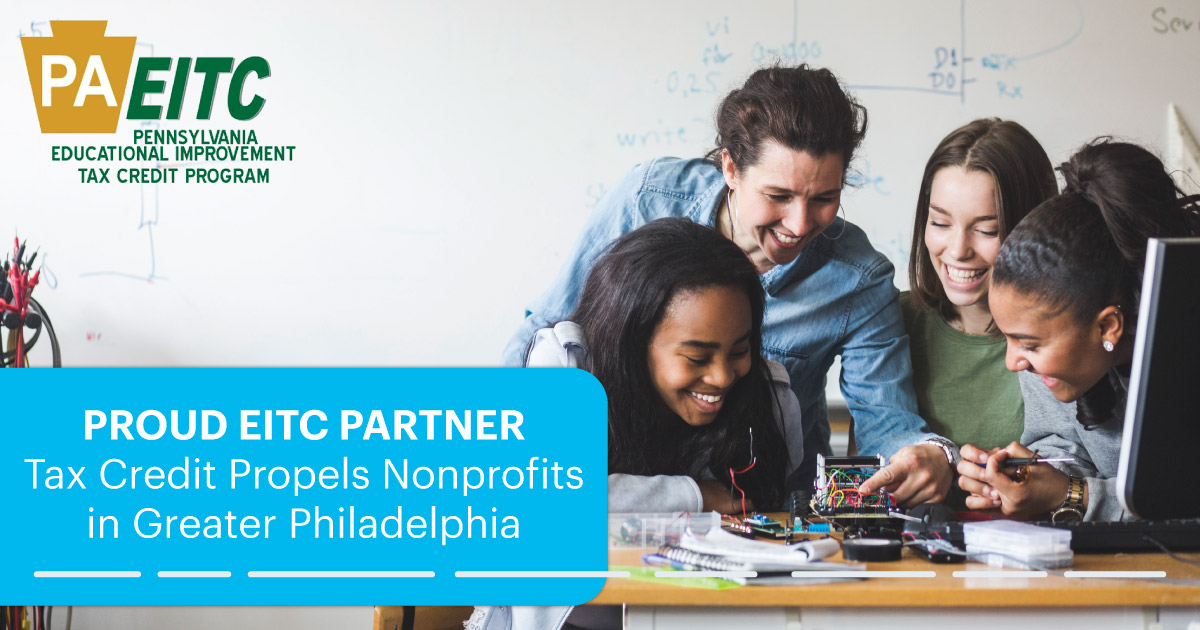 For more than a decade now, DonorPerfect has participated in the Pennsylvania Educational Improvement Tax Credit (EITC) program, contributing to local Scholarship & Educational Improvement Organizations in need. Each year, we partner with a diverse group of nonprofits in Greater Philadelphia to support educational opportunities and standards.
In 2021, we were able to contribute $250K to local education programs. Over the last 15 years, we've contributed $1.6M. We're incredibly grateful to touch lives in our community, and each year we aim to engage new organizations and increase our involvement.
'Tis the season for celebration, so let's take a look at what our community was able to accomplish through EITC funding this year!

"EITC funding is a transformational initiative. Without this program, CSFP would not be the largest, most diverse re-K to 8th grade scholarship program in Pennsylvania."

"Over the past 21 years, SpeakUp! has provided youth, educators, and parents the skills, opportunities, and support to SpeakUp! and be heard on the critical issues of today. As an Educational Improvement Organization, our innovative program enhances schools' academic programs.
SpeakUp! uses the EITC funding to support the Applied Business Skills component of our program, where students learn and apply critical communications, marketing, and public speaking skills as they plan and execute their SpeakUp! Forum.
The experiential, interactive, collaborative, and applied learning elements of the program are highly consistent with research showing that active-learning practices have a more significant impact on student performance than any other variable, including student background and prior achievement.
EITC funding helps maximize the impact of our program by using the SpeakUp! process as a tool for creatively engaging students to learn and apply the critical communications, marketing, and public speaking skills that will position them to succeed in the workforce and in life."

"Donations to support the Boost Program through EITC are critical to our being able to achieve our mission. Woods is continually looking for ways to innovate, and the Boost Program is an example of this. However, we must also find creative ways to fundraise to be able to develop and test our innovations, while we are putting in place ways to make the innovations sustainable."

"The Waverly Community House gratefully uses the EITC funding to invest in two critical programs that complement the school curriculum, namely, the Underground Railroad/Destination Freedom programs and the Artist in Residence Program. The investments are made in program development, educational materials – both written and visual, equipment and supplies, and staff support."
"We have had hundreds of children participate in each aspect of these programs since 2019. Naturally, the pandemic and remote learning severely limited the number of in-person encounters but that time was used to further expand the programming and those investments are permanent and will allow for maximum participation for our after-school program participants and the schools as they reopen. The donations allowed us to complete the Special Exhibits Gallery, a component of the Underground Railroad/Destination Freedom program, and support the Artist in Residence Program year-round."

"EITC funding at Bucks supports our dual-enrollment program, in which high school students take college courses while in high school. It also supports our summer camp – Kids on Campus – and our new bridge program that prepares high school students for college."
"Each of these programs allows the college to further its mission as being an educational resource to the community for college classes and beyond. The programs you support through EITC help school-age kids go to camp, prepare for college, and get a jump on their classes."

"EITC funds are divided among recipients, along with additional scholarship funding provided through personal donations. Playschool is committed to providing the equivalent of five full scholarships, EITC funding supplements this to fund even more students."
"Our mission is to provide an accessible program to families. EITC funding gives us the opportunity to make Playschool affordable for all! In addition, our grateful families are willing to work even harder for volunteer events."

"EITC funding supports Community Bike Works' flagship Earn a Bike program. Earn a Bike connects students ages 9-18 with adult mentors over 12 classes on bike mechanics and bike safety. While working on their bikes, students practice important life skills including teamwork, problem-solving, and communication. At the end of the program, students earn their refurbished bike and a new helmet!"
Alex, 14, earned his bike this summer. "The most important thing I learned is working as a team and learning new tricks on how to fix bikes," he told us. "I love to build bikes and just being there feels good."

"We use EITC funding to support our high school enrichment programs, a world-class research and laboratory experience, for local high school students. They work alongside scientists doing cutting-edge research and have won countless regional and state awards for their projects. Many of our students go on to Ivy League colleges with stellar research experience."

"Our EITC approved innovative education program, Outdoor School, assists public schools in meeting Pennsylvania State Standards for Environment and Ecology that are difficult to meet in the conventional classroom setting. EITC funding is used to subsidize low-income schools whose families cannot afford to pay for a field trip."

"Through our Innovative Grants Programs, each and every student in the Hatboro-Horsham School District has benefitted in some way. Whether it's through Robotics, Girls' STEAM, Scientist in Residence, Author in Residence, or classroom grants, all students experience something that is 'extra.' Our mission is to encourage excellence and to enhance and enrich educational opportunities offered to the students of the Hatboro-Horsham School District."

We hope you've found these stories inspiring, and that your organization has had the resources to touch lives in your community this year. Nonprofits in Greater Philadelphia and around the world – the coming year is another chance to make possible what we couldn't before. Together, we'll strive to find new ways to support those who need it most.