February 2, 2018 | Categories DonorPerfect Fundraising Software, Featured, Nonprofit News
Love and Fund-erdogs: 6 Ways The Philadelphia Eagles Give Back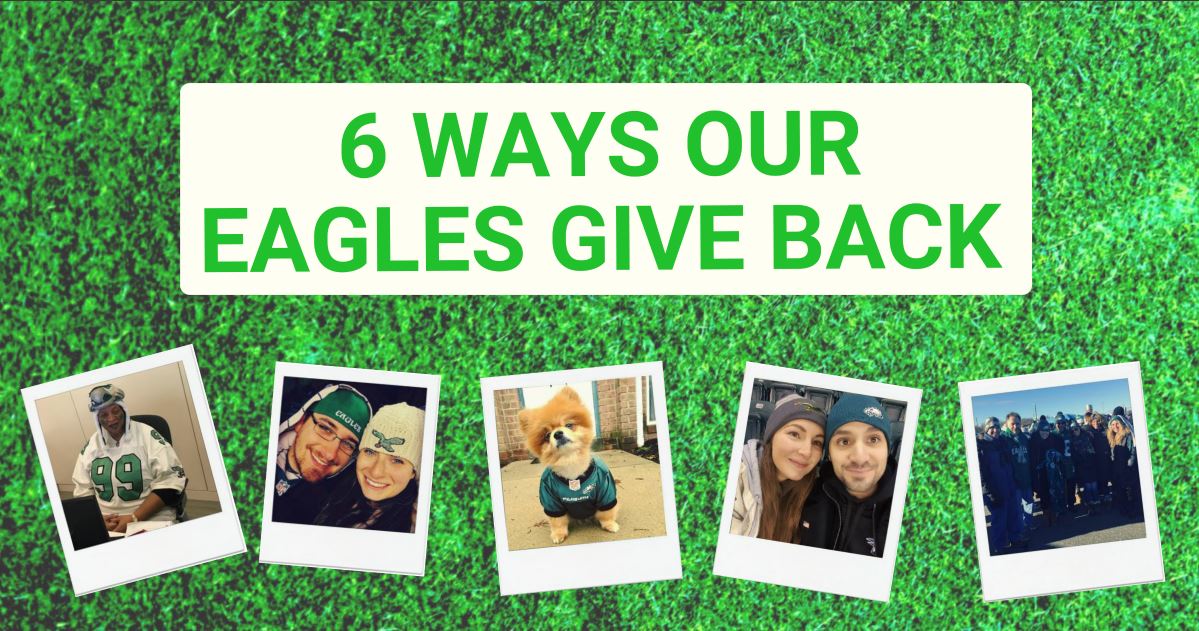 Because we're based in Philadelphia, the Eagles' big win was widely celebrated throughout our office following our Friday afternoon tailgate complete with mocktails, wings, and lots of Eagles green.
For many of us, Eagles fandom is a family tradition. For our Philly transplants, supporting the underdogs is an exciting way to get in on the fanatical fun and experience our colorful local culture. But no matter where you're from or what team you love, there's one thing we can al l agree on: this team of A-players and stand-up guys leverages their success and fame to help incredible causes.
We're proud to cheer on our Philadelphia Eagles on the field and in their charitable work, which includes:
Providing local children with critical health services.
The Eagles Charitable Foundation has donated millions of dollars to vision care for children and autism research. Their Eagles Eye Mobile program uses the team's celebrity status to garner attention for hard-to-reach children within the local community, providing them with free eye exams and eyeglasses.
Supporting all kinds of people in need.
Eagles Quarterback Carson Wentz created the AO1 Foundation with a 3-pronged mission in mind: to provide service dogs to people with disabilities, to offer educational opportunities and basic necessities to children in need, and to create memorable outdoor experiences for people with illnesses or physical challenges.
Evening the playing field on access to quality education.
Defensive end Chris Long donated his entire salary to four nonprofits dedicated to giving underprivileged youth educational opportunities they would otherwise not be able to receive. When a photo of him in a dog mask went viral, he turned it into a best-selling fan tee and donated 100% of the proceeds to the Philadelphia School District.
Contributing to criminal justice reform.
Eagles safety Malcolm Jenkins is working to lower the recidivism rate. He recently petitioned lawmakers on Capitol Hill to reconsider restrictions that place returning citizens with minor offenses at a disadvantage. He hopes that lawmakers can make it easier for them to get jobs, receive financial aid, and become positive, productive members of their communities.
Giving local families a reason to smile.
During the holidays, Alshon Jeffrey surprised families at a North Philadelphia  community center by pulling up in a Toys 'R Us truck full of gifts. He said, "I think the kids are the future. Not everyone is blessed to have the Christmas that they want. It is also good to give them something so they can have something, have a little hope."
Turning a cringe-worthy apology into an unlikely fundraiser.
After we defeated them in the NFC Championship game, a tiny fraction of Eagles fans gave the Minnesota Vikings fans a less than friendly goodbye. To make up for the melee, fans and players alike rallied together to donate thousands of dollars to The Mike Zimmer Foundation, a charity created by the Vikings' coach to help children in need.
No matter what happens, we're inspired by our team that's leveraging their platform into a starting point for positive change. Go Eagles!