May 15, 2021 | Categories DonorPerfect Fundraising Software, Featured, Fundraising Strategies
Create a Winning Direct Mail Campaign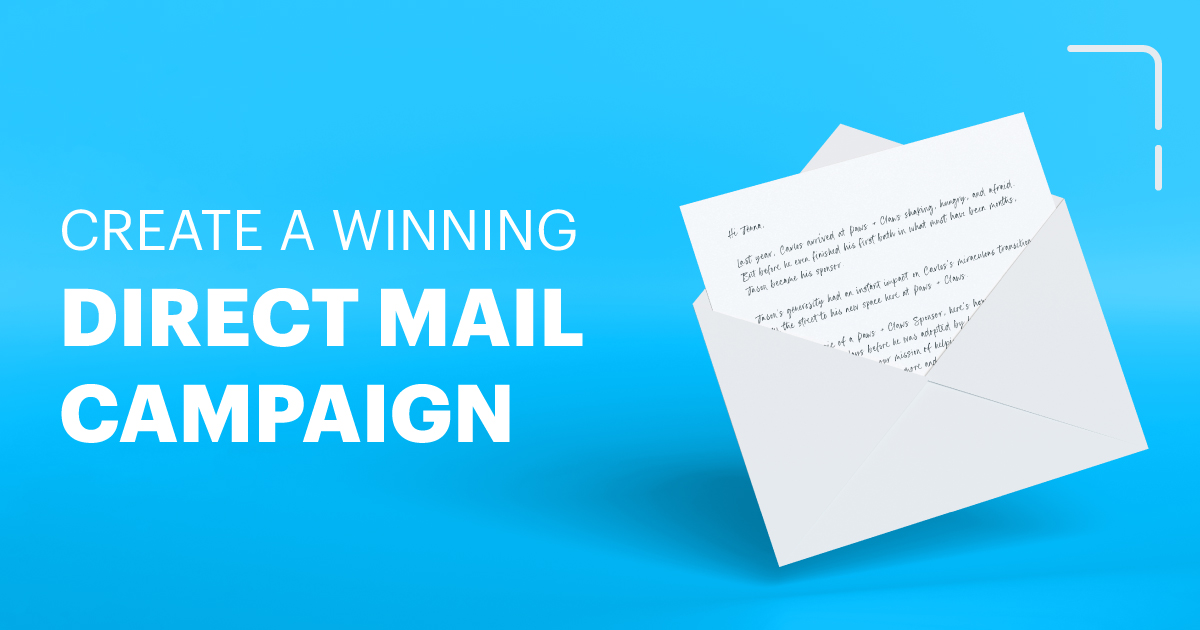 This article is contributed by Robin L. Cabral, MA, CFRE and founder of Development Consulting Services.
While it may come as a surprise in today's digital world, direct mail campaigns bring in strong returns again and again. In fact, it's fair to say that direct mail is the workhorse that drives nonprofit fundraising revenue. Direct mail can fill your major gift pipeline, too. It takes time and effort to execute properly, but you, too, can supercharge your next direct mail campaign!
Key Points to Maximize ROI on Direct Mail Campaigns

Have a strong case for support that appeals to your prospects' emotions. Connect with your donors!
Strategize! Craft a plan of action designed to achieve a big goal (the exact opposite of "a wing and a prayer").

Planning is vital, so be sure to give yourself time. It might take two to three months from the idea stage to the final mailing. 

Develop a timeline, and be sure to allow extra time for proofing, editing, and working with the printer. 

The Essential Elements of a Direct Mail Appeal 
These basic elements of a direct mail appeal should match in look and message throughout:
Solicitation piece/letter
Outer envelope with teaser copy
Reply device and envelope
6 Steps to a Better Direct Mail Appeal Letter
Email me here to get a sample of one of my very own direct mail appeal letters!
While you may think what you say is enough, think again. In this age of 140 characters or less, how you convey your message may carry more weight. The following six steps have the potential to significantly increase your response rate.
STEP #1. Focus on readability for today's distracted donors.
Readers skim. Include captioned photos. Underline and boldface key phrases to highlight the main points. Use only high-quality photos with emotive faces and eyes. 
STEP #2. Repetition is essential. 
Because readers tend to skim your letter, you'll want to repeat your core message and "ask" throughout the body of the letter, formatting for emphasis.
STEP #3. Ensure uniformity with type and font.
Keep letter format consistent regarding type size and font usage. Anything difficult or confusing decreases readability.
STEP #4. Break up the content in your letter.
Keep your paragraphs short. The reader may lose their place and tend not to finish reading large blocks of text.
STEP #5. Make it as easy as possible for donors to give.
Odds are they won't go out of their way. Include a direct link to your online donation form.
STEP #6. Add a P.S.
Research supports adding a P.S., inviting the donor to speak with you directly. Remind them that you're available for questions and welcome their suggestions. You should also use this final amount of limited space to make one more compelling ask with a deadline and a call to action that directs them to a link to your online donation form. 
Top Tips for an Effective Reply Device
The reply device also deserves special attention. Ensure that your reply device mirrors the messaging of the direct mail appeal, using similar wording and themes. 
TIP #1. Point back to your most powerful messages.
Include your mission statement and a donor impact statement on your reply device.  
TIP #2. Have the donor place the stamp.
Business Reply Envelopes (BRE's), where the organization pre-pays the postage upfront, are not a big incentive: save your money!
TIP #3. Include a monthly/quarterly/recurring donation option.
Add this text to your reply device: "I/we would like to provide ongoing support. Please charge my credit card $ ______ per month until ______." You should also include a checkbox that enables them to opt to indefinitely 
TIP #4. Encourage other types of gifts.
Include a line where donors can make their gift "In honor/In memory of… Have a check-off box where folks can indicate an interest in making a planned gift, along with a separate one noting employer matching gift programs.
TIP #5. Include contact information. 
If donors have specific questions, they need to know whom to contact, and your job is to make it easy.
Segment Donors for a Successful Direct Mail Campaign 
Effective audience segmentation can be a major step toward a great mailing list. Using available data from your CRM system, you can divide your donor pool into segments by geography, demographics, or interactions with your organization. 
Lists are the key to your overall fundraising strategy. You can streamline your direct mail efforts and target the segments developed above, keeping in mind that there's no "one size fits all."
You can also tailor individual lists to your needs, for example, by segmenting out those who already gave before starting your telephone follow up calls. You'll achieve greater success with less effort. In fact, you'll find that your lists become your friends!
Need Help?
As you can see, there are many, many steps to executing a strong direct mail campaign. Outside consultants such as www.developmentconsultingsolutions.com can write your direct mail appeal copy and tailor it to your particular constituents. 
Don't disregard outsourcing this to a professional if you are either new or lack the time to dedicate to this fundraising workhorse! Direct mail is not "dead," it is alive and well and perhaps performs better than most other mediums. It is the base of your giving pyramid as it seeks to build a strong supporter base that can lead to eventual larger major gifts. Use these above tips to help supercharge your next direct mail appeal letter and campaign.
____________________________________________________________________________


Development Consulting Solutions – Robin L. Cabral, MA, CFRE is the one and only outsourced development professional providing value-added interim development staffing and consulting services with razor-sharp monthly result objectives and benchmarked deliverables.
With her over 25 years of experience, she has raised millions of dollars for small to mid-sized organizations.
Her hands-on results-driven approach to raising money comes directly from both her experience assisting worldwide, national and local organizations and her cutting-edge Master of Arts degree in Philanthropy and Fund Development from Saint Mary's of Minnesota.
Robin is also an AFP International Master Faculty Trainer and presents nationally and online.
She works with nonprofits that want to position themselves to build capacity and generate MORE fundraising prospects, BETTER donor relationships, and BIGGER fundraising dollars.
She is the leader in providing outsourced Nonprofit Fundraising Development Services, interim development services, and coaching and assisting smaller organizations in their first campaigns; annual, capital, and endowments.