June 9, 2016 | Categories DonorPerfect Fundraising Software, DonorPerfect Update, Nonprofit Technology, SofterWare Products
Release Announcement: Improving DonorPerfect's Usability

Our
new version of DonorPerfect
released this weekend includes many hidden gems in the form of small usability improvements. These improvements will help you move through your daily tasks in DonorPerfect with increased effectiveness, efficiency and satisfaction.
How Usability Matters In DonorPerfect
Before we cover the release details, here's a peek into our goals for any release regarding usability improvements. We consider these factors to be important when considering any product enhancements:
Effectiveness
Does this product enhancement help you to carry out tasks in DonorPerfect and complete your goals with greater precision? Will it make you more effective?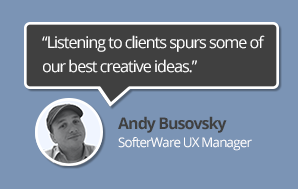 Efficiency
Can we reduce the amount of time it takes you to achieve various tasks and learn the system? Will it make you more efficient?
Satisfaction
We get it. Change is hard for everyone. But with change can come increased satisfaction. Ultimately, can we increase your comfort and acceptance for various DonorPerfect features?
Let's see how this latest release measures up to these factors:
Release Details
Effectiveness: Alerts Overhaul
DonorPerfect's Alerts feature is a great way to keep track of the day-to-day tasks of running your nonprofit. These customizable reminders can be set to pop-up each time you log in or as a "badge" that appears as a red indicator on the Alerts menu item. Many of you told us, during Usability testing, that configuring these alerts was not as effective a process as it should be. So we improved the prompts and screens you use within Alerts to make it easier for you to use this feature.

Over the summer,  we'll be rolling out Alerts functionality to all DonorPerfect systems. To learn more about using Alerts, read DonorPerfect Alerts in our Knowledgebase.
Efficiency: Edit Applied Selection Filters
When you're running reports or performing a mail merge, you need to use a selection filter to select only the donors you want to see. Previously, if you wanted to modify the criteria to select your donors, you had to remove the applied filter and go through a lengthy process to reset your criteria. We've made that process more efficient. Now, you can edit an applied filter to modify the date range, add a new GL code and more, right from the same screen.
Satisfaction: Design Consistency
Maintaining good visual consistency is key to making DonorPerfect easy to use. Items like
'hover states'
and
'action buttons'
should behave the same way throughout DonorPerfect and have the same look and feel as other buttons. That's why we've modified over 15 different screens and pop-up windows in this release. Our attention to these details helps you to better focus on important tasks.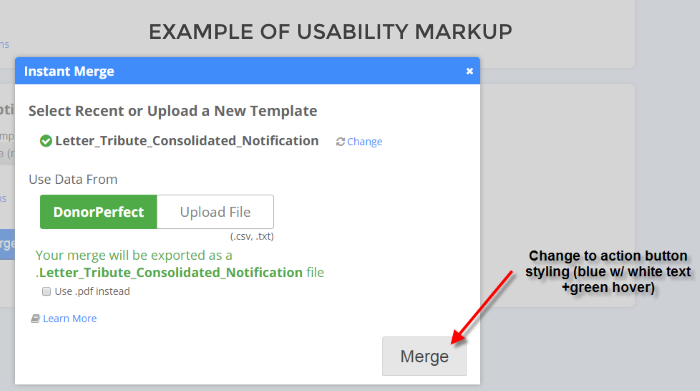 Release Notes
Usability improvements aren't the only changes in this release. Read about all of the enhancements and fixes in the
DonorPerfect 2016 Release Notes
in the Knowledgebase.