July 16, 2019 | Categories Conferences, DonorPerfect Community Network Conference, DonorPerfect Fundraising Software, Featured
The DonorPerfect Community Gives a Mural to Andrew J. Morrison School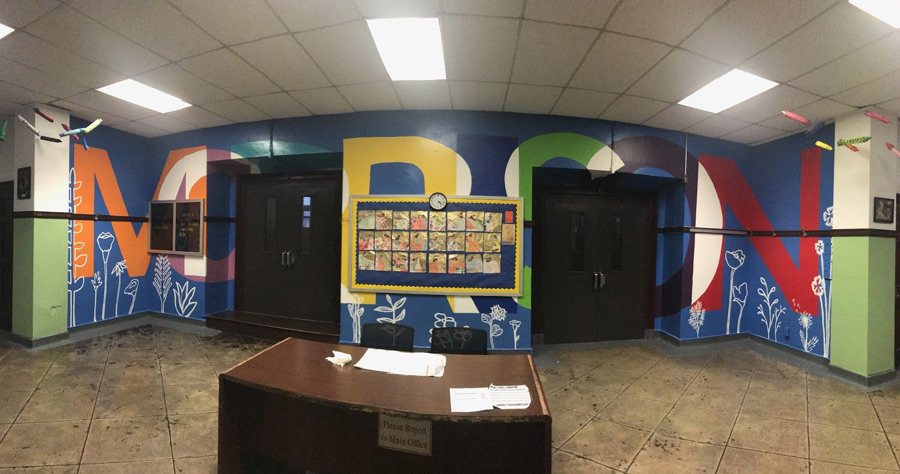 The 2018 DonorPerfect Community Network Conference took its theme of Building Community seriously. From the community of colleagues, board members, and volunteers within our users' organizations to the community of constituents they serve every day, the DPCNC aimed to illuminate and strengthens the special relationships our users have made while dedicating their lives and careers to very crucial causes.
One of the ways we strived to build community at the DPCNC was to give back to a school in need in the city of Philadelphia, the location of our 2018 gathering. That's how we came upon Ms. Denise Burkhart at the Andrew J. Morrison School in Philadelphia's Olney neighborhood.
A graduate during the 2009 recession, she landed her first teaching job in Southwest Philadelphia at one of the lowest-ranked schools in the region. Underfunded and overcrowded, her basement classroom was home to some of the city's most impoverished children. There, Ms, Burkhart translated her passion for the arts into a budding program for students in the inner city. Through her patience, persistence, and genuine love of the children in her care, she single-handedly funded and created a budding arts program that enabled her students to connect with their feelings, reflect on their experiences, and express themselves in new and positive ways. After hosting their first-ever student art show and founding a student mural arts group that livened the drab halls with colorful geometric murals, Ms. Burkhart moved to the Andrew J. Morrison School to establish and expand her programs in a new environment.
Her fresh start gave the DPCNC the perfect opportunity to contribute to the community that was graciously hosting our conference. To combine much-needed funds with Ms. Burkhart's mural-making talents, DPCNC attendees were invited to decorate a tile to be used in a beautiful mural by her students at the Andrew J. Morrison School. For every tile they decorated, DonorPerfect donated $5 to their arts program led by Ms. Burkhart.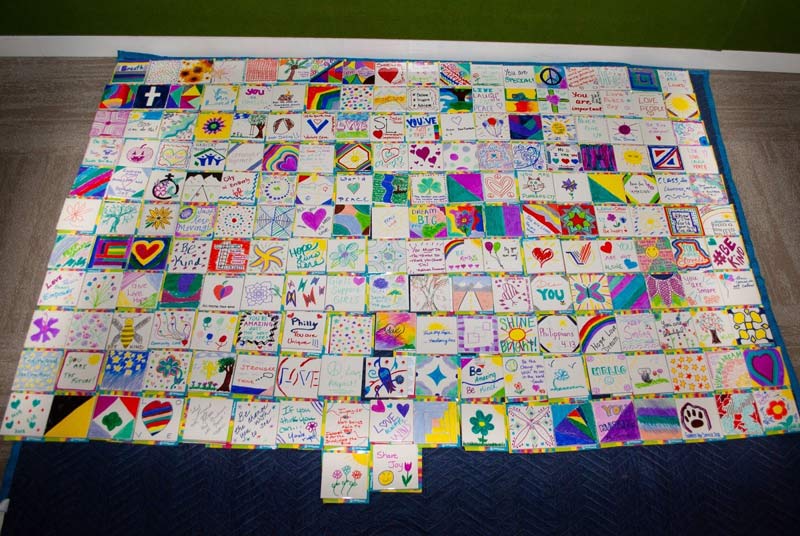 By the close of the DPCNC, attendees beautifully colored, illustrated, and wrote upon 300 tiles. The technicolor display was a centerpiece of the buzz in the Convention Center Hall. At the close of the conference, the DonorPerfect.
Community was elated to present Ms. Burkhart and her students with the tiles for a new mural at the entrance of their school and a $1500 check toward the supplies they'll need for their projects.
In addition to the donated tiles, Ms. Burkhart welcomed her students to decorate their own to add to the mix. Here's what they did: