November 12, 2018 | Categories Donation Processing, Donor Advised Funds, DonorPerfect Fundraising Software, Featured, Fundraising Strategies
Trends in Donor Advised Funds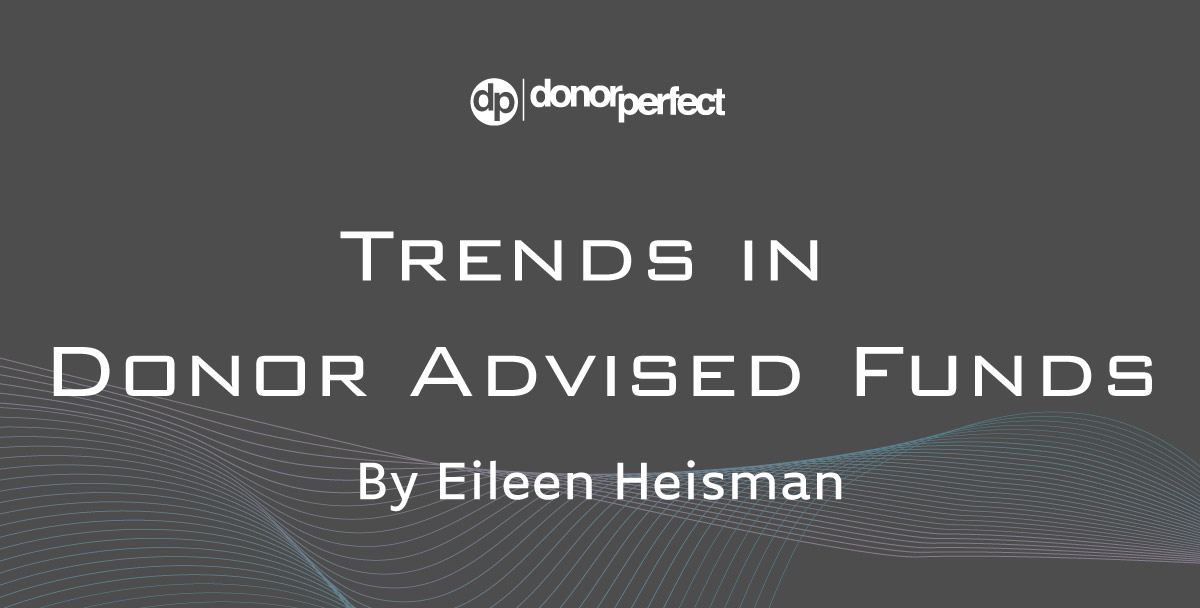 Donor-advised funds are a popular and flexible charitable giving vehicle. Some donors know exactly how they intend to use their donor-advised fund from the moment they set it up. Others know they want to be philanthropic, but maybe not how or when, and choose a donor-advised fund as a tool to plan for strategic giving. As charities make their case to donors, it's important to understand how different giving vehicles—including donor-advised funds—work. Moreover, fundraisers who understand trends in donor-advised are poised to reap more from them. Read more tips for fundraisers working with donor-advised funds here.


Here are a few trends we have seen at NPT and in the broader donor-advised fund sector:
Increases in the number of donor-advised fund accounts when tax changes loom
Donor-advised funds are philanthropy's fastest-growing charitable giving vehicle. They outnumber private foundations by more than 5:1. As our annual Donor-Advised Fund Report described, the number of donor-advised funds has more than doubled over the past five years.
There have been several major "bursts" of donor-advised fund account openings in the past several years due to economic and political circumstances. The first "fiscal cliff" hit at the end of 2012 as a then-looming storm of spending cuts and tax increases. The speculation about tax policy changes, including the charitable tax deduction fueled tremendous growth in donor-advised funds. Similarly, we experienced a second burst in the creation of donor-advised funds and contributions to them at the end of 2016 amidst the presidential election and the candidates' speculation about how tax policies might change. There was a third year-end frenzy in 2017 to create or contribute to donor-advised funds when Congress passed the Tax Cuts and Jobs Act. The legislation changed the value of the charitable tax deduction to most Americans starting in 2018.
Each of these bursts drove new donors and new money to donor-advised funds, and also created a "new normal." Charitable sponsors have been able to sustain this upward trajectory, as indicated by the sustained growth in the number of donor-advised funds. We anticipate continued growth in this metric.


Increases in the number of illiquid asset contributions to donor-advised funds
Contributions to donor-advised funds totaled more than $29.23 billion in 2017, accounting for more than ten percent of all charitable giving in the U.S. Over the past few years, we've seen donors contributing illiquid assets to their donor-advised funds, a trend that has been increasing for at least the past five years. We used a limited data set to analyze illiquid assets and found that at 17 of the largest charitable sponsors, more than 60% of donor-advised fund contributions were non-cash assets, including publicly-traded securities.
From cryptocurrency to closely-held stock, philanthropists are looking beyond their brokerage accounts to fund their charitable giving. Last year, NPT accepted an important piece of art, a diamond ring and three different types of cryptocurrency. Turning non-cash assets into philanthropic capital has become a specialty at some donor-advised fund sponsors. Philanthropists can donate their unusual or complex assets to the charitable sponsor and then use their donor-advised fund to support multiple charities. This trend is particularly important for small charitable organizations. For those that can't accept complex assets like the ones described above can still benefit from them.


A steady increase in grantmaking activity from donor-advised funds
Grants from donor-advised funds have been growing dramatically. In 2013, donor-advised fund sponsors granted $9.8 billion. In 2017, that number increased by an astounding 94 percent to $19 billion.
At NPT, we've seen an increase in grantmaking over the last few years that follows the donor-advised fund sector trend. We can attribute some of this to specific events, like the unfortunate devastation brought by hurricanes and other natural events. In a politically charged climate, grants to charities that tackle lightening-rod issues, such as gun control, also seem to be up. We expect grant activity will continue to climb as new donors use their donor-advised funds to support their favorite causes.
—
Philanthropists are increasingly creative about how they use their donor-advised funds. Whether contributing an unusual asset to a donor-advised fund or using it to fulfill a complex grant agreement with their favorite nonprofits, donors are maximizing their charitable impact by using this flexible giving vehicle.