April 30, 2018 | Categories DonorPerfect Community Network Conference, DonorPerfect Fundraising Software, Nonprofit News, Nonprofit Technology
WHAT'S NEXT IN NONPROFIT TECH?



Join DonorPerfect for an engaging Philly Tech Week 2018 Panel presented by Comcast. Register here.
Panelists:
Jon Biedermann (Vice President, DonorPerfect / SofterWare)

Chris Jacobs (CEO, Communally)

Maggie McCullough (CEO, PolicyMap)

Moderator: Dan Rhoton (Executive Director, Hopeworks)
Nonprofits throughout the Philadelphia region have an opportunity to distinguish themselves by incorporating technologies designed just for them. In this session, panelists will discuss tech that can help them better manage their donors, connect constituents to public resources, and develop data visualizations. The focus will be on how nonprofits can use new and different types of technology to support their missions.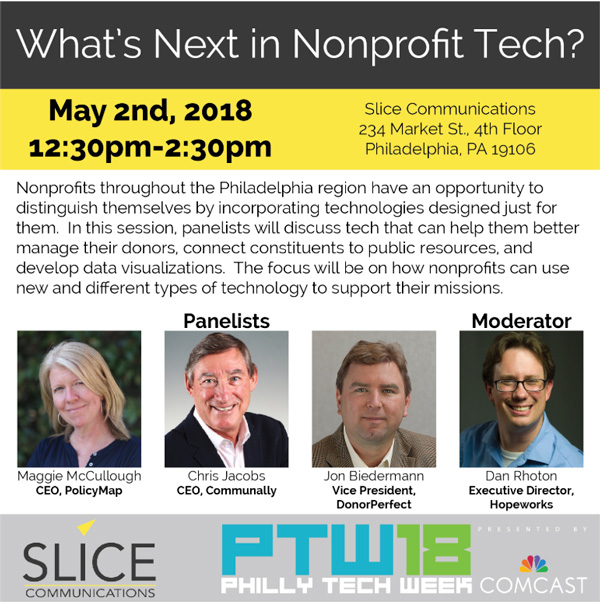 Wednesday, May 2, 2018 / 12:30PM-2:30PM. Lunch will be provided.
Slice Communications, 234 Market Street, 4th Floor, Philadelphia, PA 19106