October 3, 2018 | Categories #GivingTuesday, DonorPerfect Fundraising Software, Featured, Fundraising Strategies
3 Ways to Track #GivingTuesday Donation Form Performance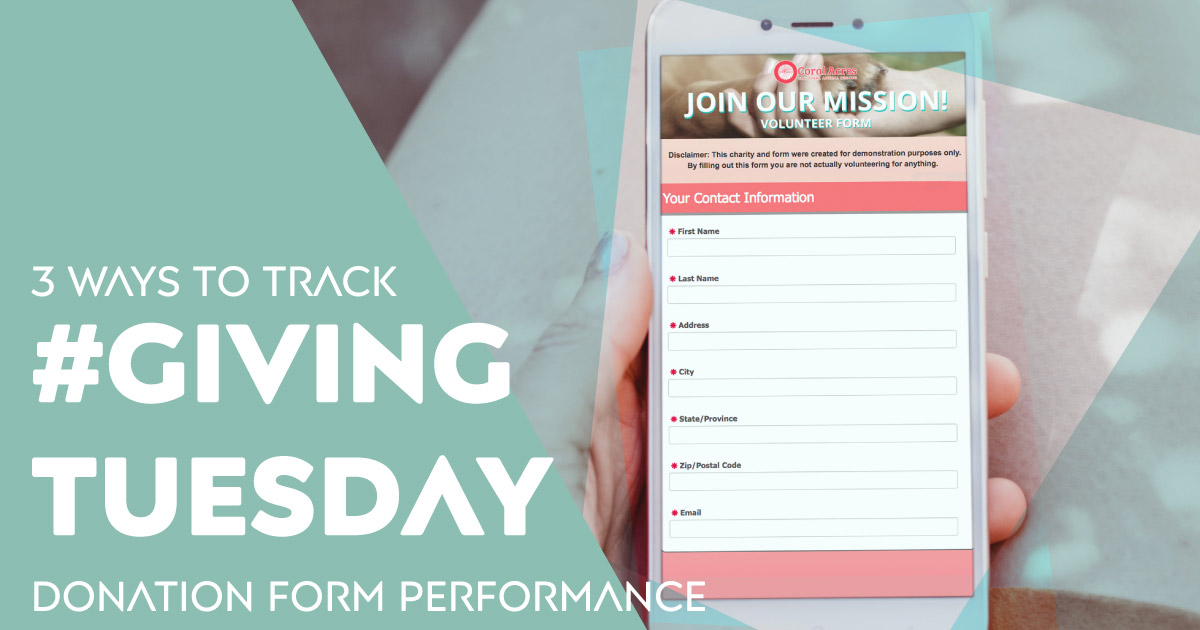 Have you ever been in the middle of a fundraising campaign and realized that you were below your target goals? Don't let this happen to you this Giving Tuesday. DP Online forms gives you the ability to track your Giving Tuesday Donation form performance at any point in your campaign. You can easily learn more about your donors and optimize your form for better submissions and conversion rates.
You can improve your #GivingTuesday donation form's conversion rate by tracking things like how many people viewed and responded to the form, how many abandoned it, and where your supporters came from (e.g. a Giving Tuesday email solicitation, your webpage, etc.) By tracking these metrics, you can pinpoint issues early in your Giving Tuesday campaign that might prevent supporters from completing a form.
DP Online Forms provides three ways to track and analyze your form performance – Google Analytics, the Statistics Toggle and the Total Amount column.
Google Analytics
Do you know how supporters reach your donation form? Are there specific keywords or search terms that are leading them to your form? How much time are donors spending filling out your form? Google Analytics can help provide this data when you enter your GA tracking code in the Google Analytics Code field in Additional Options > Advanced Settings.
Obtaining a Google Analytics Code
Before you start, you'll need to obtain a Google Analytics Tracking Code prior to adding it to your form. Your organization may already have this in place for your website, so contact your network administrator to obtain this for your form. If not, you can visit Setting Up the Web Tracking Code on Google's support forum to learn how to set this up.
Adding a Google Analytics Code to a Giving Tuesday Donation Form
Once you know your Google Analytics Tracking code, read Track Your Form with Google Analytics in DP Community for the steps to enable tracking on your Giving Tuesday donation form. When it is enabled, you'll need to set up a goal action in Google Analytics for how you want to track form performance. For example, you could set up a "Destination" goal for supporters to reach the Receipt page of your form as evidence that they successfully filled out your form.
Total Funds Raised
The best metric for a form's effectiveness is measuring the total funds raised by the form. DP Online Forms puts this information on screen as soon as you log in. The View Entries screen, which shows a list of all forms, has a Total Amount column. This column displays the total funds raised by each form that have been successfully processed in the Gateway and the total amount of funds raised by all forms. Need to see only the funds raised during a specific time period, such as Giving Tuesday? If you specify a date filter to display form entries on the RAC, then only the amounts raised during the dates specified in the filter will display. You can also use this field to quickly see how funds raised with this year's Giving Tuesday donation form compare to last year's form.
Statistics Toggle
Want to zero in on how this year's #GivingTuesday donation form is converting? Is this year's form keeping pace with how well last year's form did? The Statistics toggle on the Review and Acceptance Center (RAC) in DP Online Forms provides important metrics to measure how well your donation forms are performing, beyond just the hard data of total dollars donated. Simply toggle the Statistics button to "ON" to view statistics for each of your forms including: Total entries you've received, Completed entries, Views and Conversion percentage.
The Views column is a count of all views, determined from page load of the first page of form. This tracks all links (normal, friendly and bit.ly links) for any forms with an ACTIVE status. You can also see what your donation conversion rate (or how often a donor completed a donation) was for each form. A form's conversion rate is determined by the number of successfully processed entries (including any no payment required ones) divided by the count of page views.
Read more about the Statistics toggle metrics at Form Tracking with RAC Statistics.
Share Your Ideas
How are you tracking and analyzing your Giving Tuesday donation form? Is there a metric that we didn't consider that you find important? We'd love to hear about it! You can share your ideas and see how others are managing their #GivingTuesday campaigns in the Giving Tuesday Discussion group in DP Community.