August 5, 2020 | Categories DonorPerfect Fundraising Software, Featured, Fundraising Strategies, Monthly Giving, Social Fundraising
Download Now: The Monthly Giving Communications Template Kit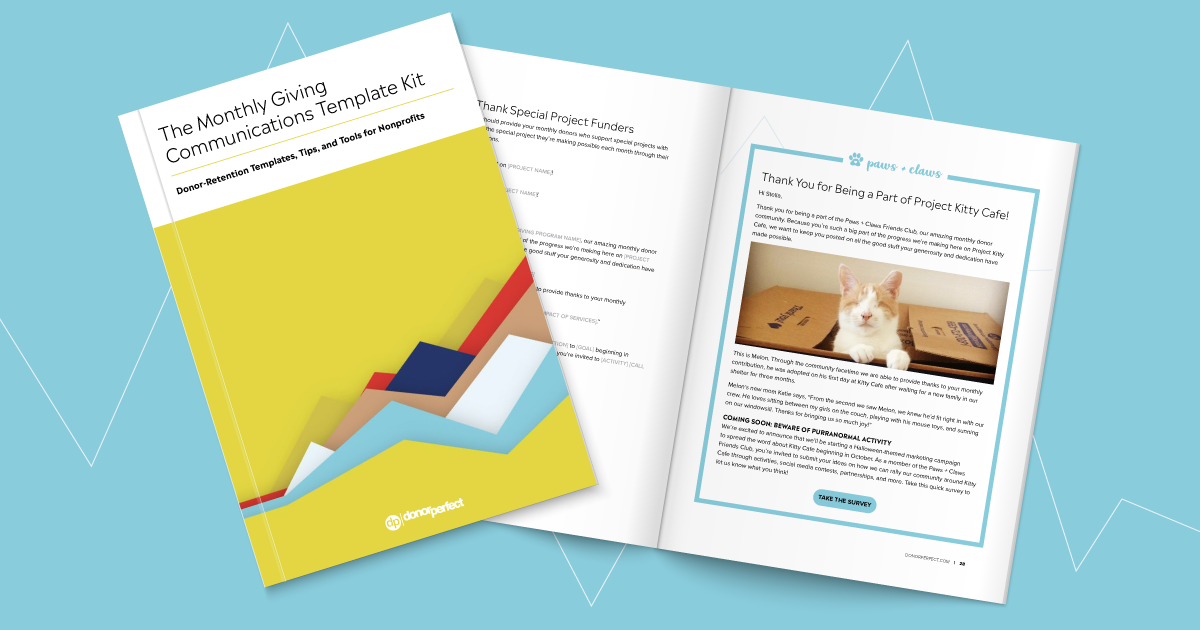 The monthly giving program has long been hailed as a magic bullet for nonprofit organizations seeking to build a steady revenue stream for their mission. In a post-COVID world, this need along with the necessity of focusing on donor retention is more apparent than ever. Fortunately, monthly giving programs are proven to produce generous donors who stay with a cause long term, year after year.
Download The Monthly Giving Communications Template Kit
Whether you've never tapped into the magic of monthly giving or your program needs a post-launch pick-me-up, this guide can help your organization more effectively communicate the value of becoming a monthly donor by:
Framing your monthly giving strategy around donors' specific impact
Promoting your monthly giving program via email, social media, phone, and video chat
Thanking donors in a way that shows them the difference their gifts make
Gaining time to engage donors by adopting efficient monthly giving tools
Take the first step to growing your monthly giving program today!
GET YOUR KIT
Why Monthly Giving?
On average, the annual contribution of a monthly donor amounts to 7x more than that of a one-time donor. Seven times. But that's not all, check out all of the numbers that show just how much more monthly donors act as both loyal funders and passionate advocates.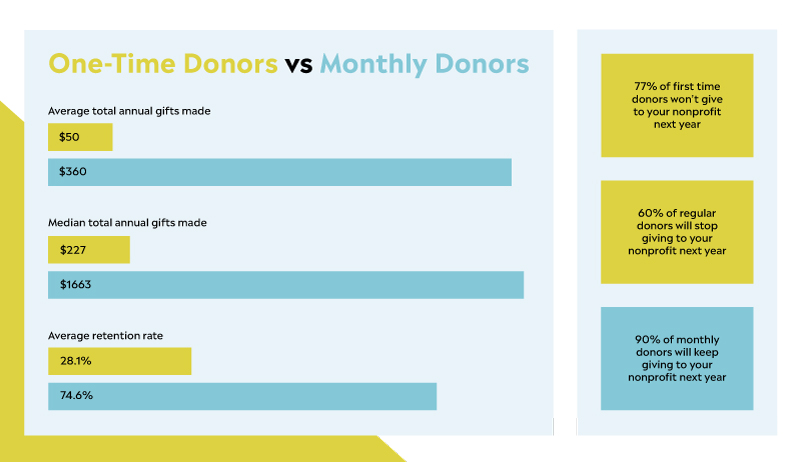 Starting Your Monthly Giving Program
Don't have a monthly giving program? Don't stress. Getting started is easier than you think. Once you designate a team member or a small team to "own" it, you can come together to:
Name your monthly giving program.
Pick a name that reflects the incredible qualities of your most dedicated donors. For monthly giving program name ideas, check out these 30 names for your monthly giving program.
Set up a system and processes to manage your monthly giving program.
DonorPerfect's affordable software packages offer a wealth of monthly giving program management features that ease any its administrative burdens on your team including:
Unlimited monthly giving donation forms that handle data entry for you
Automatic processing of recurring gifts at frequencies donors set
An account updater that ensures donors' banking info stays current
Constant Contact email marketing to promote your program
Comprehensive monthly giving reports and dashboard
Want to manage your monthly giving program with DonorPerfect? Call our crew to learn more at 800.220.8111.
Invite donors to join your monthly giving program.
You can't grow your monthly giving program if your donors don't know about it. Share about your program using the templates in this kit.
Download the Monthly Giving Communications Template Kit Now!