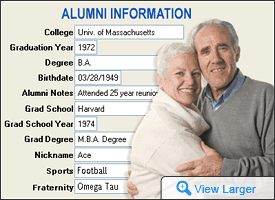 Advance the cause of education with DonorPerfect! From capital campaigns to development efforts, DonorPerfect helps educational institutions cultivate student, parent and alumni relationships. Record advancement and biographic data, as well as contact and giving history. Track and report on school-related memberships, sports, clubs, fraternities, sororities and college foundations. Identify potential major donors and maximize the value of every gift with WealthEngine, along with HEP Development matching gifts!
Education clients include:
Private Schools
Higher Education
Libraries
Student Organizations
Scholarship Foundations
Endowments
Key Features
Customize screens, fields, filters: Purchase price includes setup of unique data fields for specific data regarding social memberships, applications, eligibility for government aid and more. You can easily add or change fields in the future.
Integration API's (optional) make it easy to integrate with your website, student information systems, etc.
One data source handles all constituents, including built-in membership and volunteer management.
Special events management tracks event participants, ticket sales (with importing capabilities from third party ticketing programs), seating and table assignments, auctions, gifts and purchases, event summary reports and more.
Secure online donations, including memberships, event registrations and more, with credit card and bank draft (ACH).
Personal fundraising pages increase results by empowering volunteers, staff and event participants to ask for and accept online donations on your behalf.
Contact management features identify prospects, set goals, assign solicitors, and plan "moves" for targeted donors.
Targeted campaigns and solicitations for direct mail, capital campaigns, grants, annual appeals, telethons, major donor cultivation, endowments and more.
Customizable merging personalizes emails, enewsletters, postal mailings and other communications.
Automated pledge processing easily manages one-time or periodic payment pledges.
To see how DonorPerfect can meet your organizations unique needs,
call 800-220-8111 or click here for a FREE trial and consultation.