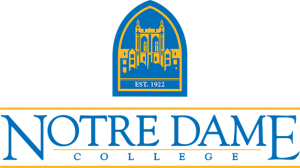 Notre Dame College Saved Time & Money by Making the Switch to DonorPerfect
About Notre Dame College
Notre Dame College was originally a women-only institution, founded in 1922 by the Sisters of Notre Dame, who had fled Germany during Bismarck's Kulturkampf. Today, Notre Dame College educates a diverse population in the tradition of the Sisters of Notre Dame.
Chris Kiec
Chris Kiec is a contractor for Notre Dame College, working in the IT department. She is also contracted by other nonprofits for her IT solutions.
Chris relies on fundraising software to ensure that multiple departments are able to communicate effectively about their fundraising operation.
A Q&A with Chris Kiec of Notre Dame College
Chris, Notre Dame College had been using Raiser's Edge for quite some time. What prompted you to look for a new fundraising software?
Our Development Department did not like Raiser's Edge, which sparked an initiative to replace the software. It did not provide us with enough customization capability, and there was no real interaction with the tech support people.
Why DonorPerfect, specifically?
Being able to save money was a big reason why the vice president wanted to go to DonorPerfect. We also needed to be able to communicate more effectively and have the ability to look at a donor record off-site. Our Raiser's Edge was installed. It was just too kludgy to be able to access donor records from donor engagement events.
With Raiser's Edge, we couldn't communicate with other departments smoothly. Now, by having unlimited users in DonorPerfect, everybody's using the same tool so we could adopt the policy and culture of transparency – without losing a sense of security.
Because we hit such a huge home run by adopting DonorPerfect, we were able to integrate really well, with minimal effort, with both our Development Department and Finance Department; gain their trust; and improve processes together, like getting the right information into QuickBooks. From an IT aspect, we won in multiple areas of the college for a third of the price of Raiser's Edge.
What was it like to transition to DonorPerfect from Raiser's Edge?
Despite being understaffed during the busiest time of the year, it was the least drama-filled conversion I had ever done in my entire life. I attribute all of that to the excellence of the product and the excellence of my conversion team that I had at DonorPerfect. DonorPerfect's staff is so all about customer service and making the process seamless – it was just amazing – especially since we had 20 years worth of data to transfer from Raiser's Edge and over 100 custom fields to set up in DonorPerfect. We all just waited for the second shoe to drop but it just never came.
Are you saving time with DonorPerfect?
Yes. My vice president used to keep 3 copies of documentation for every donation to share with staff who did not have access to Raiser's Edge. Our Finance Department is now able to handle incoming donations independently, which really streamlined auditing and data entry. Gathering information for 20 gifts for our audits used to take a week in Raiser's Edge. With DonorPerfect, it takes 7 minutes.
Even our staff meetings have been dramatically shortened, thanks to DonorPerfect's scheduled reports. We've created some reports, scheduled to be emailed to our team each Friday, so that the team could review the proper information and be prepared for their Monday meetings.
What features do you like in DonorPerfect?
Receipts and Scheduled Reports. We have to produce acknowledgement letters for each donation, but because Raiser's Edge was so complicated, only one person knew how to do it. They'd have to locate the acknowledgement file, somewhere on the computer, and double-check it for accuracy. Because everybody understands how to use DonorPerfect and can access letters within the product, anyone can do it, which cleaned up our receipting process.
Similarly, if a department is unclear about donations that came in one day, they can always refer to our scheduled report that emails the information to the entire department and the president, automatically, each day. Any adjustments to gifts can be made and documented instantly. Before, we had to wait until the end of the month to come up with totals during our reconciliation, since we didn't have enough users in Raiser's Edge to allow the Finance Department access.
Has DonorPerfect gotten you closer to meeting your nonprofit's goals?
DonorPerfect's scheduled reports allowed our vice president to start focusing on converting prospects into donors and increasing donation amounts from recurring donors. The scheduled reports also helped our president, our biggest fundraiser, to solicit more funds. Because of these reports and the dashboard that we created for him, he could really focus his time and effort on soliciting the most ideal donors. He was able to thank these donors for the specific amounts they gave, tell them, based on the designation, what their money went toward, and request for an appropriate increase in support.
We can reach a lot of our donors, knowing that we have accurate contact information. We've been using Online Forms at Notre Dame for a year, so far, to clean up all of our donor data. Donors enter and update their contact information right into the forms, then it syncs into DonorPerfect for us. We don't have to go into DonorPerfect to update it ourselves. We did not need training on any of this because the documentation is just awesome.
With Raiser's Edge, we couldn't communicate with other departments smoothly. Now, by having unlimited users in DonorPerfect, everybody's using the same tool so we could adopt the policy and culture of transparency – without losing a sense of security."
– Chris, Notre Dame College