Custom Calculated Fields
Discover in-depth details on donor giving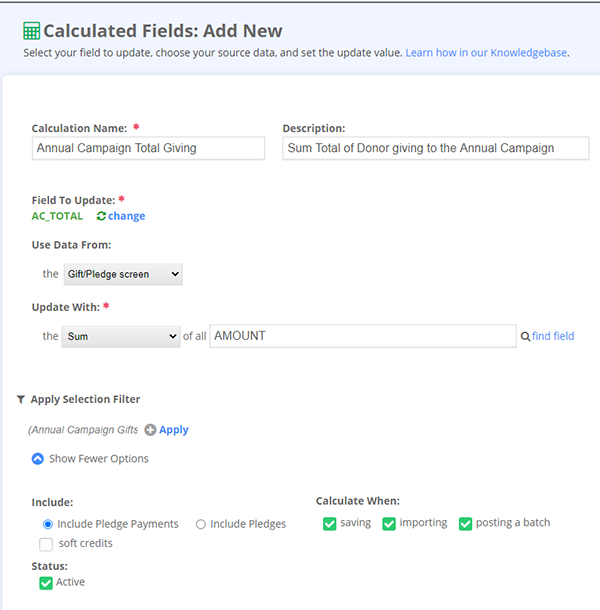 Click Image to Enlarge
When was the last time a donor responded to your annual campaign? Do some donors give more during GivingTuesday versus other campaigns? How much did a donor give in the last 3 years? These are questions that can be answered through the use of Calculated Fields in DonorPerfect – available to you right from your donor records and in the data you pull from reports. DonorPerfect's robust reports use the fields in your system to track donor giving data; and although DonorPerfect comes loaded with hundreds of standard fields, you can fine tune reports to your needs with these additional custom calculations. Now you can take your reporting to the next level!
Custom Calculated Field Features
Custom Real-Time Calculations
Create new fields easily with an intuitive builder
Use calculated fields in filters and reports
Populate fields in donor records automatically based on criteria you set
Calculate the count, sum, or average of data you specify in a filter
Determine the most recent or first donor interaction based on criteria you set in a filter
Calculated Fields Use Cases
Quickly identify the last date a donor made a gift to a specific campaign
Discover your top foundation donors within a specified date range and state
Sum or count gifts solicited by individual board members
Calculate the number of hours your members volunteered
Add to your records the date of the first event or volunteer experience of your donors
Reporting and exports are straightforward enough that my new users are comfortable with the process, and here in operations, we're able to create custom calculated fields and more complicated data exports. It works well for my whole team."
Learn More About Custom Calculated Fields