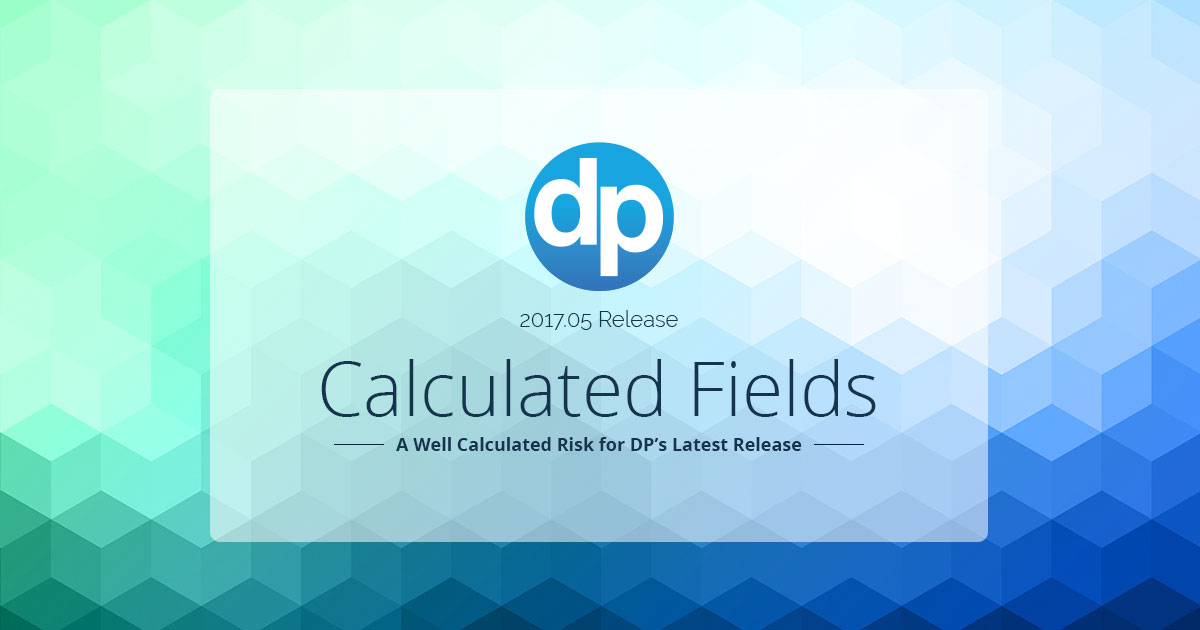 Calculated Fields are a powerful feature in DonorPerfect. We've even had clients tell us that it's one of DonorPerfect's best kept secrets! Once created, they help you segment your donors for reporting and targeted communication. In this upcoming release, we've completely overhauled the Calculated Fields screens to make creating them much simpler and quicker. If you haven't used Calculated Fields in the past, you'll want to start when the feature is enabled! It's scheduled to be released to all systems by the end of next week, May 5th.


First, What is a Calculated Field?
Calculated Fields automatically update and store key information in fields to display in a donor's record, filtering, and reporting. They get their data by calculating on what appears in other fields. Later in this post, we'll work through one common Calculated Field example so you can see them in action but first, let's see what's changed.


What's Different from Before?
If you've already used Calculated fields, you'll notice right away how much easier it is to use. For starters, you won't waste time scrolling through a screen with inactive fields. Now Calculated Fields will display only the active calculated fields by default, with an option to toggle the display between all/active calculated fields. You can also use the search box at the upper right to find a field. To reorder your fields, simply drag a row up or down. Need to make a copy of an existing field? Simply click the copy icon.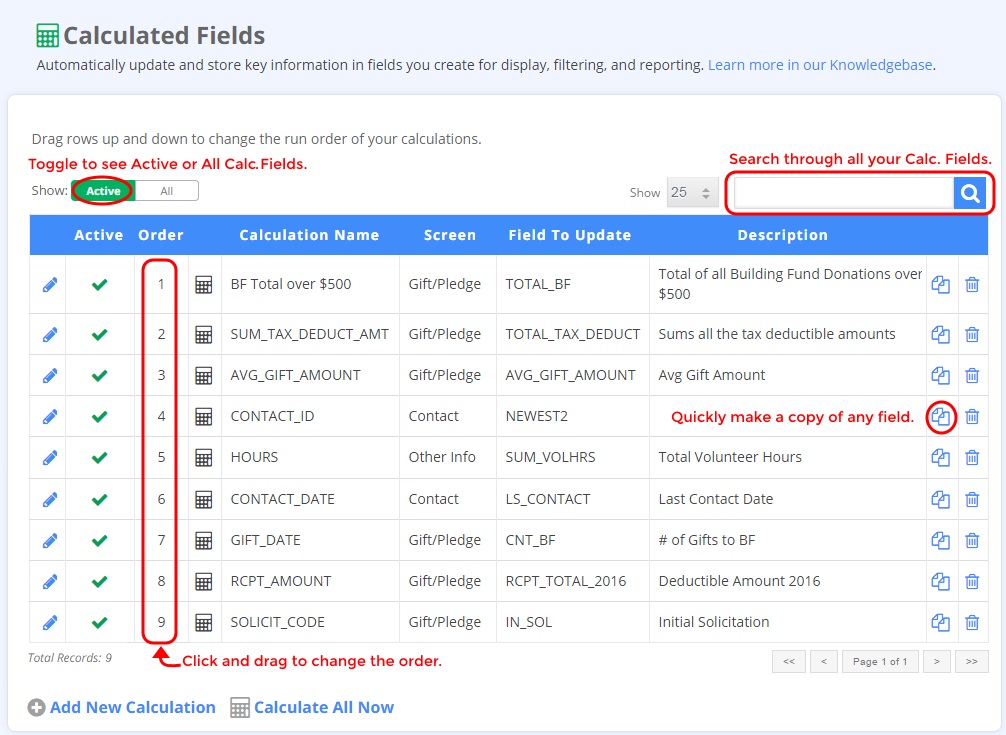 Calculated Fields In Action
Find All Donors Who Gave $500 or More to the Building Fund
Scenario: Your Development Director has asked you to mail out a solicitation for your Building Fund and to target donors that have given at least $500 total in the past, since they are most likely to give again. To do this, you'll need to create a calculated field that will track all donors who have given $500 or more to your Building Fund.


Add a new calculation, specifying the Calculation Name and a brief description. In our example below, we noted selection filter specifics in the description. 

Click Find Field and select or create your Field to Update. This is where you'll store the result of your calculation. In our example, we're creating a new field but you can select an existing one as well.
To create a new field, click Add New. We're creating a Text Box field (Currency) with the name of TOTAL_BF that will appear on the main screen.
Choose your source data (Gift/Pledge Screen), and set the update value (Sum of Amount Field).
For our example, we set a selection filter where the "GL" is equal to the "Building Fund" and the amount of a donation was over $500.
When finished, click Save and Close. Your new calculation will be listed first among active calculations. Simply drag and drop to change the order.
Visit Find Donors Who Gave a Certain Amount to a Specific Fund in the Knowledgebase to see full instructions.


Where Can I Use This New Field?
Since this new field (TOTAL_BF) is stored in the donor's records as an actual value, you can use it everywhere you can apply a filter. Calculated fields are at the core of your system. They can be used with every feature such as segmented dynamic Constant Contact lists, reporting analysis, merge fields in letters, emails to donors, and more!


Video: How to Use Calculated Fields
Watch as we take you step by step to create and edit a calculated field in this video:
Release Notes
Calculated Fields aren't the only feature that was updated in this release. Read about all of the enhancements and fixes in the DonorPerfect 2017.05 Release Notes in the Knowledgebase.
Updated Feature: A Well Calculated Risk for DP's Latest Release.