Donor Engagement
TOOLS TO FOSTER DONOR RELATIONSHIPS FOR A LIFETIME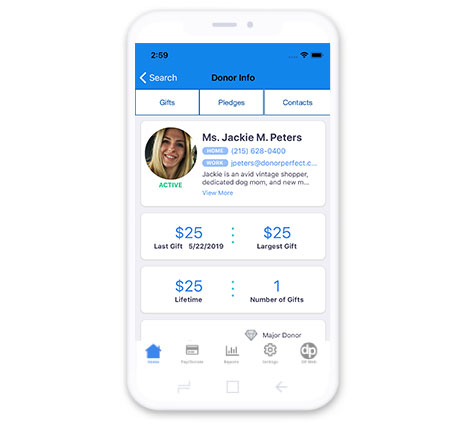 To retain donors, you need to let them know what they mean to your mission and keep them engaged. That means knowing each and every one of your donors' contributions as well as when follow-up and feedback is warranted. DonorPerfect puts this information front and center for your staff and equips you with workflows that automate much of the tasks to make it happen.
Donor Engagement Features
Acknowledge gifts and send receipts
Thank all your donors at once with personalized emails and letters
Email official PDF receipts
Send individual and/or year-end receipts
Automatically acknowledge monthly and online gifts
Stay on top of donor communication
Assign/add tasks to external calendars (Google, Apple)
Automatically assign tasks or prompt alerts based on triggers you set
Manage your upcoming and overdue tasks with a personal to-do list at login
Access donor details and instantly document phone calls via the mobile app
Send donors reminders for upcoming pledge payments
Be an email marketing pro
Sync your data with Constant Contact email marketing
Create contact lists that auto-update based on filters
Analyze the success of your campaigns
Set up campaigns that email contacts based on what they click
*Talk to your account manager about including Constant Contact with your DonorPerfect subscription.
Say it with video
Manage video email campaigns to share impact, say thanks, make an ask, and more
Allow viewers to watch your video on a landing page you design
Assign video creators among your team who will receive reminders to film
Add buttons below your video to encourage viewers to take the desired action
It's the most comprehensive customer relations management system out there for nonprofits. You'll be able to get that 360° view so you're able to understand who your donors are, what their passions are, and then relate your mission to their passion, which we know will deepen engagement and raise your gifts. It will also help your organization grow its network of supporters."
Learn More about Donor Engagement