DonorPerfect Community
Your DonorPerfect Resource Hub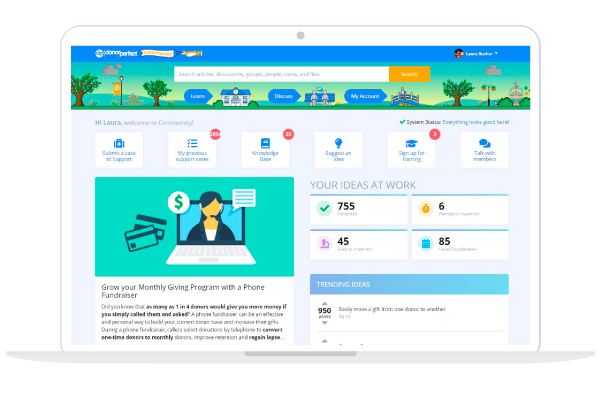 Click Image to Enlarge
Part of DonorPerfect's mission is to ensure that your user experience is "delightful." With that in mind, we've put together a network of resources to make your initial product training and your day-to-day workflow as simple as possible, with access to learning materials like knowledgebase articles, weekly and monthly webinars, and instructional videos.
DonorPerfect Community also gives you access to our team and connects you with other nonprofits. From here, you can access your account information, engage with your nonprofit peers, chat with our Support Team, and tell us what we can do to make our software even better.
DonorPerfect Community Features
Manage your account
Review your technical support case history
Access your past and present invoices
View feed of Community user activity
Add/remove yourself from mailing lists
Pay your bill online
Get the help you need
Submit a case to our Support Team via chat
Access knowledgebase articles and training videos
Read feature articles for helpful tips and best practices
Get the latest release information from our blog
Sign up for webinars and live or on-site training
Engage with your nonprofit peers
Connect with other nonprofits for advice
Post a question or poll
Answer and comment on other user posts
Join regional and topic-focused group discussions
Follow other Community users
Get a say in your software
Submit suggestions for new features and vote on others
View and vote on trending ideas from the dashboard
Emailed updates on the status of your suggestions/votes
Dashboard view of ideas completed, planned, declined
Check Out DonorPerfect Community!
There's so much to like…I would absolutely recommend DonorPerfect. Outside of the fact that the software is phenomenal…I think the community is incredible. The support from the DonorPerfect staff if you have a question, and also the support from other users, has just been phenomenal."
Learn More About DonorPerfect Community