GiveCloud
Modernize your online fundraising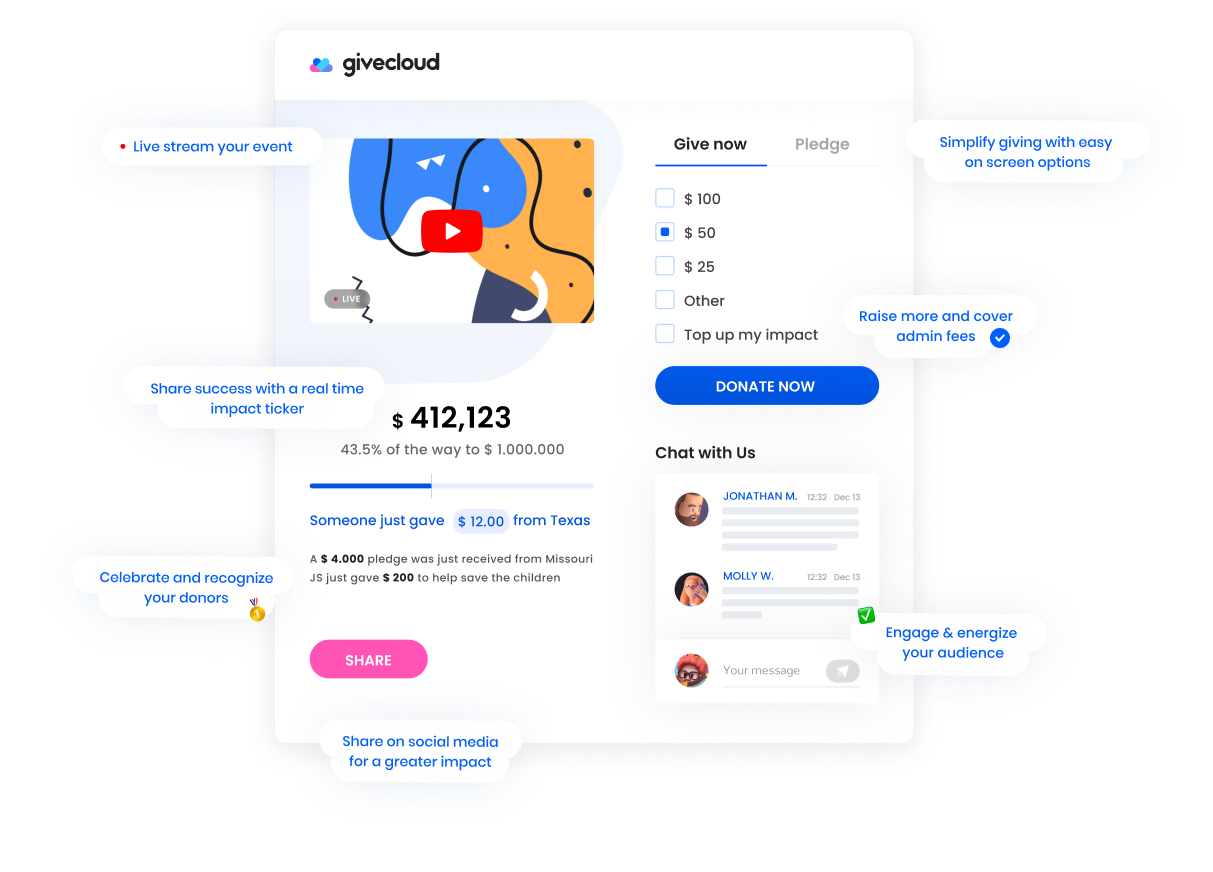 Click Image to Enlarge
Enhance your donors' online giving experience and diversify your revenue streams with GiveCloud for DonorPerfect. With Givecloud's intuitive platform, your staff and volunteers can easily set up and manage interactive virtual events, embed donation forms onto your website, and build and manage your website. GiveCloud's integration with DonorPerfect syncs your donor and gift data into your DonorPerfect database.
Manage all aspects of your virtual event
Host free or ticketed events on a webpage you customize with an image and your logo
Stream live or pre-recorded videos during your event via YouTube, Vimeo, or Zoom
Enable guests to chat and share reactions in a live comment thread
Display a donation form next to your featured presentation
Share your success in real-time with a live ticker
Automatically show individual donations as they come in to publicly thank donors
Celebrate gifts over a specified threshold with on-screen confetti for every user
*Support packages available for various levels of setup assistance
Create a website, designed for giving
Build a nonprofit website with easy-to-use tools anyone can use (No coding skills required!)
Add multiple forms of media to your website, like photos and videos
Sell virtually anything in an online store (memberships + renewals, registrations, free items, etc.)
Manage, track, and fulfill online purchases, taxes included
Keep supporters informed by creating and managing a blog
Embed donation forms on your website
Process one-time and recurring donations
Add a short form to any website that keeps donors on your page
Customize button text and color
Copy and paste a provided code into the backend of any of your websites
Allow donors to filter and find sponsorships
Track sponsorships
Set goals and track progress with a real-time goal thermometer
Personalize the giving experience with a donor portal
Enable donors to dedicate their gift and send ecards
Give donors access to their giving history and tax receipts
Let donors modify recurring gift amounts and change payment methods
Make it easier for donors to give again with a one-click payment option
Provide donors with exclusive access to products, downloads, and discounts
Customize a supporter's experience based on their last purchase
With Givecloud's integration with our DonorPerfect database we have streamlined our donation and sales processing and data entry; giving us more time to focus on our education and advocacy for the Adirondacks."
Learn More About GiveCloud