Hosted File Storage
FILES RIGHT WHERE YOU NEED THEM, ACCESSED ONLY BY WHO NEEDS THEM.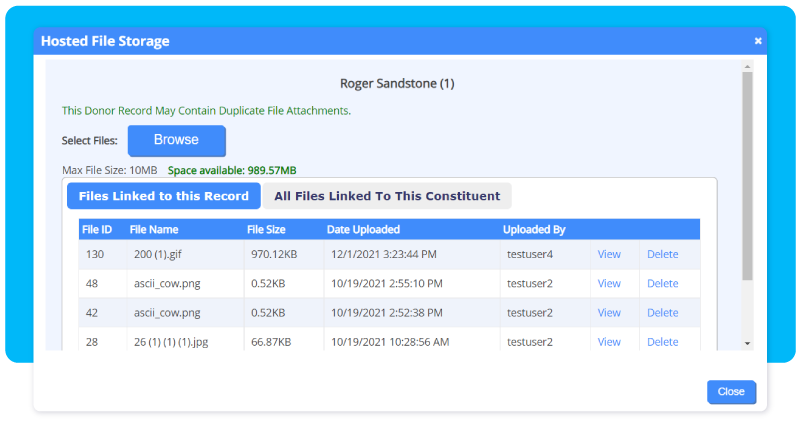 Click Image to Enlarge
Because DonorPerfect is cloud-based and runs on secure servers, you can safely attach files relevant to your fundraising activities within your constituent records and access them from anywhere. Control which of your users can access those files with DonorPerfect's User Management.
All files are automatically backed up each night and are searchable, based on the donor's name or ID, type of file, when it was uploaded, and file size. You can store virtually any type of file within the different screens of DonorPerfect records.
Use Cases By Screen
Main and Bio Screens
Photos from events
Articles written by or about the constituent
Gifts and Pledges Screens
Spreadsheets related to a constituent, gift, or pledge
Stock or in-kind gift valuation letters
Planned giving proposals
Simplify your data entry
Business cards of employees within a company record
Correspondence explaining mailing requests and updates
Photos of additional contacts within the record
Contacts and Other Info Screens
Volunteer applications
Copies of correspondence
Authorization forms and grant request documents
Legal documents
With Raiser's Edge, we couldn't communicate with other departments smoothly. Now, by having unlimited users in DonorPerfect, everybody's using the same tool so we could adopt the policy and culture of transparency – without losing a sense of security."
Learn More about Hosted File Storage