Unlimited Data for ALL Constituents in ONE Database!
DonorPerfect makes it easy to track and manage unlimited fundraising and constituent data. You can readily access this information to guide fundraising efforts, process donations and create reports that help you plan future campaigns. DonorPerfect handles all constituent data, including:
All you need to manage:
Donors
Prospects
Members
Volunteers
Foundations
Alumni & Students
Event Participants
Corporate Sponsors
Your Unique Data
Integrated
DonorPerfect ensures everyone uses the same up-to-date information!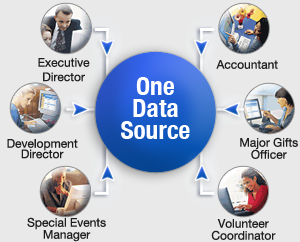 Looking to consolidate multiple databases and provide your development staff fully integrated tools — DonorPerfect is the solution. It stores all constituent information in one database so all authorized staff can use, maintain and report on the same up-to-date information!
Seamless Functionality
Workflow is faster and more productive as you access the latest data for any task.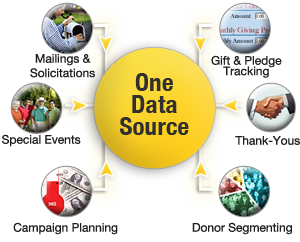 DonorPerfect's comprehensive features all work together. Whether you're generating solicitations, processing donations, tracking communications and building relationships, you'll never need to enter data twice!
Third-Party Integration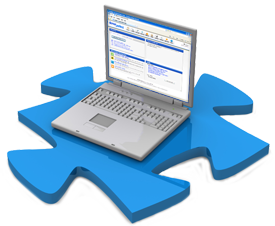 Never Enter Data Twice! Integrate and synchronize with your favorite software and other systems.
DonorPerfect makes it easy to share data with popular third-party products like Word, Excel, & QuickBooks. We even offer API tools to integrate with your website or other specialized software you use.
Your Software, Your Way!
Fundraising software should adapt to you – not the other way around!
Don't let inflexible software limit how you work. DonorPerfect's powerful fundraising tools are designed to be easily customized to your exact needs! Our philosophy is simple: your organization is unique. You deserve flexible nonprofit software that adapts to your unique needs.
DonorPerfect makes everything run faster, easier and better by allowing you to customize your software! Change ANY screen, field or report you wish with a few mouse clicks! Need to add, change or rename data fields? How about creating or modifying a report with data unique to your nonprofit? With DonorPerfect, if you can think it, you can do it!
DonorPerfect Mobile
DonorPerfect Online - on the go!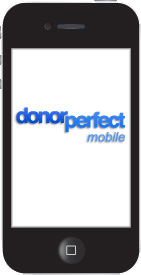 DonorPerfect Mobile combines the database power of DonorPerfect Online with the convenience of a mobile app to form the perfect traveling companion for DonorPerfect users. A powerful suite of features lets you access your DonorPerfect information at home or on the road, 24 hours a day.
The DonorPerfect Mobile app is designed with the iPhone, iPad and Android owner in mind - it's fast, streamlined and easy-to-use!
To learn how DonorPerfect can meet your unique needs
call 800-220-8111 or click here for a FREE consultation.