Integrate your site with DonorPerfect using these powerful fundraising tools.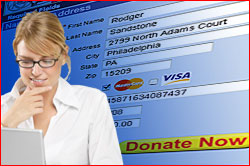 How can DonorPerfect help get the most out of your fundraising site? Our online forms and credit card processing tools make it easy to accept donations online, as well as gather donor information, memberships, event sign-ups and online fundraising sales. We also make it simple to tap into the power of social network fundraising, and offer instant credit card authorization tools. And our proprietary SafeSave™ feature ensures all data is encrypted and absolutely secure.
DonorPerfect was used to track 55.5 million people, with total donations over $7.5 Billion Dollars, in 2008. New clients average fundraising increases of over 21% in their first year!