Client Success Story: Boys and Girls Clubs of Long Beach
The mission of the Boys & Girls Clubs of Long Beach is to provide a positive, safe, and nurturing environment where youth are encouraged to become responsible members of the community. For several years, Karen Reside has been working in the development office using GiftMaker Pro.
Business Challenge
Difficulty reporting on needed information from GiftMaker Pro and Raiser's Edge systems.
Karen found that GiftMaker Pro was difficult to use. "It was not user-friendly. I couldn't figure out how to generate reports or get any useful information out of it. And I had trouble eliminating duplicate records."
When they decided to switch, they had a choice of either using Raiser's Edge from Blackbaud, which purchased GiftMaker, or going with a different solution. Karen had used the Raiser's Edge at a previous nonprofit, but she didn't like it. "I didn't think it was user-friendly at all. I couldn't pull any data out of it. In fact, I couldn't even figure out how to pull up the data on the screen. It didn't seem to make sense to go from one solution to another with the same issues we were having (with GiftMaker Pro)."
Solution
DonorPerfect Fundraising Software
The Boys & Girls Club of Long Beach chose DonorPerfect for several reasons. First, DonorPerfect provides a cost-effective solution, especially compared to Raiser's Edge. They also liked the intuitive, easy to use features. From generating targeted solicitations to keeping notes on potential major donors, DonorPerfect provides a comprehensive set of tools for communicating, tracking and managing campaigns and results. Lastly, they chose it for its flexibility. DonorPerfect is pre-configured to match the needs of the nonprofit, and then, as needs change, it's simple to customize ANY fields, screens and reports – without any computer programming.
Key Results
As soon as she began using DonorPerfect at the Boys & Girls Clubs, Karen noted "I remembered how much I enjoyed working with it, and SofterWare, at the other nonprofit, and I'm thrilled to be with them again. Support is great – they're friendly, prompt and helpful." As for the system, she noted "Its amazing what information you can get out of it with reports, what you can do with the data, how you can slice and dice it – its very powerful. Plus, it's so easy to add records. We realized a 25% time savings when we began using DonorPerfect."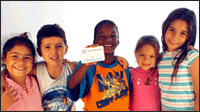 Key results:
25% reduction in data management time.
Filtering and queries are easy to use and retrieve the exact data needed.
Easy to view and report on ANY data in the system.
Friendly, prompt and helpful support has improved the usefulness of her system.