Your Giving Tuesday Donor Engagement Journey
When it comes to first impressions, Giving Tuesday is your time to shine. Many donors are deciding to make their very first gift to a cause. So how will they feel about their very first giving experience with your organization?

The key to turning a first-time donor into a long-time supporter is to craft a donor engagement strategy that compels someone to donate and wows well beyond the buzz of Giving Tuesday.

That's right. In addition to Tuesday, you'll want to adopt a keen focus on "Welcome Wednesday" – the day after Giving Tuesday – as well as the weeks that follow. (We recommend prepping for Welcome Wednesday by refreshing your new donor welcome series. Need some help? Use these free template kits that will have you set in a flash.)

Now it's time to get started on building your Giving Tuesday donor journey! Hold a brainstorming meeting with staff, board members, and even some enthusiastic donors or supporters who can serve as valuable contributors to your Giving Tuesday campaign. As a group, consider the ideas and questions below to help guide your discussion as you work to build your campaign from a donor's perspective. Complete the statement at the end of each section as the basis for all that you'll plan for Giving Tuesday.
How Will Your Giving Tuesday Campaign Make Donors Feel?
Emotion plays an integral part in the success of your Giving Tuesday campaign. As you begin to brainstorm ideas for your Giving Tuesday campaign, what kind of emotions do you want to elicit from your donors?

Inspired Donors gain new ideas from your campaign, specifically around the kind of change they'd like to be a part of in the world.
Appointed Donors feel your invitation to them to give is a calling, and they're drawn to support your campaign and champion your mission.
Passionate Donors are enthusiastic about your cause and are willing to go beyond giving to lend their talents and time to help you succeed.
Hopeful Donors have faith in your organization to provide solutions to problems they see in their community, their country, internationally, or in society as a whole.
As a donor, [ORGANIZATION NAME]'s Giving Tuesday campaign makes me feel [EMOTION].
Coral Acres Food Pantry's Giving Tuesday campaign makes me feel appointed to feed families in need who live in my community.
Why Will Donors Connect with Your Campaign?
Your Giving Tuesday donors give because they feel personally invested in ensuring that your nonprofit's mission succeeds. How will your Giving Tuesday campaign motivate donors to take action?

Stories Donors see themselves or someone they know in the stories you tell about people who have benefitted from your organization's work.
Impact Donors want to feel that they are responsible for the positive impact your organization is striving to achieve.
Community Donors want to belong to and identify with a group of people who are bringing about a desired change together.


As a donor, [ORGANIZATION NAME]'s Giving Tuesday campaign theme resonates with me because ___________________.
As a donor, Coral Acres Food Pantry's Giving Tuesday campaign theme resonates with me because of Anna's story of working to provide food and shelter for her children while attending college to boost her ability to earn a higher income. Her testimonial shows how difficult it can be to get ahead while managing a family and a home and I want to help her succeed.

How Will Donors Discover Your Giving Tuesday Campaign?
You've created a Giving Tuesday campaign complete with a stunning story, beautiful photos, and multiple ways to give, but if no one sees it, will anyone donate? Of course not! That's why it's critical that you take the time and make the effort to ensure that your campaign resonates and is discoverable.

Crafting a multichannel communication strategy around your Giving Tuesday campaign will enable you to reach as many donors as possible. To begin, think about Giving Tuesday from a donor's perspective.
As a donor, I'll decide to support [ORGANIZATION NAME] on Giving Tuesday when I:
See a post on social media.
Receive a Giving Tuesday email.
Visit [ORGANIZATION NAME]'s website.
Read articles about Giving Tuesday.
___________________ .
___________________ .
As a donor, I'll decide to support Coral Acres Food Pantry on Giving Tuesday when I:
See a post on social media.
Receive a Giving Tuesday email.
Visit Coral Acres Food Pantry's website.
Read articles about Giving Tuesday.
Attend a fall event.
Receive a #GivingTuesday postcard.
There are several ways you can pinpoint how much you should invest in any particular channel. First, analyze last year's campaign, and determine which content and collateral drove donors to give. Did your Giving Tuesday emails lead to big website engagement? Did your social media feeds drive online forms engagement?
Next, go straight to the source! Survey your donors on social media or via email to learn where they find out about causes to support on Giving Tuesday and what draws them to a particular organization.
What's It Like to Make a Donation to Your Organization?
The good vibes of Giving Tuesday shouldn't stop at your donation form. In these modern times, the act of making a donation should be just as joyful as the moment someone is inspired to give. Fortunately, donor management systems like DonorPerfect provide flexible online forms that can help your organization offer your donors a giving experience that is:

Easy Donors can give online, mobile, and monthly gifts through branded online forms in seconds from any desktop or mobile device.
Social Invite donors to fundraise on your behalf by creating and sharing their very own pages with DonorPerfect Crowdfunding.
Gratifying Thank your donors instantly. DonorPerfect Online Forms can be set up to instantly acknowledge any transaction in a personalized manner.
Effortless Let donors give without lifting a finger with DonorPerfect Online Forms. The forms' recurring gift option and the ability to create forms exclusive to your monthly giving program enable donors to support you automatically.
As a donor, I want giving to [ORGANIZATION NAME] to be ______________ .
As a donor, I want giving to Coral Acres Food Pantry to be easy and gratifying.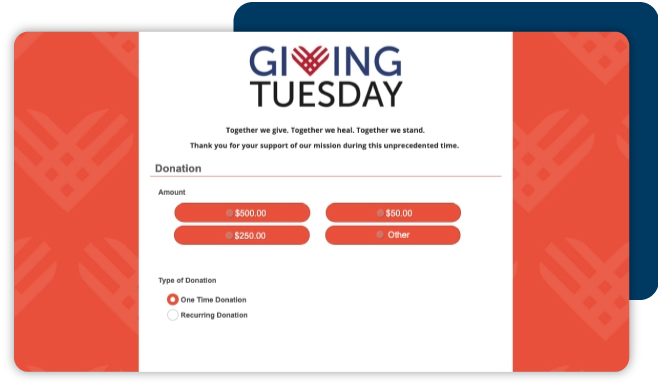 Opt for a #GivingTuesday Form that Gives All The Feels
DonorPerfect Online Forms showcase your brand, offer donors the convenience they desire and deserve, and say thanks for you, because let's be real – you have enough to do!
VISIT THE ONLINE FORMS GALLERY »
What Happens Beyond a Donor's Giving Tuesday Experience?
Since Giving Tuesday proves to be a goldmine of new donors, it's important to create a post-Giving Tuesday retention system that invites and encourages them to stick around.
As a donor, I want to:
Be thanked for my donation.
Know where my donation is going.
Learn more about ______________ .
Volunteer at ______________ .
Attend ______________ .
______________ .
As a donor, I want to:
Be thanked for my donation.
Know where my donation is going.
Learn more about Coral Acres Food Pantry's mission.
Volunteer at Coral Acres Food Pantry's Holiday Food Drive
Attend Coral Acres Food Pantry's winter gala.
Launch a crowdfunding campaign for Coral Acres Food Pantry
Get the Giving Tuesday Cheatsheet