DonorPerfect Partners with NOZA to Improve Targeted Fundraising for Nonprofits
DonorPerfect fundraising software now integrates to NOZA's extensive database of charitable donations, enabling nonprofits to better target solicitations, increase donation amounts and find new donors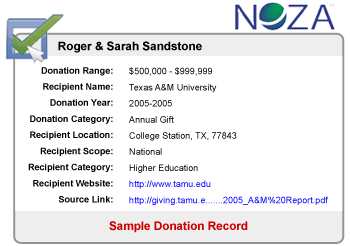 Horsham, PA — SofterWare, Inc., developer of DonorPerfect Fundraising Software, today announced a strategic partnership with NOZA, Inc., that will enable DonorPerfect clients to access actual giving transactions from NOZA's database of over 44 MILLION people, companies, and charitable foundations. Starting with the web-based version, DonorPerfect Online, DonorPerfect clients will be able to access their donor's giving information in NOZA with an integrated link. This will enable them to find out whom these donors have given to and how much they have donated. Plus, DonorPerfect clients will be able to find new donors by either geographic area or similar mission.
Jon Biedermann, Vice President for SofterWare, Inc., said "We're thrilled to partner with NOZA and provide our clients integrated access to their huge database of gifts. This valuable, cost effective resource is easy to use, and integrates with their DonorPerfect system with the simple click of a mouse. Our clients will be able to use this data to better target their solicitations and "Ask" amounts. It will also enable to them increase both the quantity and size of their gifts. This is especially important as nonprofits continue to face challenges in this economy."
Craig Harris, President & CEO of NOZA, Inc., commented "This is a very exciting partnership for NOZA and DonorPerfect, which will greatly impact the major gift fundraising efforts of DonorPerfect's CRM customers. When I started my fundraising career a dozen years ago at a community nonprofit organization, I was a DonorPerfect customer. It is an honor to continue my longstanding relationship with DonorPerfect now as a strategic partner, helping to bring the latest in technology and actionable data to the desktops of thousands of nonprofits using DonorPerfect's CRM solutions."
For more information about DonorPerfect and NOZA's integration, please call DonorPerfect at (800) 220-8111 or visit www.donorperfect.com or visit NOZA at www.nozasearch.com.
About SofterWare, Inc.

SofterWare, Inc., based in Horsham, Pennsylvania is a leading provider of software to nonprofit organizations, with over 10,000 clients throughout the world. In addition to the company's DonorPerfect fundraising software, SofterWare also offers software for managing childcare centers, public and private schools, and camps and conference centers. For more information on SofterWare and its products, please visit www.softerware.com. For more information on DonorPerfect Fundraising Software, please visit www.donorperfect.com.
About NOZA
NOZA, Inc., a Santa Barbara based technology company, has developed a platform to convert unstructured and semi-structured data from the open web into relational databases. The first application of NOZA's technology was the development of the world's largest searchable database of charitable giving information, used by more than 20,000 nonprofit organizations throughout the United States and Canada. For more information please visit www.nozasearch.com.
Media Contact
Sam Goldenberg
215-542-4390 x233
sgoldenberg@softerware.com
www.donoperfect.com