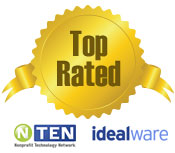 Horsham, PA, May 1, 2009— The family of DonorPerfect solutions received the highest fundraising software ratings among all vendors in a new report, "A Consumers Guide to Low Cost Donor Management Systems," from independent organizations, NTEN and Idealware.
After an extensive evaluation, both DonorPerfect Installed and DonorPerfect Online (our web-based fundraising solution) received more "Excellent" ratings for their features than any other products. In addition, the report identifies several purchasing categories for nonprofits, and DonorPerfect received six recommendations for the online version, and five for the installed version.
How the Evaluations Were Performed
Independent organizations NTEN and Idealware initially identified 33 systems that met their criteria for cost-effectiveness and popular use. After extensive interviews, detailed surveys and two rounds of demonstrations, they selected DonorPerfect as one of the top ten solutions. The ten products were evaluated on 127 standard criteria, and recommendations were made based on nonprofit purchasing categories as well as on specific features.
DonorPerfect Stands Out
For the purchasing categories in which many nonprofits would classify themselves, DonorPerfect Installed (DPI) and DonorPerfect Online (DPO) received the following recommendations:
You're a tiny but growing organization, and price is critical –

BEST BET

– DPO
You need something easy to set up and use –

BEST BET

– DPO
Fundraising events are a critical part of your process –

BEST BET

– DPI
You want to track all your constituents in one system – BEST BET – DPI & DPO
You need to integrate tightly with email and your web site – RECOMMENDED – DPI & DPO
You need something highly configurable – BEST BET – DPI & DPO
You want the best fundraising support $4,000 will buy – BEST BET – DPI & DPO
In the Features Comparison, in which the ten vendors received Excellent, Good or Fair ratings, all the DonorPerfect products received a greater number of "Excellents" than any of the other products. With a total 18 Excellent ratings available, here are the results:
DonorPerfect Online Full – 16 Excellents
DonorPerfect Installed Full – 15 Excellents
DonorPerfect Online Basic – 14 Excellents
DonorPerfect Installed Basic – 11 Excellents
Next closest product – 10 Excellents
Last product – 4 Excellents
Jon Biedermann, SofterWare Vice President of Fundraising Solutions, noted "We are absolutely thrilled by these results! We place a premium on client feedback, and for over 20 years, our staff has been working hard to take that feedback and produce the best fundraising software solution at the best value. This report shows our efforts have paid off."
Doug Schoenberg, SofterWare CEO, also noted "This report demonstrates that providing a first-rate fundraising solution doesn't have to cost an arm and a leg, especially when nonprofits are trying to lower costs and raise more money in a tough economy."
To see the DonorPerfect excerpt, please visit www.donorperfect.com/BestBet.
For the full report and a comparison of 33 different systems, please visit www.nten.org/donor or www.idealware.org/donor
About SofterWare, Inc.

SofterWare, Inc., based in Horsham, Pennsylvania is a leading provider of software to nonprofit organizations, with over 10,000 clients throughout the world. In addition to the company's DonorPerfect fundraising software, SofterWare also offers software for managing childcare centers, public and private schools, and camps and conference centers. For more information on SofterWare and its products, please visit www.softerware.com. For more information on DonorPerfect Fundraising Software, please visit www.donorperfect.com or www.donorperfect.ca.
Media Contact
Sam Goldenberg
215-542-4390 x233
sgoldenberg@softerware.com
www.donorperfect.com