Your
Canadian

Fundraising Growth Platform
Engage your supporters and raise more money with an online fundraising solution built for Canadian nonprofits.
Based in Montréal since 1987
Donor data hosted in Canada
Bilingual support and training
Billing in Canadian dollars
Experts in tax receipting following CRA standards
Connect with our sales team to learn more:
See all the ways DonorPerfect helps you be a better fundraiser.
DonorPerfect has a pricing package to meet your needs and budget
Show gratitude to your supporters with receipts and e-receipts that follow CRA standards
Accept and process donations in Canadian and US dollars
Support and training when you need it, from DonorPerfect experts in English and in French
A customized experience that works for you
Embrace the future
of fundraising.
DonorPerfect is the complete fundraising and donor management solution. Your nonprofit will raise more money and cultivate valuable donor relationships by minimizing time-consuming administrative tasks and organizing your constituent data easily and effectively.
DonorPerfect is your fundraising hub that helps you manage:
Gifts and pledges
Campaigns
Online donations
Donor retention
Donor engagement
Email and communications
Receipting
Volunteers
Event registration
Annual appeals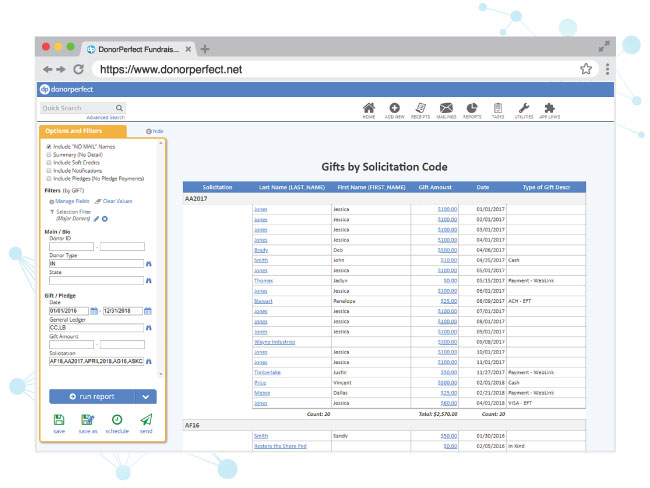 Show gratitude to your supporters with receipts
that follow Canadian Revenue Agency standards.
Using DonorPerfect's Receipting tools, you can send out email and letter receipts to your valued donors, as well as thank donors for the donations they have made.
DonorPerfect's Receipting feature enables you to:
Send email receipts, letter receipts, or both.
Send individual or consolidated receipts
Send acknowledgements with or without an official receipt
Reissue receipts by email or by letter
Preview every email receipt message before it is sent
Customize templates for each occasion: add an image, colors, hyperlinks
Issue receipts and acknowledgements in English, French or any other language
Include currency symbol
E-receipt securely encrypted
Create contact records for sent receipts automatically
Generate notification letters for tribute donations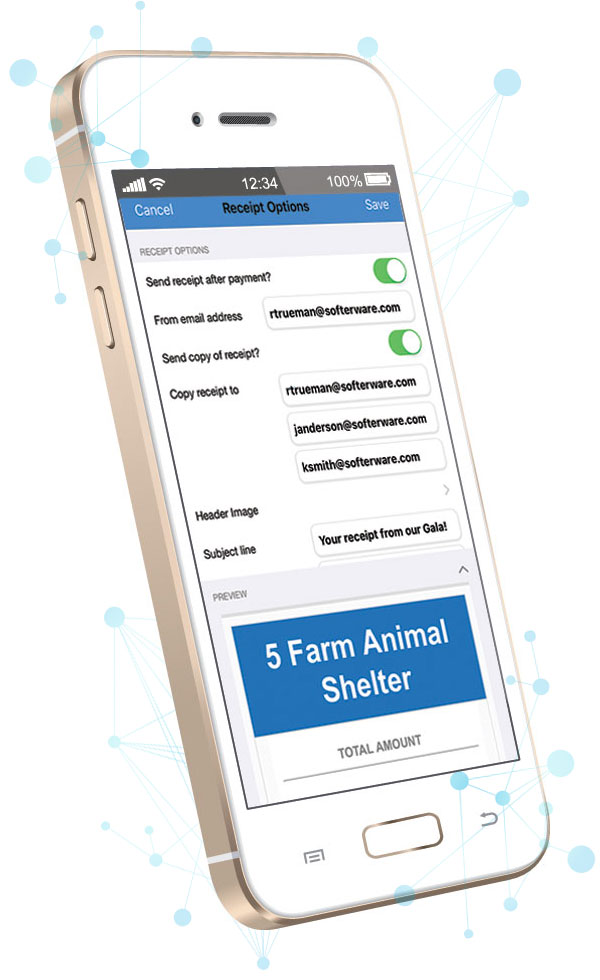 Accept and process donations
in Canadian and US dollars.
You can process your donations in Canadian and US dollars using one powerful system. Whether your nonprofit operates in or receives gifts from multiple countries, Multi-Currency Tracking can help track, manage and convert gifts and pledges into any currency. This converted data helps you obtain better insights on local fundraising efforts, and eliminate errors by automating conversion through DonorPerfect.
You can process your monthly donors in Canadian and US dollars in one database. You can process online and offline donations in both currencies.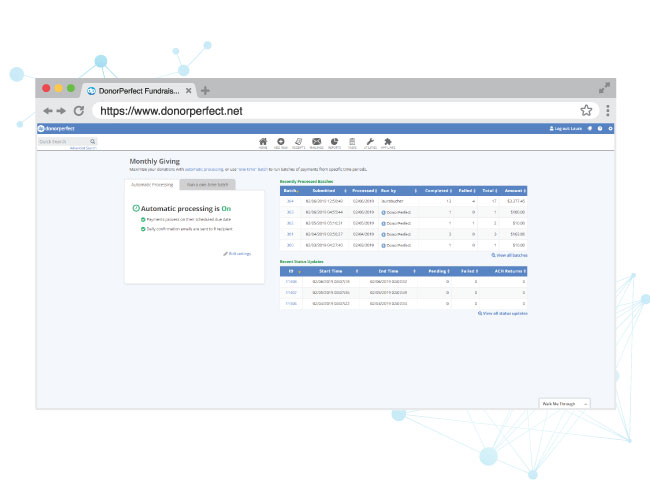 Support and training when you need it,
from bilingual DonorPerfect experts.
DonorPerfect clients love our dedicated customer service team and our commitment to their success.
As a DonorPerfect client, you can lean on our live support team and DonorPerfect's online client engagement community, for assistance resolving issues, learning new features, and discovering best practices for using your DonorPerfect system. Everyone from your newest staff members to your most-seasoned development professionals will greatly benefit from DonorPerfect Support.
Choose the DonorPerfect Support Package that's right for you. Our Canadian team is based in Montréal and is always available to answer you in English or in French.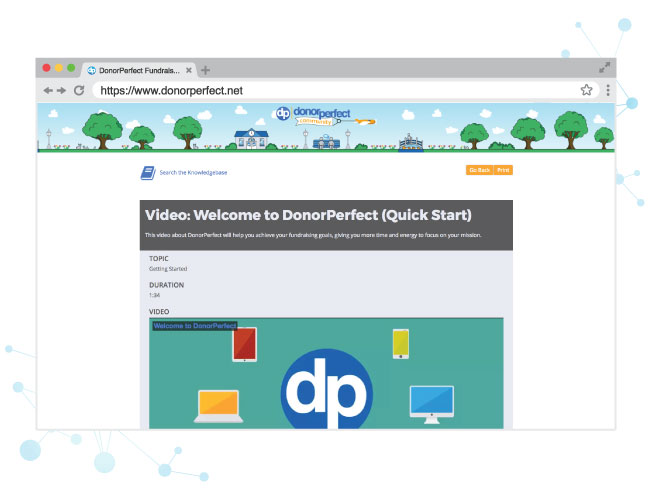 A customized experience
that works for you.
DonorPerfect offers easy customization by enabling you to readily edit the content and layout of the Data Entry screens. Meet the specific needs of your organization and change fields in your system to reflect the language(s) you use.
Nonprofit Resources Library
Donor Management
System Evaluation
Get started with a personal demo
Call 800-220-8111 for a needs assessment and demo of DonorPerfect.
Back to Top