What's the Most Effective Way to Engage Donors?
The community that surrounds your cause is the heart of your organization. Grow and retain your donors by continuously showing them how much their support and generosity makes a difference for your mission.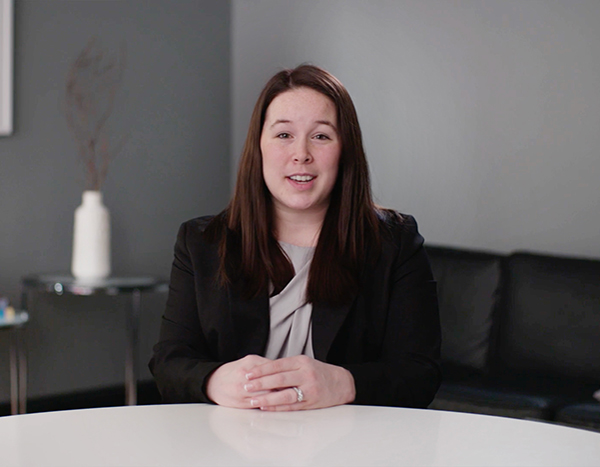 DonorPerfect Donor Engagement Solutions
DonorPerfect's core donor engagement features come with your DonorPerfect subscription. DonorPerfect offers a toolkit that includes:*
*Included features vary based on subscription package. See packages here.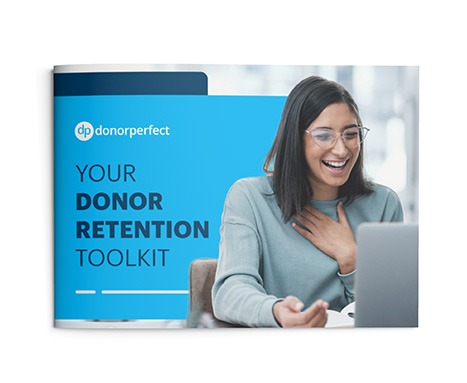 Donor Engagement Guides
Get Email Best Practices For Fundraising, Your Donor Retention Toolkit, and 10 Social Media Best Practices for Nonprofits now!
GET GUIDES
Gain access to over 25 exclusive Constant Contact templates
You don't want your appeal to be just another mass email that ends up in donors' spam and junk folders. But who has the time to create a personalized, individual communication plan for every donor and every giving opportunity?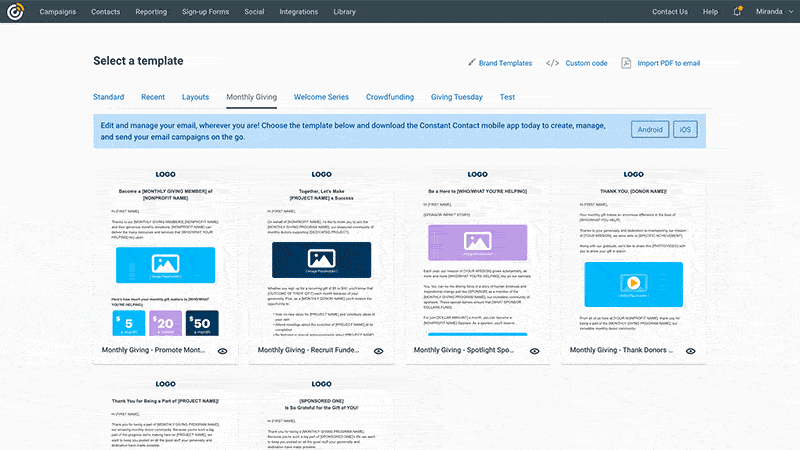 The DonorPerfect team created over 30 fundraising email templates in Constant Contact, exclusive for DonorPerfect users. Each template is pre-written and designed according to our fundraisers' unique needs, so all you have to do is plug in your data and branding. We know your work isn't limited to your desk, so you can even access and make quick edits to your templates on-the-go with a mobile-friendly system.
Enhance your donor engagement with exclusive Constant Contact templates today »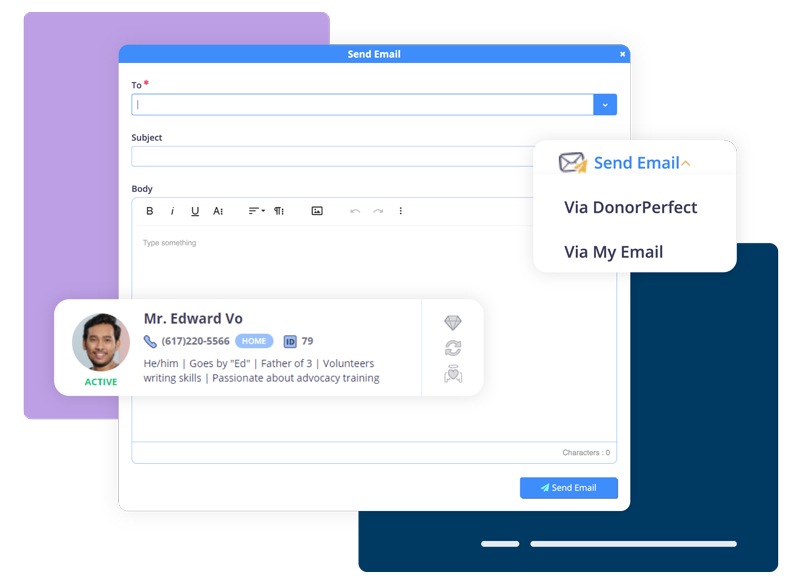 To review all of your donor communications in one place, look no further than your Contacts tab in DonorPerfect! You can now save a copy of any emails sent or received from Gmail, Outlook, or your preferred email application with our BCC Email feature. Here's how it works: When you send or receive an email from Gmail, Outlook, Yahoo, etc. using this feature, DonorPerfect will update the donor record associated with the email recipient, and save a copy in the Contacts tab. You can even set up your system to assign donor outreach to a team member.
DonorPerfect's trainers moved us a giant step forward toward understanding and fully utilizing the powerful tool that DonorPerfect is meant to be."
– Mindi Roberts, Project Healing Waters Fly Fishing, Inc.
DonorPerfect Donor Engagement Add Ons and Integrations
Need a little more? DonorPerfect's core system expands to work with these awesome integrations*. Choose what you need, when you need it.
*Partners and integrations may vary by country. Visit this page for more details.
Learn more about DonorPerfect