DonorPerfect received more 'Excellent' ratings and category recommendations than any other fundraising software vendor in an independent study by nonprofit organizations NTEN and Idealware called A Consumers Guide to Donor Management Systems.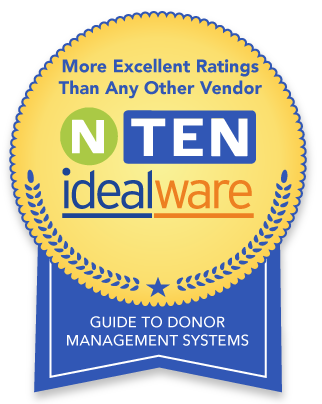 Horsham, PA, November 1, 2013 – For the third time in all three releases of NTEN and Idealware's independent A Consumers Guide to Donor Management Systems, DonorPerfect has received more "Excellent" ratings for its benefits and features than any other fundraising software vendor. The report now includes higher cost solutions, and DonorPerfect received more "Excellence" at a lower price than all of them; providing nonprofits the best value for their money.
How the Evaluations Were Performed
Independent nonprofit organizations NTEN and Idealware targeted this report at small-to-medium-sized nonprofits for which fundraising is a priority. They looked specifically at 36 lower- and mid-tier cost systems, ranging from as little as $500 to nearly $30,000 in the first year costs. According to the authors, "We do an apples-to-apples comparison of features to help you understand what might work for you and what makes each system stand apart from the others." After extensive interviews, surveys and demonstrations, they selected DonorPerfect as one of eleven systems to perform a more detailed analysis that (in the study's words) "… had the best combination of functionality, price, and attractiveness in a number of situations."
DonorPerfect Stands Out
DonorPerfect received the most recommendations for the purchasing categories in which most nonprofits classify themselves:
You're a tiny but growing organization, and price is critical
Fundraising events are a critical part of your process
You want to track all your constituents in one system
You need to integrate tightly with email and your web site
You need something highly configurable
You need access on the go…
In the Features Comparison, where the eleven vendors received Excellent, Good, Fair or No ratings, DonorPerfect received a greater number of "Excellents" than any of the other products. With a total of 19 "Excellent" ratings available, here are the results:
DonorPerfect – 17 Excellents
Next closest competitor – 14 Excellents
Last product competitor – 4 Excellents
Jon Biedermann, SofterWare Vice President of Fundraising Solutions, noted "We are absolutely thrilled – again – by these results! In the 2009 inaugural report and a follow-up report in 2011, we were ecstatic to receive the highest number of top ratings. Now, to receive the same recognition again in the 2013 report is both gratifying and humbling. We've always placed a premium on client feedback, and for over 20 years, we've dedicated ourselves to listening to that feedback and producing the best fundraising software solution at the best value. We're very appreciative of the recognition, and will try even harder to match the results in the future."
Doug Schoenberg, SofterWare's CEO, and Co-founder, also noted "We are particularly proud to have DonorPerfect recognized as an outstanding value. For over 30 years, SofterWare has had a long-standing commitment to helping nonprofits lower the cost of fundraising technology without sacrificing critical features or high-quality support. This is even more critical today, as so many nonprofits are still recovering from the economic challenges of the last several years."
To see the DonorPerfect excerpt and learn more about the independent report, visit donorperfect.com/Top-Rated.
About SofterWare, Inc.

SofterWare, Inc., based in Horsham, Pennsylvania, is a leading provider of software to nonprofit organizations, with over 13,000 clients throughout the world. For more information on SofterWare and its products, please visit www.softerware.com.
Media Contact
Sam Goldenberg
(215) 542-4390 x233
sgoldenberg@softerware.com
www.donorperfect.com