Nonprofits were recognized for their outstanding fundraising achievements during the Fifth Annual DonorPerfect Community Network Conference.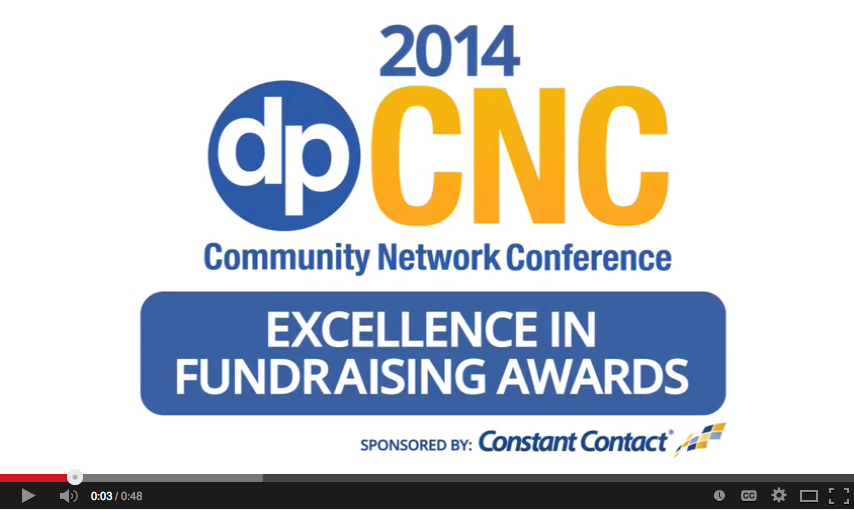 Click to Watch Video
Horsham, PA, United States – September 30, 2014
Five nonprofits were recognized with an Excellence in Fundraising Award during the annual DonorPerfect Community Network Conference (#DPCNC). Constant Contact, a DonorPerfect partner for over 10 years, was the proud sponsor of awards. Here is the list of winners:
Fastest Growing Nonprofit – When nonprofits apply the best fundraising techniques towards their mission, they will grow.
Small Nonprofit (under $1 million): Rehoboth Art League
Large Nonprofit (over $1 million): Greater Richmond ARC
Best Donor Retention – It's much easier, cost-effective, and more sustainable for nonprofits to retain a donor than to find a new one.
Athenaeum of Philadelphia
Best Recurring Donation Program – A donor who gives regularly will most likely give more and remain a committed partner of a nonprofit longer than those who don't. Especially in times of uncertainty, recurring giving guarantees future revenue.
Fabretto Children's Foundation
Fastest Acknowledgements – Whether a nonprofit thanks donors with a handwritten card, a phone call, or an automated mail merge, the most important factor is that they send something and send it fast. This timeless appreciation for donors will continue to show just how much they mean to the organization, and is vital to maintaining a long relationship.
Bucks County Community College
About SofterWare, Inc.

SofterWare, Inc., based in Horsham, Pennsylvania, is a leading provider of software to nonprofit organizations, with over 13,000 clients throughout the world. DonorPerfect, its fundraising/CRM solution, received more "Excellent" ratings than any other vendor in N-TEN and Idealware's "A Consumers Guide to Low Cost Donor Management Solutions". It has also received the Campbell Award for "Excellent Customer Satisfaction."
In addition to the company's DonorPerfect fundraising software, SofterWare also offers software for managing childcare centers, public and private schools, and camps and conference centers. For more information on SofterWare and its products, please visit www.softerware.com. For more information on DonorPerfect Fundraising Software, please visit www.donorperfect.com.
Media Contact
Sam Goldenberg
(215) 542-4390 x233
sgoldenberg@softerware.com
www.donorperfect.com