Two employees serving in the Reserves separately nominated SofterWare in recognition of the company's support of their service.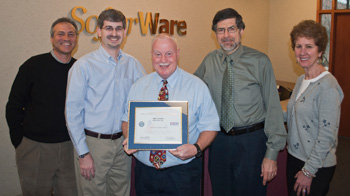 Horsham, PA, January 31, 2012 – SofterWare, Inc. has received the Patriotic Employer award from the Employer Support of the Guard and Reserve (ESGR), part of the Department of Defense. The award was given in recognition of SofterWare's continuing support of employees who serve in the National Guard and National Reserve.
SofterWare received this award after being nominated by Tony Repic, a Captain in the Army Reserves who was called up last August for a year of service in the Middle East. Captain Repic is serving as a Chaplain, traveling extensively all over the Middle East – Qatar, Kyrgyzstan, and Afghanistan – to visit soldiers. He is also leading or co-leading several leadership/personal development courses as well as conducting services and Bible studies. When working at SofterWare, Tony helps thousands of nonprofits fulfill their missions as part of our technical support team. SofterWare was also nominated by Ty Jenkins, a member of the Air Force reserve, currently working as an implementation specialist, helping nonprofits get started with DonorPerfect Fundraising Software.
Ronald Whetstone, retired from the military and now volunteering for the ESGR, said while presenting the award, "You are receiving this award for going above and beyond to support your employees who serve in the National Guard and Reserve. You have provided comfort and support for our military personnel called to active duty, you support their families, and you ensure they are smoothly integrated back into the company without a loss of pay or promotion opportunities. For all of that, we want to express our sincere gratitude."
Doug Schoenberg, CEO and Co-Founder of SofterWare, said "Whether, for reserve duty, training, or if they are called for active service, SofterWare proudly supports the efforts of employees serving their country, as well as their families. To be nominated by them for this high honor is particularly gratifying."
Nathan Relles, Co-Founder and President of SofterWare, said "We're proud of Tony, Ty and all the people who work at SofterWare who are serving or have served, as well as those who have spouses, sons, daughters, siblings, parents, or other family members in the Armed Forces and other service organizations. We wish Tony all the best during his deployment overseas, and we cannot wait for his safe return home."
About SofterWare, Inc.

SofterWare, Inc., based in Horsham, Pennsylvania is a leading provider of software to nonprofit organizations, with over 10,000 clients throughout the world. DonorPerfect, its fundraising/CRM solution, received more "Excellent" ratings than any other vendor in N-TEN and Idealware's "A Consumers Guide to Low Cost Donor Management Solutions". It also received the Campbell Award in 2010 for "Excellent Customer Satisfaction".
In addition to the company's DonorPerfect fundraising software, SofterWare also offers software for managing childcare centers, public and private schools, and camps and conference centers. For more information on SofterWare and its products, please visit www.softerware.com. For more information on DonorPerfect Fundraising Software, please visit www.donorperfect.com or www.donorperfect.ca.
Media Contact
Sam Goldenberg
215-542-4390 x233
sgoldenberg@softerware.com
www.donorperfect.com