May 7, 2021 | Categories Donor Management, DonorPerfect Fundraising Software, Featured, Fundraising Strategies, Nonprofit Technology
Your Digital Donor Thank-You Kit (Free E-Book)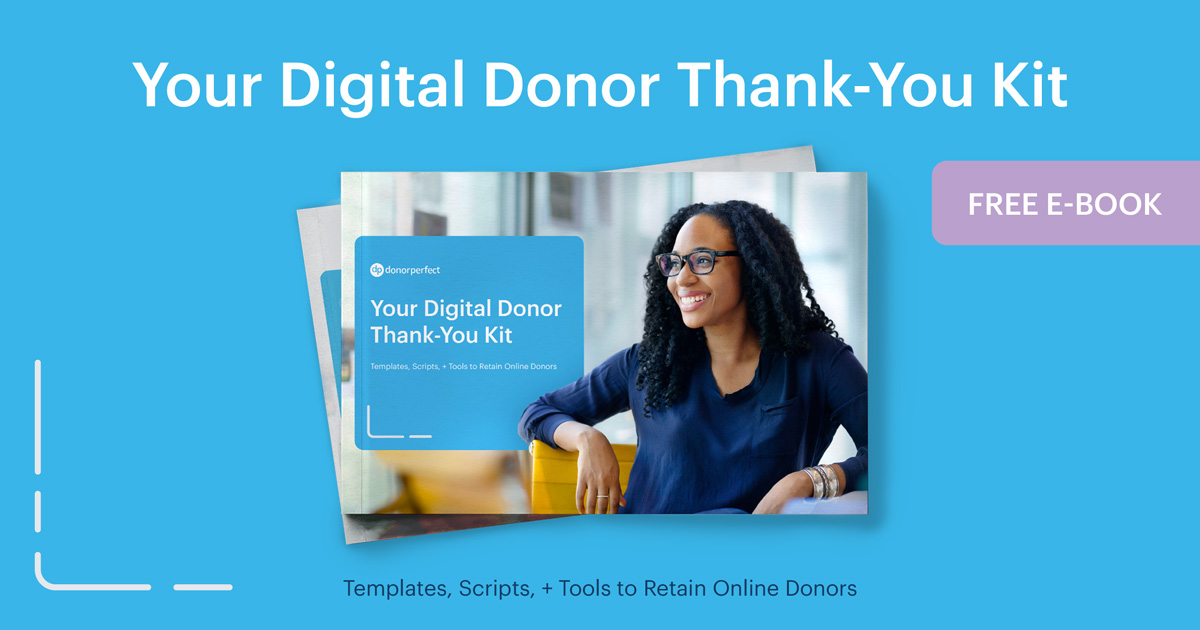 Even through crises, your donors will support your nonprofit goals. How do you keep them around, now that fundraising is taking place entirely online? It all starts with a heartfelt "thank you."
Your Digital Donor Thank-You Kit is your how-to for thanking donors digitally without sacrificing the personal touch they appreciate most. With tips, tools, and templates to see you through, you'll be able to relay just what your donors mean to you, even from behind a computer screen.
What's Inside:
Below is a preview of the digital donor thank-you strategies you'll explore when you download your free copy of Your Digital Donor Thank-You Kit.
What Type of Thank-You Should You Send?
Experienced fundraisers know that tailoring custom thank-you messages is an incredibly effective donor retention strategy. But realistically, who has the time?
We'll break down which donors should receive:
A personalized email
A live phone call
A video message
Best Practices for Thank-You Emails
Email is the best way to reach the most amount of donors. Though it can feel impersonal, today's email marketing tools enable you to flow your donor and gift data into pre-built email templates that create individualized emails for everyone on your list.
In the ebook, you'll learn how to optimize these elements of your email to get and hold your donors' attention:
The sender
The subject line
The branding
The body
The length
The follow-up
The CTA
The footer
Best Practices for Saying Thanks via Video
Whether it's live or pre-recorded, the most engaging video thank-yous are those that speak to the unique relationship your donors have with your organization. In addition to things you can mention, we'll share our best tips for live and recorded video gift acknowledgement.
Thank You Templates by Type of Supporter
Who you determine are the most appropriate recipients of an email vs. a video thank-you is entirely up to you and what's best for your nonprofit. You'll save time on getting started with these supporter-engaging email and video templates prepared just for you:
Thanking a first-time donor
Thanking a monthly donor
Thanking a volunteer
Thanking a virtual event guest
Thanking a major donor
7 Ways DonorPerfect Simplifies Managing Donor Thank-Yous
Beyond accessing tools you can use to get personal with digital donor gratitude today, you'll learn about the features and benefits of having DonorPerfect by your side, including:
Automatic Monthly Giving Thank Yous
Personalized Batch Receipting
Video Thank Yous
And more!
Get Your Copy of Your Digital Donor Thank-You Kit Today!