September 28, 2021 | Categories Conferences, DonorPerfect Community Network Conference, Featured, Nonprofit News
CommUNITY Conference – SESSION SPOTLIGHT: Oregon Food Bank Community Philanthropy Team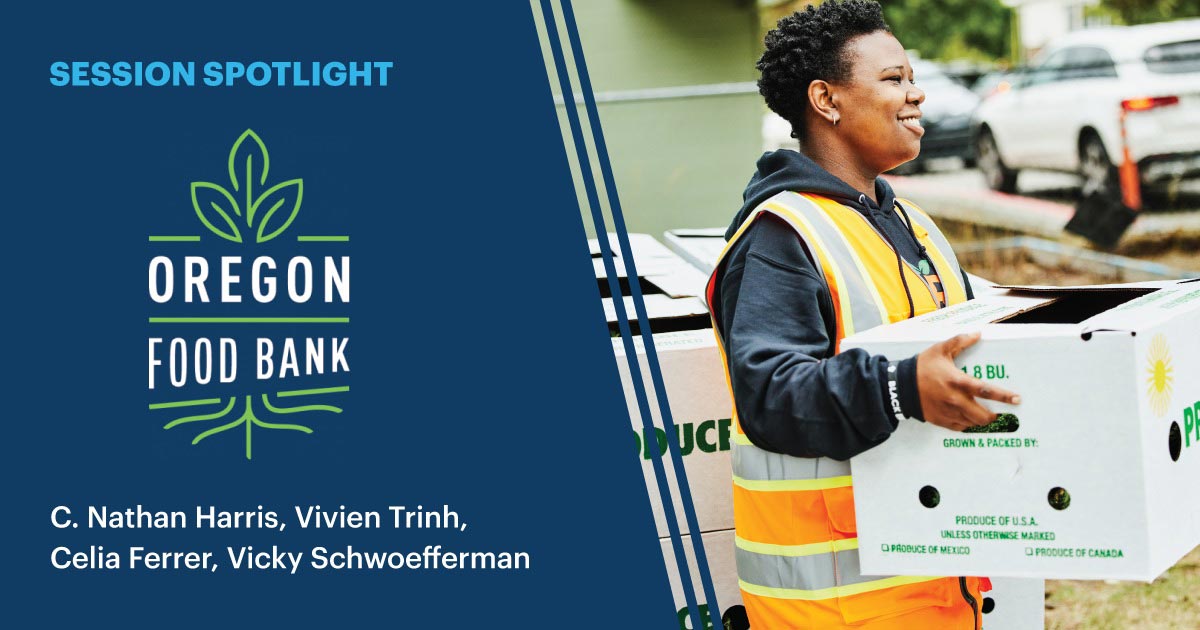 In January 2020, the Community Philanthropy team at Oregon Food Bank embarked upon a transformational paradigm shift in their philosophical and practical approach to resourcing an end to hunger and hunger's root causes.
As individual staff and as a team, their performance would no longer be evaluated based upon the financial outcomes of their work. Instead, together, they would design and implement philanthropic development programs — and relevant assessments — oriented to new metrics rooted in love and equity.
Their mission, in their own words
Decentering money has felt radical and overwhelming to our team at times (as it reshapes everything we do). And as disorienting as it may land with "fundraisers" in the nonprofit sector, we are not alone in our observation that status quo standards — harmful philosophies and practices — are an impediment to the very missions we aspire to advance.
Indeed, even in the "fund-raising" nomenclature, money is at the core. And money can be a gateway to harm. We believe an orientation to financial outcomes creates the conditions for professional trauma and a consequent barrier to nonprofit organizations that aspire to resolve the most pressing moral and societal challenges we face.
Decentering money is an inherent decentering of whiteness, colonialism, and greed. And in a profession where money reigns supreme when we decenter money, a massive space opens up for something else. We're filling that space with love. With humility and vulnerability, we are committed to sharing our journey widely. We do not have all the answers nor is that our claim. In a learning and listening posture, we offer our thinking, experimentation, and early observations from our change-journey to the broader dialogue that's shaping a new chapter for our profession, sector, and communities.
Participants will have opportunity to engage a panel of OFB Community Philanthropy staff with questions and answers.
About the panel
C. Nathan Harris
C. Nathan Harris is a social justice leader with 17 years in philanthropic development, working at the intersection of love and generosity to realize positive, transformational change. He currently serves as Director of Community Philanthropy at Oregon Food Bank.
Previously, he served as Chief Development Officer at Freedom for All Americans to secure nationwide LGBTQ+ nondiscrimination protections, and Director of Leadership Gifts & Centennial Campaign for the ACLU of Northern California. As Director of Advancement at Transgender Law Center, he partnered with supporters to shatter the glass ceiling on individual-donor philanthropy to trans-led, trans-specific nonprofits and expand legal protections domestically for transgender and gender-nonconforming communities.
In April, Nathan joined the board of directors of Pride Foundation – the Pacific Northwest's LGBTQ+ community foundation. He resides in Portland, OR with his husband and their three dogs.
Vivien Trinh
Vivien Trinh is a non-profit professional with 11 years of philanthropy experience. Her career has taken her through the many aspects of philanthropy including direct mail, digital fundraising, donor relations, database management, and prospect development at non-profits of all sizes. She serves as the Community Philanthropy Associate Director – Operations and leads Oregon Food Bank's efforts to measure love with supporters and staff as well as the Equity in Fundraising workgroup. When not in the office, Vivien can be found on her bike or in a kayak, exploring the Pacific Northwest's trails and waterways.
Celia Ferrer
Celia Ferrer sees her work in social justice, equity, food security and the arts as a radical act of love. As Corporate and Community Relations Manager for the Oregon Food Bank, she is passionate about helping develop philanthropic strategies centered on love and equity.
Previously, Celia was Head of Corporate Affairs for an international marketing company headquartered in Hong Kong, where she managed projects all over Asia, Africa, and the Middle East. After moving to the US, she advocated for racial and gender justice as Development Manager for Basic Rights Oregon.
She currently serves on several nonprofit boards, including Filipino-Americans for Good Governance. In 2020, she was a fellow for the Association of Fundraising Professionals' Inclusion, Diversity, Equity, and Access (IDEA) program. Born and raised in the Philippines, Celia has embraced Oregon as her new home where she is raising her two lovely children.
Vicky Schwoeffermann
Vicky Schwoeffermann is a long-time champion for the community and is committed to efforts supporting racial justice and equity. For over 15 years, she has dedicated her time to advocating for those who need financial support to reach their full potential in the areas of education, health, career and personal development, and to overcome systemic barriers to success.
Born and raised in Boston, she earned her BA in Criminal Justice and her Masters in Human Services from Northeastern University. Through leadership training programs, relationship-building efforts, and fundraising strategies, Vicky brings people together to build intentional relationships that create transformative change. As Oregon Food Bank's Community Philanthropy Senior Strategist, she provides strategic counsel on cross-team initiatives and implements mission-driven, emergent programs that foster collaboration across stakeholder groups to integrate equity and social justice into donor engagement programs.