November 8, 2017 | Categories Donation Processing, Donor Management, DonorPerfect Fundraising Software, DonorPerfect Update, Featured, Monthly Giving, SofterWare Products
Release Announcement: WebLink is now DonorPerfect Online Forms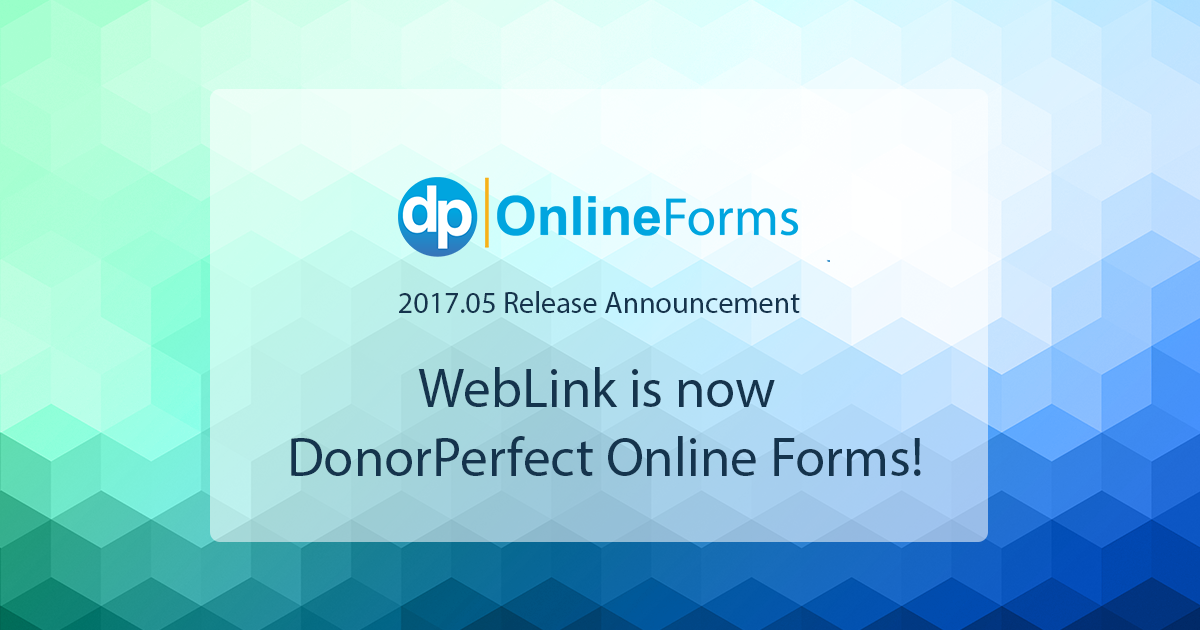 Did you know that most DonorPerfect subscriptions include an integrated online donation forms product? If you didn't, you aren't alone. Today, we're changing that! WebLink, our online forms product, is now called DonorPerfect Online Forms! You'll see the name change in WebLink immediately. In DonorPerfect, the change is active this weekend.
Why Use DonorPerfect Online Forms?
DonorPerfect Online Forms makes it easy to setup branded online donation forms. Use them to start collecting donations, registrations, memberships and more. All form information is downloaded directly into DonorPerfect so it's mapped and coded for tracking, filtering and reporting. It's the best way to accept, process, and track online donations in one platform.
If you haven't used DonorPerfect Online Forms before, it's easy to get started. It's included with most DonorPerfect systems. Simply click Online Forms from the App Links menu. If this is your first time using it, enter an email address for administrative purposes.
Note: If you don't see Online Forms listed, contact your Account Representative. You can also learn more about Online Donation forms on our website.


Does the Name Change Impact My Existing Online Donation Forms?
Don't worry. Only the name is changing from WebLink to DonorPerfect Online Forms. Everything else is still the same. If you've created forms in WebLink already, they are all still accessible and are available to use. Just be sure to access them using the Online Forms menu item under App Links.



Hiding Inactive Online Donation Forms
Do you have deactivated online donation forms from past years, events or solicitations? In Suggest and Vote, you told us how you'd like to hide deactivated forms from the Review and Acceptance Center (RAC). With this release, all deactivated forms are hidden by default. To see them, toggle the Show Deactivated toggle button to ON.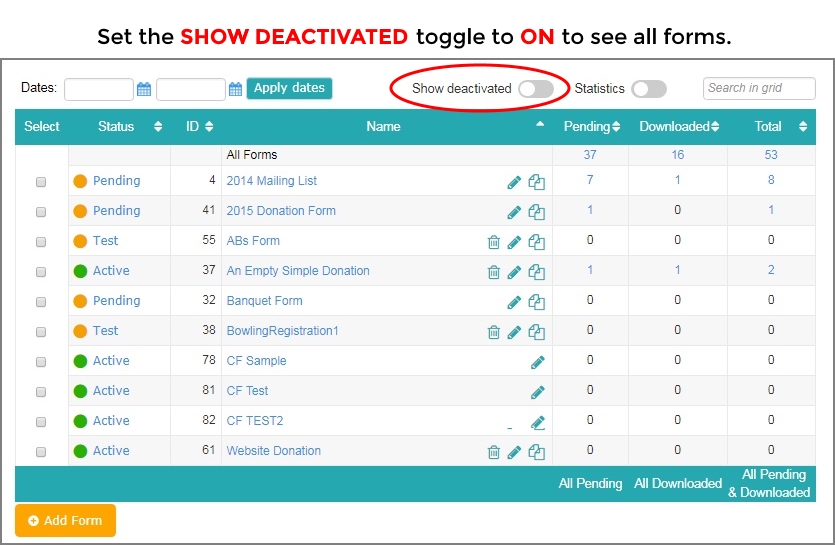 For full instructions on all the features of the RAC, visit this article.



Donors Cover Costs Transaction Updates
Also in this release, we've improved Donors Cover Costs (DCC) transaction processing. Recurring gift amounts will include all Donors Cover Costs amounts added by the donor. In previous releases, it only did this for the first DCC payment. Now, it will apply it to all payments! Shout out to all our amazing customers who made this our #1 most requested idea in Suggest and Vote for DP Online Forms. Thanks and keep those great ideas coming!


Release Notes
Read about all the enhancements and fixes in the DP Online Forms 2017.05 Release Notes in DP Community.