March 18, 2019 | Categories DonorPerfect Fundraising Software, DonorPerfect Update, Featured
How Sweet It Is! DP Community Turns Two This Month

How Sweet It Is! DP Community Turns Two
DP Community, our online community for the DonorPerfect family of products, turns two this month and we're celebrating with some virtual birthday cake. Here's why:
You, our customers have made this community YOURS.
You've jumped right in and offered fantastic feedback about DonorPerfect releases or proposed product changes. It has dramatically improved our software in ways we never imagined.
You've connected with each other to meet up at conferences and answer questions about how you do things at your nonprofit via DP Community's discussion groups.
You've also empowered yourselves to find your own solutions! So many of you are using DP Community to look up past support calls and finding the answer there. You're also reading our extensive Knowledge Base library and watching lots of videos.
Any way you slice it, DP Community is a recipe for success!
DP Community's Upgrades are the Icing on the Cake
We've accomplished so much in the last year but there's even more to do. That's why we've given DP Community's landing page a sweet new look and made some key components easily available to you.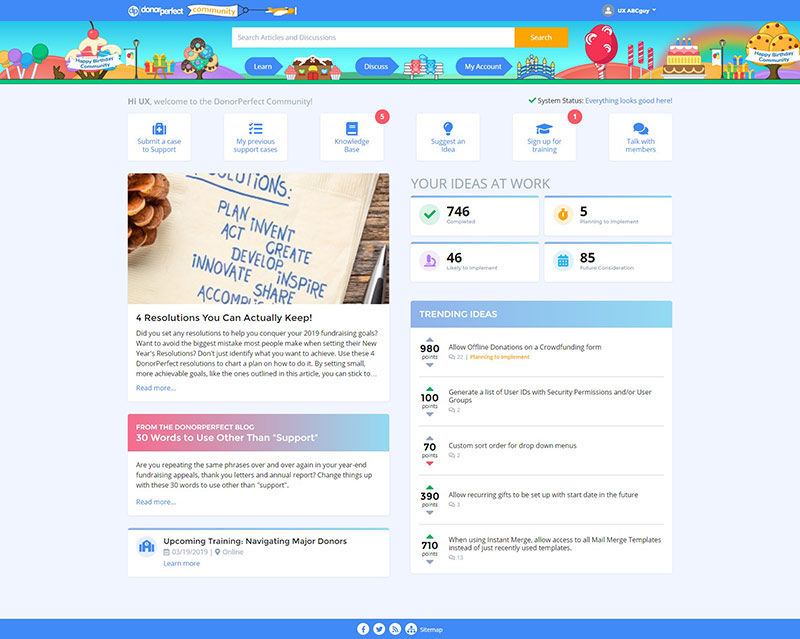 Save time by accessing the most frequently used DP Community Features right along the top. Submit a new case or view your previous cases with the click of a button. Instantly know when new articles and training are available using the new indicators for the Knowledgebase and Training icons. Easily suggest or vote on an idea to improve DonorPerfect. Dive in to DP's discussion groups for answers from your peers about how they would do a specific task in DonorPerfect. It's all right there along the top section for quick access.
In the main area of the landing page, read through our growing Feature Library for creative ideas and best practices to grow your nonprofit. Discover the latest release information on the DonorPerfect blog.
See the impact your ideas are having in the new Your Ideas at Work section. Here you can track the ideas we're planning to implement soon and in the future. You can also follow trending ideas and weigh in on them.
Have your Cake and Eat It Too! Enter Our Contest!
Help us celebrate DP Community's 2nd Birthday with some virtual birthday cake. Anyone who joins our new Online Forms Discussion group between now and April 5th will be entered to win a $50 gift card to Starbucks. Yum Cake pops! This group will be a great resource for online fundraising. Jump on the "bundtwagon" by visiting the Online Forms group and clicking the Join Group button by April 5, 2019 to be entered to win. You "batter" believe we'll announce the winner in the group the following week! Good luck!
TIP: Be sure to complete your DP Community Profile for the best experience in our discussion groups!