August 16, 2018 | Categories Donation Processing, Donor Management, DonorPerfect Fundraising Software, DonorPerfect Update, Featured
Release Announcement: Adding Codes on the Fly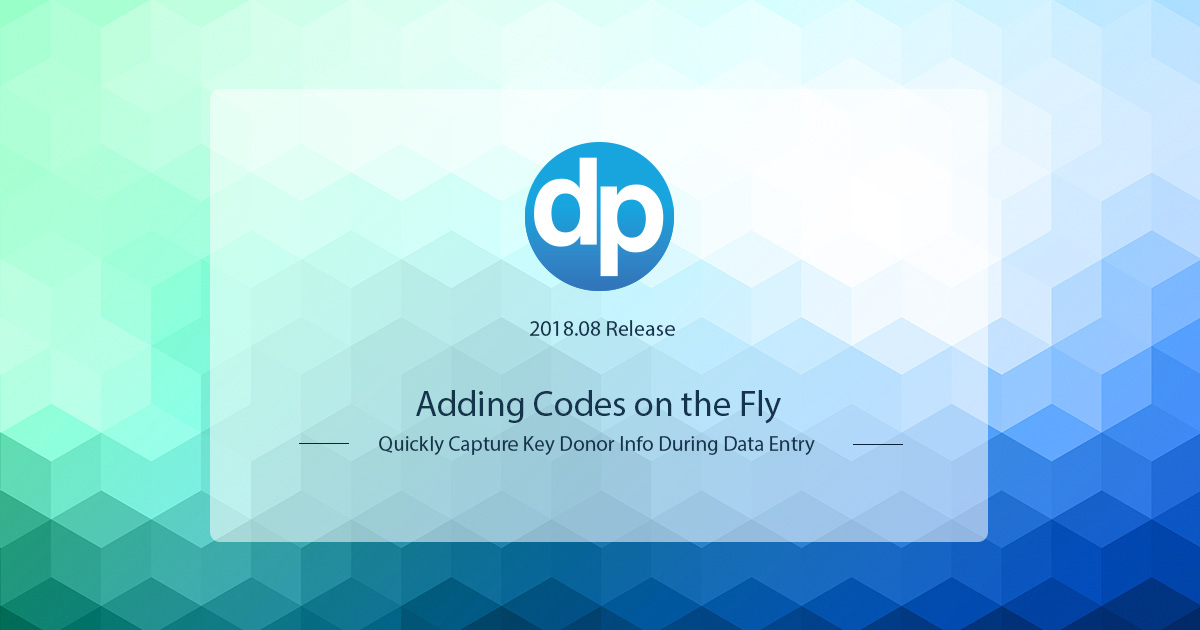 How can you capture donor data that will help boost your fundraising efforts? DonorPerfect uses codes that you can customize to track fundraising solicitations, categorize donors, monitor receipts that need to be sent and more. Codes are awesome because they help you build a better relationship with your donors in a way that's tailored to your organization's needs.
In this release, we've made it even easier to set up and manage your codes thanks to this great suggestion from a client. Simply click the new + (Plus) sign next to a field to add a quick code while entering data. You never need to leave the screen!
How to Add a Code While Entering Data
Fields with codes will have the + (Plus) sign next to them. You can click this icon to manage and add new codes on the fly.
Click the + (Plus) sign next to a field to add a new code, flag, or item. *

Enter a description for the code (e.g., Annual Appeal TY-2018).

The code will autofill based on your description. You can also click in this field to enter a code. (e.g., TY-AA2018)
To view or edit existing codes, click Manage Codes. This will show you a list of the codes available for that particular field. You can select an existing code to use, edit codes or add a new one from this screen.
To add additional information or settings for your code, click Advanced Options. To get started, you don't need to fill in all the information on this screen, but we make it available for you if you want to.
Once you add your code, it will be selected in the field.
*Note: You need "Edit" permissions to see the + (Plus) sign and to add and modify codes. Users with "Access" permissions will still see the Cog icon that enables them to view the codes already created and select one.
Ready to get started? Visit Maintaining Coded Fields from the Data Entry Screens for full instructions.
Resources for Using Codes to Manage Donor Information
Codes are a powerful feature in DonorPerfect. They make your filters, sorts and reports more effective, make it easier to track information and reduce duplicate records. Here are some of our favorite resources for using codes:
Release Notes
The new streamlined way to add codes on the fly is not the only upgrade in this release. Read about all of the enhancements that help you manage donor information in the DonorPerfect 2018.08 Release Notes in the Knowledgebase in DP Community.