February 27, 2019 | Categories Donation Processing, Donor Management, DonorPerfect Fundraising Software, DonorPerfect Update, Featured
Release Announcement: Offline Crowdfunding Donations are HERE!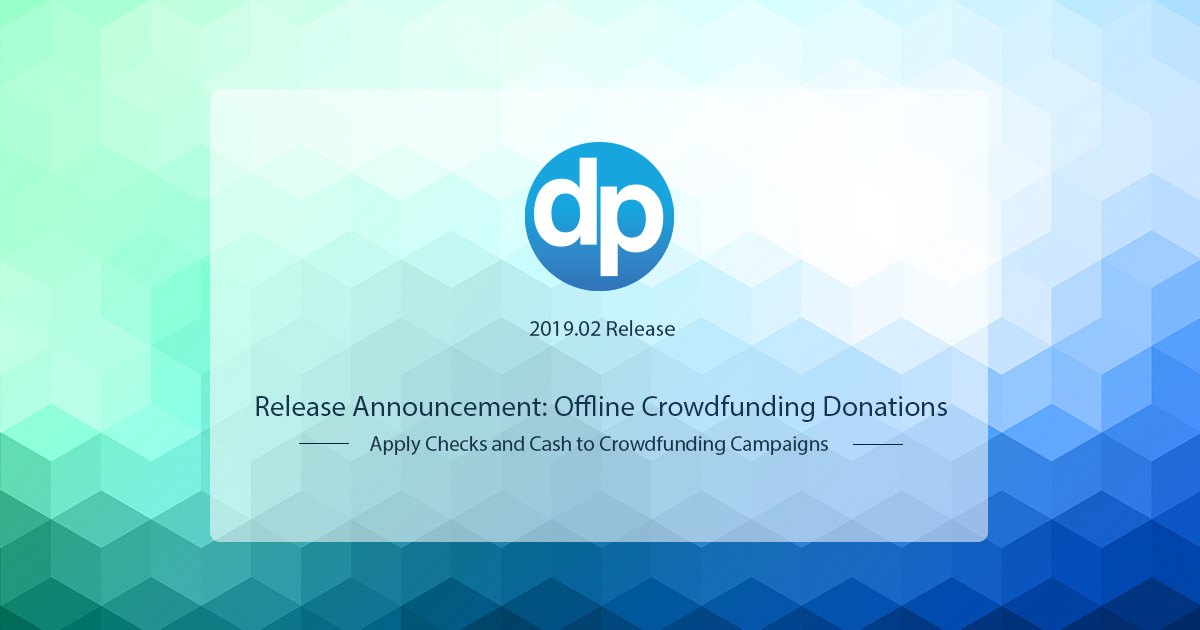 We're very excited about what's happening this weekend. Our upcoming release includes changes to DonorPerfect and Online Forms. Both products will be improving one of our most popular Suggest and Vote ideas – Offline Donations for Crowdfunding.
Crowdfunding Improvements
Our Crowdfunding forms offer donors an easy way to support your organization with individual fundraising pages they can create, personalize and share with family and friends. Up until this weekend, these forms only tracked credit card or ACH gifts entered into an online Crowdfunding form. While still a great tool to mobilize supporters, there was no way to apply offline donations, such as checks or cash, to a Crowdfunding campaign. Now you can! Here's how:
Applying Offline Donations
Does your organization receive check or cash donations towards your Crowdfunding campaigns? Open DonorPerfect to apply offline donations directly to your campaign's goals and individual fundraisers. Simply enter any checks and cash received as you normally would on the gift entry screen in DonorPerfect. Scroll down to the WebLink Fields section. Click on the Apply to a Crowdfunding Page link to select the Crowdfunding campaign and specific fundraiser that your cash or check gift applies to. You can also assign offline gifts to your organization's main fundraising page if no specific individual fundraiser is indicated.
Offline Donations Improve Your Campaign's Impact
Once you've applied any offline gifts to your Crowdfunding campaign, you can easily track your Crowdfunding campaign's impact. If you selected an individual fundraiser's page, both the organization's goals and the individual's are updated to show progress. Your fundraisers will stay motivated and engaged as they see the totals on their goal thermometers rise! Plus, having all your Crowdfunding campaign contributions together makes it much easier to reconcile your transactions.
For full instructions, including how to change which campaign or fundraiser that offline donations are applied to, visit Apply Offline Donations to Crowdfunding in DP Community.
If you don't have Crowdfunding and you're ready to turn your donors into fundraising champions, visit the DonorPerfect Crowdfunding Page to get started.
Release Notes
Updates to allow for offline donations were not the only improvement in this release. Read about all of the enhancements in the DonorPerfect 2019.02 Release Notes and in the DP Online Forms 2019.02 Release Notes in the Knowledgebase in DP Community.