February 1, 2019 | Categories Donation Processing, Donor Management, DonorPerfect Fundraising Software, DonorPerfect Update, Featured, Nonprofit Technology
Release Announcement: The Donor Record Has a Fresh New Look!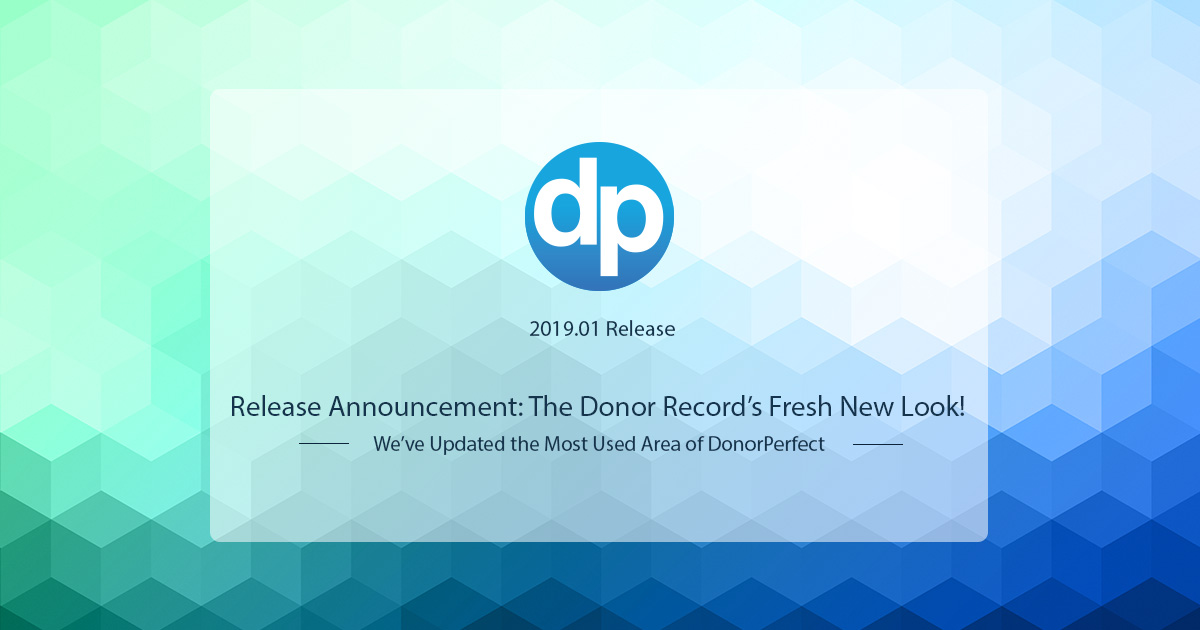 We've Updated the Most Used Area of DonorPerfect
DonorPerfect is committed to helping you be a better fundraiser. That's why we've revamped the most used area in our software – the donor record. It has a refreshed layout that makes it easier for you to find and enter donor information. Have a look: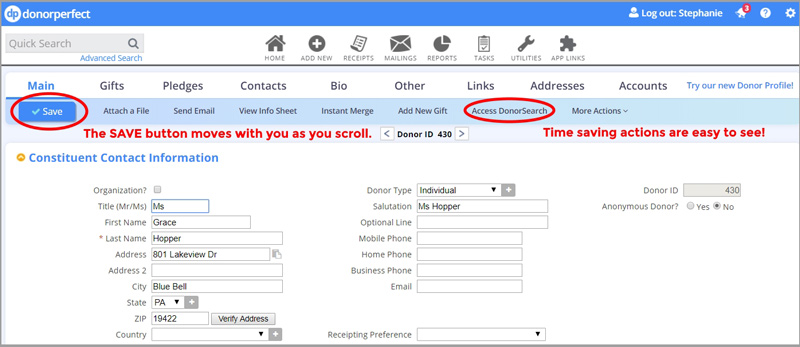 Refreshed and Intuitive Donor Record Layout
The new layout makes it super easy to navigate between the important sections of a donor's record. It also improves system performance. You'll quickly find the specific information you need to cultivate your unique relationship with each donor.
Time Saving Tweak
One small but convenient tweak we've made will save you time entering donations. Since DonorPerfect allows you to create custom fields for all of your valuable information, you may have a lot of fields. Now, no matter where you are on the record, or how far down you've scrolled, the Save button will always be pinned to the top left corner for easy use. The idea to pin the Save button at the top of the screen came to us from one of our awesome clients. We love this productivity improvement. Thank you!
Take Action
When you're ready to perform specific donor management tasks, you'll find a list of actions in the bar just below each area of the donor's record. We've removed redundant links that weren't used or were located elsewhere. These created visual clutter on the screen. We've kept key actions that you told us were important and frequently used by you, like processing credit card payments within DonorPerfect using Insta-Charge. By eliminating unused items from the action bar, it makes the existing functions easier to see, which makes them easier to use.
A Better User Experience Boosts Donor Profile's Metrics
In our last release, we added Donor Profile to the top of the donor record. Using Donor Profile, you can know in an instant how engaged your donors are. Since Donor Profile puts key donor insights and information right at your fingertips, we wanted to make it as easy as possible to enter donor information. A better user experience entering data combined with Donor Profile's engagement metrics will help you cultivate your most valuable relationships. Simply turn it on from any Donor's record if you haven't already.
Release Notes
Updates to the donor record are not the only improvement in this release. Read about all of the enhancements in the DonorPerfect 2019.01 Release Notes in the Knowledgebase in DP Community.