January 4, 2018 | Categories DonorPerfect Fundraising Software, Featured, Nonprofit News
10 Ways DonorPerfect Staff Gave Back This Holiday Season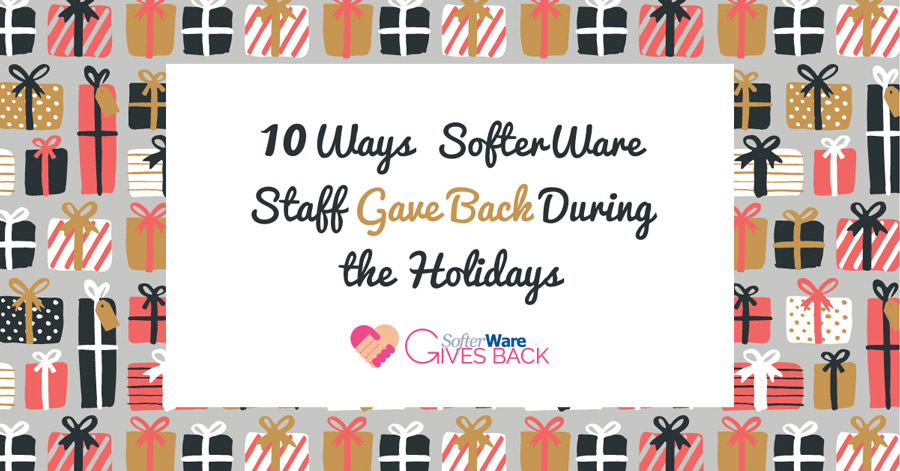 Inspired by the incredible work of our nonprofit users, DonorPerfect's parent company SofterWare, Inc. created SofterWare Gives Back, a company-wide program that encourages and supports employee volunteer initiatives and philanthropy.

Through SofterWare Gives Back, DonorPerfect staff can use paid time off to volunteer at local organizations, send emails to the entire staff promoting volunteer opportunities, charity events, fundraisers, and drives, and submit matching gifts to causes they care about. SofterWare matches 100% of employee donations to nonprofit organizations (learn more about matching gifts).
This holiday season, the SofterWare Gives Back committee created a Holiday Giving Guide that listed a variety of ways – in the office and offsite – that DonorPerfect staff could support a variety of nonprofits.
10 Ways DonorPerfect Staff Gave Back During the Holidays

#1. We took a midday Blanketeer Break for Project Linus.

Project Linus helps provide love, a sense of security, and comfort to children who are sick or in need through new handmade blankets.

DonorPerfect staff spent an hour cutting color cuddly fleece fabrics and created 18 blankets for Project Linus to distribute.




#2. We played the bearers of best news with the Children's Scholarship Fund Philadelphia.


The Children's Scholarship Fund Philadelphia provides scholarships to low-income children in grades K-8.

DonorPerfect staff members experienced the joy of calling parents to let them know their child was awarded a scholarship that would give them a quality education, something that was previously considered out of reach.


#3. We collected food and supplies for local pets in need through Camp Out for Hunger.


Philadoptables stocks a pet food pantry for people who can't feed their pets in partnership with Camp Out for Hunger.

We placed collection boxes at our office entrance and DonorPerfect staff filled each one to the brim with pet food, toys, leashes, and more, totaling about 80 pounds of food and goods for furry friends throughout the city.


#4. We threw a hoppin' holiday party with the Ambler YMCA.


The Ambler YMCA serves the local community by providing facilities and programs that encourage teamwork, fitness, and fun.

We volunteered at their annual party to set up Breakfast with Santa, run games, serve food, and get everyone in the holiday spirit.



#5. We played Santa and piled up gifts for local families.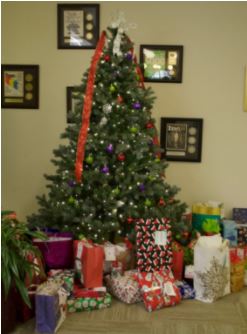 Our Giving Tree fulfills gift wishes for area children from low-income households during the holiday season.
This year, SofterWare Gives Back partnered with a local YMCA to fulfill the wishes of three families. From necessities like clothes and warm hats to fun items like soccer balls and headphones, we pulled together and gave them 57 reasons to smile.





#6. We wrote encouraging notes to children with cancer for the Sara's Smiles Foundation.


The Sara's Smiles Foundation brings hope, love, and most notably joy to children in hospitals around the country through Inspiration Kits. Inspiration Kits contain notes of encouragement on paper clouds, toys, and art supplies that give children suffering with illnesses happy experiences during difficult times.
The DonorPerfect staff purchased 7 Inspiration Kits and wrote and decorated 150 paper clouds that the Sara's Smiles Foundation will place in kits and send to children across the country.





#7. We cooked savory soup and chili for local seniors at Aid for Friends.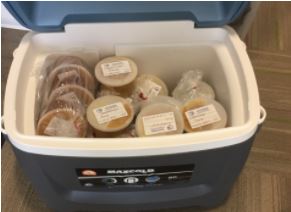 Aid For Friends delivers meals, toiletries, and household necessities to older Pennsylvanians.

DonorPerfect staff cooked their favorite homemade soup recipes and packed up enough to feed 30 people.


#8. We put our fur babies to work for New Leash on Life USA.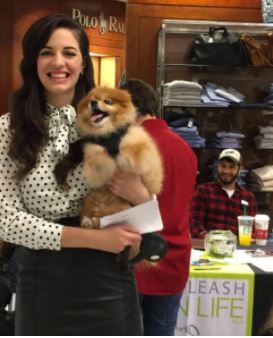 New Leash on Life USA improves the lives of people and shelter dogs through a comprehensive 12-week prison dog training program. At the conclusion of each class, graduate inmates return to their communities with paid internships from local animal shelters and newly trained dogs are adopted into loving homes.

Our staff volunteered at their Bloomingdale's event, catching shoppers' eyes with cute pups and passing out scanable sheets for them to present to their cashier so Bloomingdale's could donate 10% of their purchase total to benefit New Leash on Life USA.



#9. We embarked on a blustery city run with shelter dogs through The Monster Milers.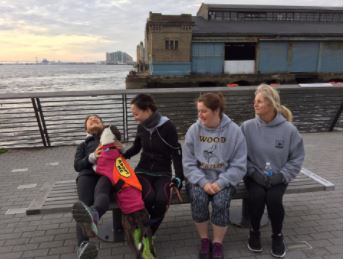 The Monster Milers is a Philly shelter dog running club and rescue organization that runs with adoptable dogs at partner shelters. This gives the  dogs exposure to potential pet parents in the community and eases their stress while they await adoption.
DonorPerfect staff laced up, bundled up, and took off running with a pup named Princess Switch. Runs happen on a recurring basis, so we look forward to meeting more dogs on future runs.




#10. We sported serious seasonal style at The Ugly Sweater Run.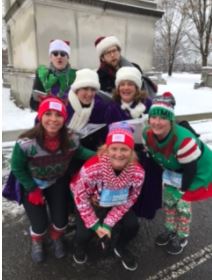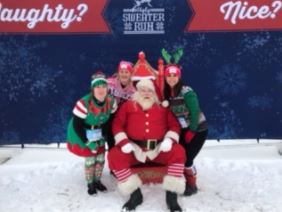 One Warm Coat provides new and gently used coats to people in need at no charge.

The "Ugly Elves" are the backbone of The Ugly Sweater Run, benefiting this crucial organization.  DonorPerfect staff checked-in participants, passed out swag, handed out beverages, collected coat donations, and seriously put the "elf" in selfie.