December 12, 2016 | Categories DonorPerfect Fundraising Software, Featured, Fundraising Strategies
3 Ways to Capitalize on Donor Data for Year-End Fundraising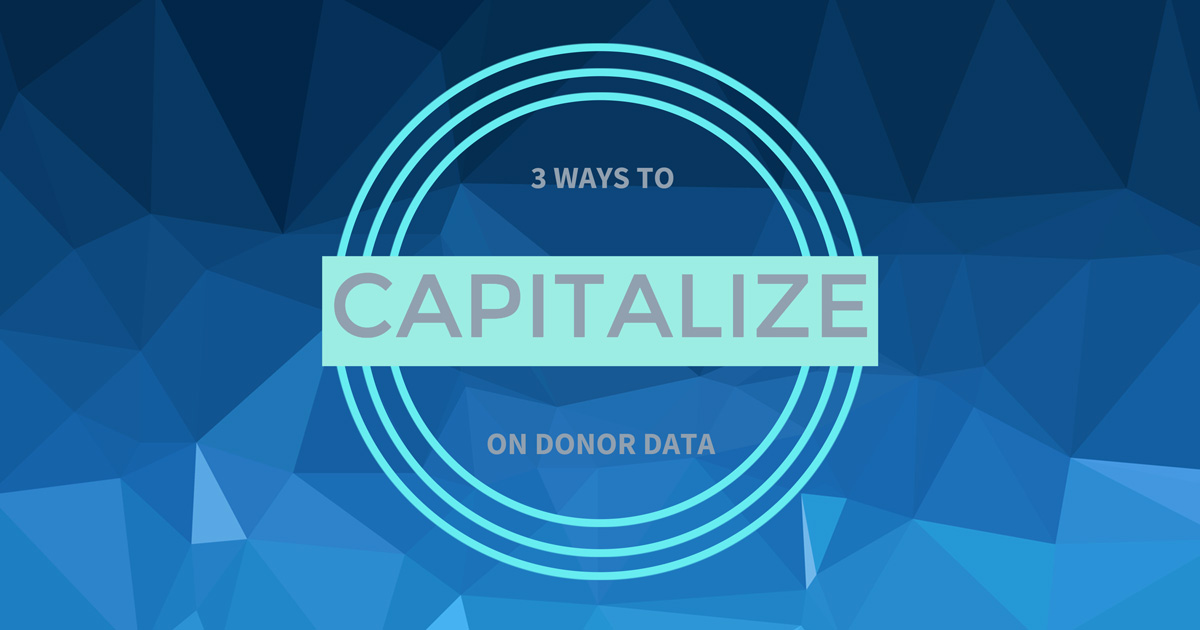 The year-end fundraising season is a time when nonprofits earn the majority of their donations. Because so many people are giving during this time, it can be easy to get lost in a sea of new and recurring donors.
Why is Fundraising Strategy Important?
Without a proper strategy, you're losing out on the opportunity to build relationships with your donors and receive larger, recurring donations. That's why it's vital that you use donor data so that you can capitalize on the information you already have. Fundraising Strategy helps your nonprofit:
Identify prospect potential.
Target your appeals.
Build multi-channel marketing.
Donor data can help you better engage your donors, leading to more dollars for your cause! Together, these strategies can help you do just that.
Let's get started with the first.

Identify prospect potential.
When it comes to your donor data, you have information on who your donors are and what they've contributed to your organization in the past.
You also have insights into their giving potential.
When sending your year-end appeals, you don't want to think about solely receiving a donation. You want to work on transitioning your current donors to higher giving levels.
To do so, you can perform prospect research on your existing contributors. Prospect research is the comprehensive analysis of your data to determine a donor's potential.
What Can Donor Prospect Research Analyze?
Past giving history.
Philanthropic involvement.
Real estate ownership.
Political donations.
Business affiliations.
Personal connections.
And more!
The point is that you can use your donor data to gain a holistic picture of who your donors are. Then, you can craft your year-end appeals based upon the potential that these donors have.
You may, for instance, want to include planned giving appeals to donors with planned giving potential. Framing your year-end ask around a legacy program can show your donors how they can continue to contribute to your organization and increase their individual impact.
The bottom line: Researching your donors can help you create year-end appeals based on their potential, so that you can transition them to higher giving levels.

Target your appeals.
Throughout your year-end giving season, it's important that you communicate with donors effectively. You'll want to personalize your appeals based on your donors' giving levels and potential, as discussed in the previous section.
With your donor data, you can use what you know about your donors to craft targeted asks and promotions that your donors will respond to.
How Can my Nonprofit Customize Donor Communications?
Personalize all promotions by using the donor's preferred name and title.
Send donors materials through their preferred communication channels.
Thank donors for past gifts.
Include personal notes from board members or front-line fundraisers when sending appeals to major donors.
While nailing down these basics is important, you can really capitalize on your donor data by creating targeted giving tiers.
Deciding how much to ask for is one of the biggest challenges for nonprofits. At the same time, direct asks tend to be the most effective.
You can craft recommended gift amounts by segmenting your donors and calculating average giving sizes for each group. Then, you can increase the size of each amount slightly and create tiers.
Your giving tiers will be even more effective if you pair them with a specific project (i.e. $50 will keep a homeless person warm during these cold winter months, $100 will feed a homeless person for the holiday season, etc.).
You can incorporate your giving tiers into your promotional materials and into your online donation form.
The bottom line: Use your donor data to send personal, targeted appeals that speak to your donors and ask them for specific amounts of money.
Build Multi-Channel Marketing
Your donor data can provide insight into which aspects of your fundraising are receiving the best response.
Most CRMs offer communication integrations so that organizations can track email open rates and other engagement along these channels.
The benefit of this information is that you can identify your strengths and weaknesses in marketing and create strategies to boost all of your channels.
After all, multi-channel marketing will allow you to reach more donors and maintain a firm base of communication as technology develops.
Example: #GivingTuesday Fundraising
For example, #GivingTuesday is one of the most prominent giving days in the year-end season, and it primarily takes place over social media and online giving channels. If your donors aren't particularly receptive to online appeals, you can advertise #GivingTuesday through mailed materials, directing donors to your social media pages. Executing a great GivingTuesday takes planning and attention. Check out our Free Giving Tuesday resources.
Doing so can help you reach donors where they already are while providing them with more opportunities for engagement.
The bottom line: Knowing your donors' affinities for certain communication channels can help you create a strong and diverse marketing strategy for your year-end appeals.
Are you ready to tackle the year-end season? Follow these tips to capitalize on your donor data so that you can raise more.
Learn How to Use Donor Data to Get Major Gifts!
Download our FREE 8 Best Practices for Major Giving E-Book