September 21, 2016 | Categories Donor Management, DonorPerfect Fundraising Software, DonorPerfect Update, Nonprofit Technology, SofterWare Products
DonorPerfect Debuts New Reporting Features!

DonorPerfect's powerful reporting and analysis features are about to get even better! Our brand new Report Center brings all standard and custom reports together in one place. Reports will be easier to organize, search, and run. You'll gain valuable insights from your data to make better strategic decisions.
All Reports in ONE Place
Access your reports by navigating to
Reports
and selecting the
Report Center
. Standard reports are in the
Financial Reports, Listings and Other Reports
folders. We'll convert any Custom Reports you had. These, along with those you create using the new
Easy Report Builder
are in the
Easy Reports
folder. Quickly find a specific report by using the search bar or the arrows above each column to sort. Save time accessing routine reports by clicking the star icon. This adds them to your
Favorites
tab. To run a standard report click the
Open
button.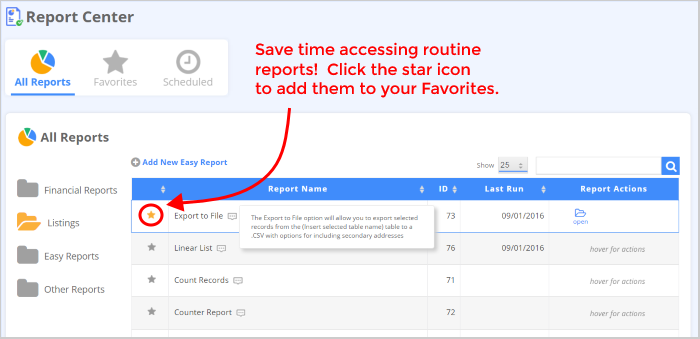 Create Your Own Reports With Ease
If the standard reports don't give you exactly the information you need, add a new custom report. Select the
Add New Easy Report
button from any screen in the Report Center. The
Easy Report Builder
makes it easy for you to create your own reports and get information in the way you want to see it. Simply choose the report type, then drag and drop desired fields to tailor it to your unique needs. Easy Reports will give you the ability to open, edit, copy, schedule (
coming soon!
) or delete reports from the
Report Actions
column.
See the Easy Report Builder in action in this video preview!
When Can I Expect the New Report Center and Easy Report Builder?
Following the next DonorPerfect Release on 9/26, we'll begin rolling out the new reporting features to clients throughout October.
When the new Report Center is activated on your system, we'll send you an email notifying you of the changes
.
Attend Our Reporting Pre-Release Webinar
Register for our FREE Pre-release webinar
to get a sneak peek at the new Report Center and Easy Report Builder. You'll also get a preview of the improvements we've made to simplify the
Import
process. The webinar runs on Friday, September 23rd from 1 PM – 2 PM.
Release Notes
The improvements to Reporting are not the only changes in this release. There are also changes to Importing, Refunds & Adjustments and more! Read about all of the enhancements and fixes in the
DonorPerfect 2016 Release Notes
in the Knowledgebase.