March 8, 2018 | Categories DonorPerfect Fundraising Software, Featured, Nonprofit Technology
Your Fundraising Events Technology Checklist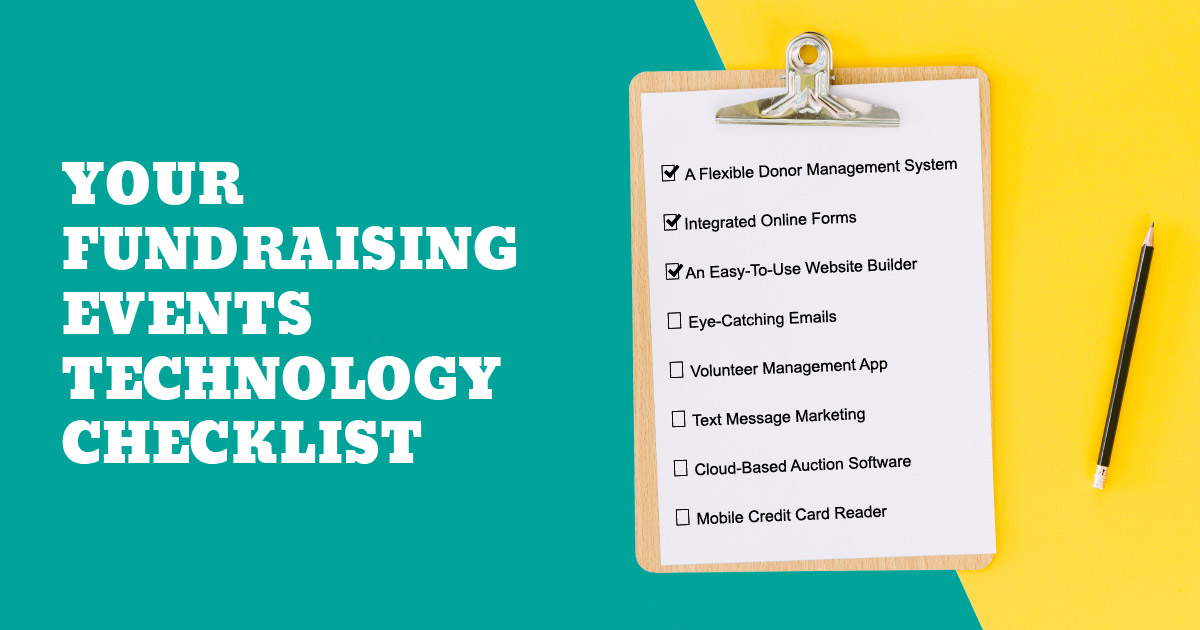 Tech tools can help you tackle biggest aspects of your event by saving you time, keeping you organized, and giving your guests easier ways to engage.
Make sure you're prepped for success at your next event with the 8 top tech tools you'll need to run your next great fundraising event.


1. A Flexible Donor Management System
Your donor CRM will serve as the destination for everything related to your event, including donor engagement and development once it's over.  
Your donor management system works as the central hub of your fundraising efforts by integrating with all of your fundraising, event, and auction tools. With all your data (donors, event guests, donations, & more) in one place, you can tap into guests' giving history through standard and custom reporting and keep your team up to date on who to engage personally at the event.


2. Integrated Online Forms
Integrated Online Forms help you collect guest, gift, and donor information and automatically organize it in your donor management system.
With integrated forms, you can let guests register online in seconds, with guest information including ticket purchases and seating added to your donor management system.
Make it easy for your guests to give. Mobile responsive forms allow supporters to give quickly from their phones or you can collect gifts on-site.


3. An Easy-To-Use Website Builder
A modern website is a powerful tool you can leverage to spotlight your mission, advertise your events, and raise more money for your cause.
With a template-driven website builder, there's no need for a web developer or designer. You simply choose a layout and use the DIY website builder to create a beautiful online destination where you can easily create and edit pages on your site.
For event planners, you can use your website to sell event tickets and merchandise online before, during, and after the event.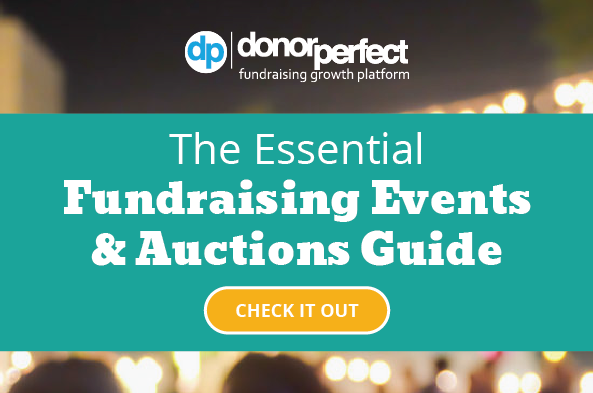 4. Eye-Catching Emails
Make your next fundraiser a hit with engaging emails you can create, send, and monitor with ease.
Your email marketing solution can help you advertise your event and keep guests up to date with professional emails.
Be sure to keep in touch with guests after the event with emails that motivate their continued support!


5. Volunteer Management App
Your event can't happen without the hands-on support, creativity, enthusiasm, and networking capabilities of reliable volunteers.
With a volunteer management solution, you can take the hassle out of scheduling by allowing volunteers to pick, change, and cancel their volunteer spots from a predefined schedule that immediately updates your staff of any changes.


6. Text Message Marketing
The power and popularity of texting can help you update, engage, and entertain your guests leading up to, and all throughout your event. Recruit volunteers and send event invites and updates, driving directions, and even share photos of the big night after the event.
With text message marketing, you can also gamify giving at your events with a goal meter, contests, raffles, and scavenger hunts.


7. Cloud-Based Auction Software
Auction software takes the hassle out of planning live, silent, and online auctions by streamlining and simplifying the all the moving parts you need to align to make it happen.
With an online auction management tool, you can empower bidders to use their smartphones, tablets, and bidding stations to browse your catalog, place bids, purchase items, donate, and check out.


8.Mobile Credit Card Reader
Any face to face interaction can turn into a moment of generosity for your cause. Fundraising events like auctions, races, your annual gala, or even a personal meeting with a donor can be the perfect time for a supporter to make a financial contribution.

A mobile card swipe device allows you to save time capturing and processing gifts, especially when it's connected to your donor management system.

---
Want to learn more about the essential tools you'll need to make your event a can't miss?