January 30, 2020 | Categories DonorPerfect Fundraising Software, Event Management, Featured, Fundraising Strategies, Social Fundraising
6 Ways to Build Excitement for Your Fundraising Event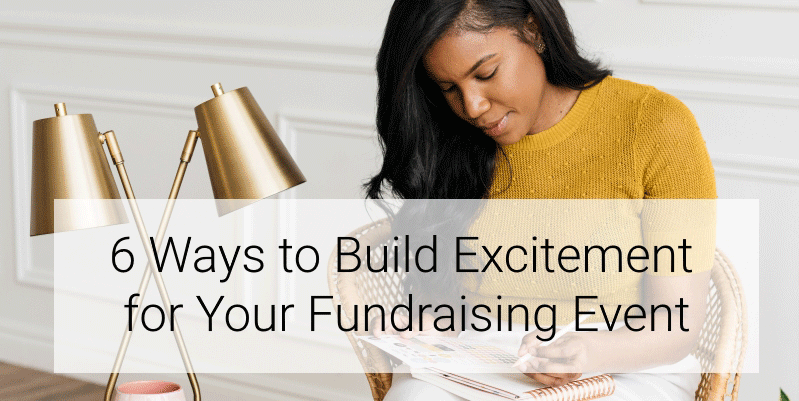 Events are the cornerstone of most fundraising campaigns. And why not? They are a fun, creative, and incredibly impactful way to bring in donations and engage with your constituents. Unfortunately, no matter how well-planned an event is, it is only successful if donors attend. How can you build excitement before your next fundraising event to ensure it is well-attended? We outline six ways to help you have a packed room on the big day.
1. Leverage the Power of Social Media to Boost Events
Social media is a powerful and effective way to motivate donors to attend your nonprofit event. 43% of people who interact with nonprofits on social media, attend or participate in charitable events in their community. (Source) Leverage the power of social media to boost event attendance by following some essential best practices. These include powering your posts with event registration forms and tagging high profile donors and event sponsors to help spread the word. Check out 12 Social Media Best Practices for Nonprofits for more expert advice, tools, and tips for social media success. Don't miss Tip #5! We share some FREE social media tools to help you create, schedule, and track posts.
2. Build Buzz in Advance of Your Fundraising Event with Facebook Live
Facebook Live is an excellent addition to your fundraising event promotion strategy. Use it to help event-goers get to know performers, speakers, and special guests by holding live Q&A sessions leading up to your event. Attendees will engage with your FB Live guests as they answer real-time comments and generate buzz around your event.
Get the most benefit from your FB Live video by hosting it directly from the Facebook Event Page you created for your event. You'll make it easier for attendees to order tickets and find other event details, such as the date and location.
Schedule your Facebook Live broadcast in advance so supporters can share it and boost attendance.
Extend the reach of your FB Live video by tagging any performers, speakers, and special guests that appear with you. By tagging them, you'll reach their followers and create awareness of your nonprofit's mission.
3. Draw Attendees with a Chance to Win FREE Tickets
Ticket or event-related merchandise giveaways are a great approach to promote awareness of your event, boost ticket sales, and collect email addresses, names, and other contact information from potential event attendees. For an enter-to-win type contest, create a signup form using DonorPerfect Online Forms. Then, share your form on social media or in one of these 25 places to increase entries. Be sure to tag any speakers or sponsors if their promotional items are part of your give-aways so their followers can share and enter your contest too. Keep your sweepstakes legit with a random name picker to select winners at random.
4. Keep Event-Goers in the Loop with Exclusive Updates
Congratulations! Your supporters have purchased tickets to your event and are attending. Now what? Follow up any event registrations with a short email series that builds event excitement and encourages attendees to invite friends and family to attend.
5. Engage Supporters with an Event Related Crowdfunding Campaign
If your event has a fundraising component attached, consider asking supporters to raise money on your organization's behalf leading up to the event. Using DP's Crowdfunding feature, organizations can create a main fundraiser page and invite their donors to develop their fundraiser pages branching off from that campaign. Donors then share their fundraising pages via email and on social media with their friends, family, colleagues, and connections to raise money for your nonprofit. Supporters will look forward to when you reveal your Crowdfunding Campaign the results during your fundraising event!
BONUS – FREE TEMPLATES!
Save time and hassle setting up your crowdfunding campaign. Use the FREE communication templates found in our Crowdfunding Campaign Template Pack.
6. Promote Early Registration Discounts to Create "FOMO"
Incentivize attendees to register early by offering an exclusive discount. By providing discount codes, you'll motivate them to register for your event earlier. Plus, once the early registration deadline passes or is "SOLD OUT," future attendees will be motivated to purchase any remaining tickets before they, too, are gone. Set a time limit, such as the first two weeks of your fundraising event registration or a ticket limit, such as the first 50 seats. DP Online Forms also lets you select the type of discount you want to offer, such as a percentage of tickets or a flat amount. Once set up, provide the discount code to the group of supporters you want to register.
Aside from a generic early registration campaign, you can also offer discount codes to select groups:
Offer an event discount code as a "VIP Perk" to loyal supporters, such as those in your monthly recurring program or major giving donors.
Send event sponsors a discount code to encourage their event attendance.
Do you have performers or speakers at your event? Provide a discount code for them to share with friends and family that want to see them perform.