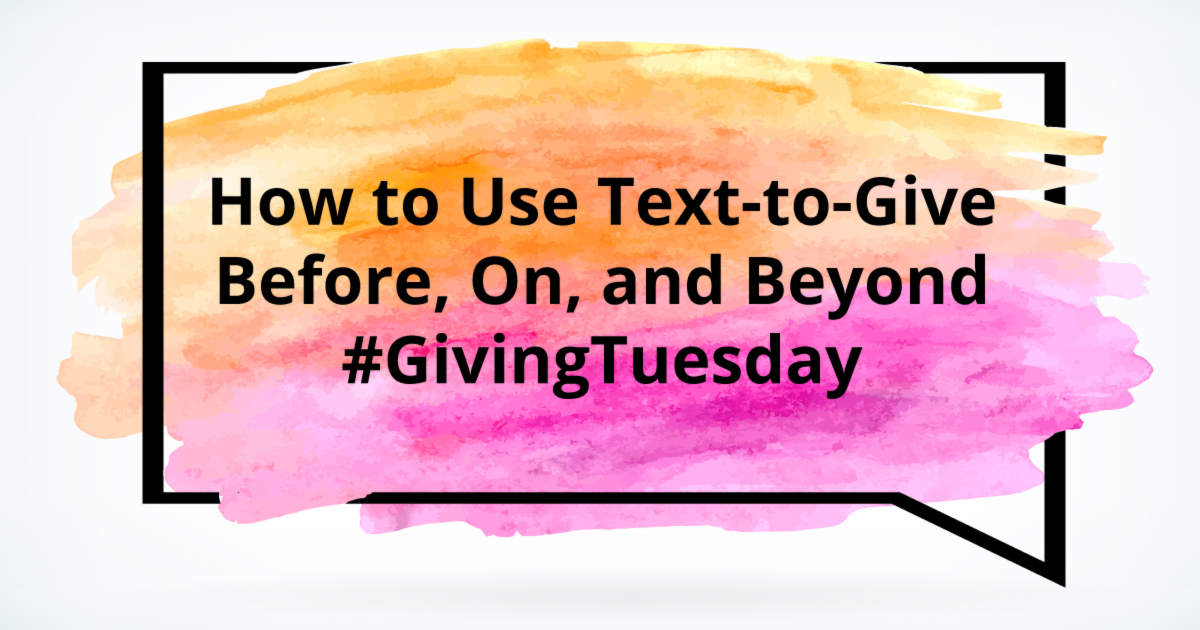 Whether you're communicating socially or for business, texting is a surefire way to ensure your message is received. 90% of text messages are read within 3 minutes of being sent.
More and more nonprofits are leveraging text as a quick and easy way to connect with donors. Text Giving Works. And on a day like #GivingTuesday with just 24 hours to raise funds, you'll want to be get in touch with asks and updates ASAP.
Make sure you're set for #GivingTuesday and beyond with DP Text, DonorPerfect's text-to-give tool.
Once you've got your tool, follow these tips to help you maximize your success.
BEFORE #GivingTuesday: Build your text-to-give list.
If you want to get the most out of a text-to-give system on #GivingTuesday, you should start to build a texting list now! Building your opt-in list early pays off later.
Your fall event is an ideal opportunity to start or grow your texting opt-in list.



How Can I get the Maximum Amount of Text Message Donations?
Make it easy for them to opt-in to your text service when they sign up for your event. Tell them how your text service is the easiest way to stay informed about event happenings and updates.


Leading up to your fall event, send texts that build buzz and excitement. You can tout coveted auction items, fun event activities, and decor and attire themes.
During the event, make it easy for people to opt-in when they check-in. Engage attendees with polls, quizzes, and live asks at the event.

Empower them to give via mobile and auto-combine donations and pledges with cash, checks and credit card donations into a real-time goal meter so they can see how close they are to reaching your event's fundraising goal.
The day before #GivingTuesday, send a preview text: 

"We know there are so many great causes to support on #GivingTuesday and hope the kids and families of the FAMILYLOVE Foundation make your list!"
ON #GivingTuesday: Ask and engage via text-to-give.
There are multiple ways to put text-to-give to work on Giving Tuesday.
On the morning of #GivingTuesday, text a reminder of the important work you're doing, along with a link to your donation page:
"The FAMILYLOVE Foundation has served over 300 families could not have done so without the support of donors like you. Celebrate #GivingTuesday by donating here: EXAMPLE DONATION PAGE LINK"
On #GivingTuesday, make sure you promote your custom text-to-give call-to-action on your social site, email campaign, radio and anyplace else you're asking people to give.
Your automated text introduction should show thanks and must include a link to your donation page: "The financial support you give to the FAMILYLOVE Foundation feeds hungry families in your area. Tap this link to donate: DONATION PAGE LINK"
BEYOND #GivingTuesday: Use text-to-give to thank your donors.
The day after #GivingTuesday, send a thank you message to your opt-in list:
"Thanks to everyone who generously donated to the FAMILYLOVE Foundation yesterday! If you didn't get the chance to give, there's still time to help us reach our goal of $20,000! Click here to give: DONATION PAGE LINK" (With DPText, you can pre-schedule a followup text to go out to your entire texting opt-in list automatically.)
GivingTuesday Follow Up Communication
Your #GivingTuesday follow up message should be doing double-duty by serving as a thank you to donors and an appeal to those who missed the chance to give.
In the weeks after #GivingTuesday, send a text message to tell donors how their money is being used
Be specific by including links to videos or stories on the people their donations have impacted directly.
In the months after #GivingTuesday, stay connected with your supporters by sending regular bi-monthly text messages inviting them to upcoming events and alerting them to all of the wonderful things you're doing.
Texting is a fast and effective great way to increase the crowd size at events and increase giving throughout the year!
Get Ready for GivingTuesday
Many nonprofits are left scrambling in the days leading up to one of the biggest days for donations. So just remember what your grandmother always told you: "It is never too early to prepare for GivingTuesday". DonorPerfect has you covered. Check out our free GivingTuesday Ideas resource center, which is chock full of email templates, social media strategy and great campaign ideas.