June 1, 2020 | Categories Coronavirus / COVID-19 Nonprofit Resources, DonorPerfect Fundraising Software, Featured, Nonprofit News
5 Ways to Check-In on Donors During the COVID-19 Pandemic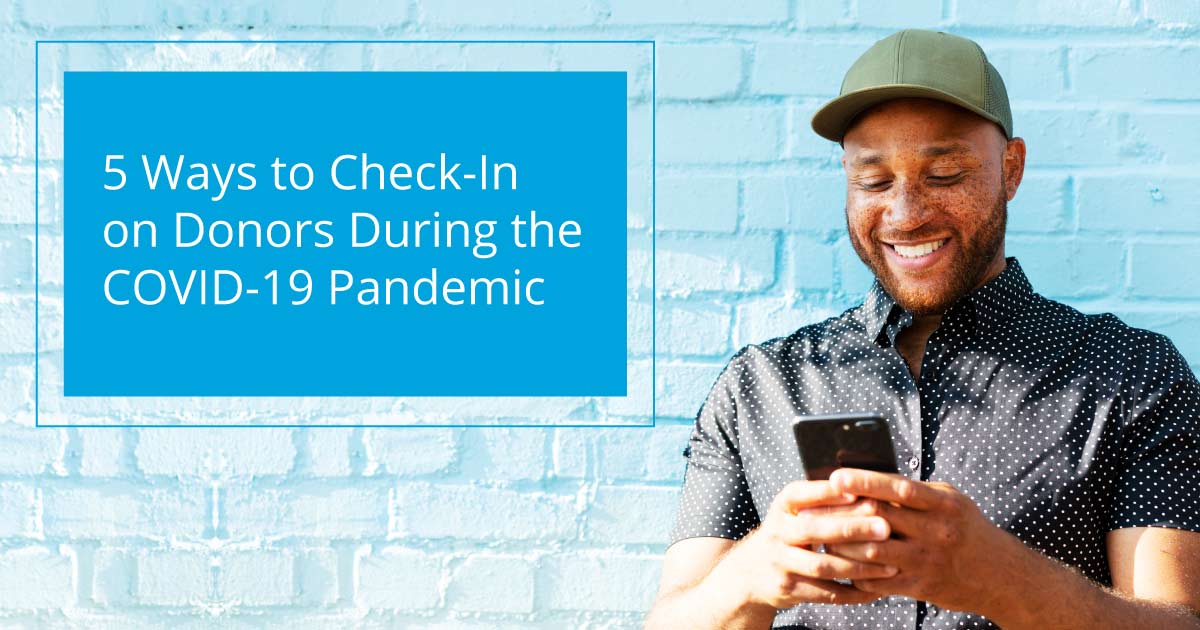 Being sensitive to the changing circumstances of many members of your donor community is a good thing. You're in the business of caring, after all. And even though the COVID-19 pandemic affects everyone, many donors are searching for ways to give back and be part of the good that's getting us through – you can offer that by providing them with all kinds of opportunities, from volunteering and crowdfunding to engaging on social media and, yes, even giving.
You know better than anyone that there are many ways to connect with donors besides asking for money, so be sure to mix in opportunities for your donors to give with check-ins that show how much you care about them.
Think about how your donors join conversations with friends, family, and colleagues each day on social media. Why not leverage social media the same way their loved ones do? Now is the time to flood your feeds with donor-centric posts that ask important questions, invite them to share their experiences, and provide them with the chance to pitch in whether or not they have the budget to donate right now.
Donor Communication Tip #1
Ask Them How They're Doing
How are you? While it seems like a simple question, it means the world to your donors. It lets them know that you're thinking of them and you genuinely care about them. This is the perfect move for social media. Consider using a custom graphic creator as recommended in the 12 social media best practices post above or shoot a video from home to make sure your donors don't miss your post. Once you publish it, appoint a staff member to check back throughout the day so your organization can engage and reply in a timely manner.
Donor Communication Tip #2
Offer Your Services If Applicable
Unfortunately, many of your donors may now need the services they've so graciously funded for others in the past. And believe it or not, just because someone gives doesn't mean they know how to go about applying for or obtaining your services.
Spread the word on social media and via email specifically offering your services to donors if they find themselves in need during this challenging time. Be sure to pair your offer with the appropriate program information, links, and contact instructions so their first experience as a receiver of your services is a positive one.
Donor Communication Tip #3
Call for Pre-COVID Pics + Stories to Share on #ThrowbackThursday
From hit spring events to tear-inducing impact updates, the memories you and your team create are just as fond to your donors. Invite them to join in on #ThrowbackThursday by asking them to share their favorite moments and photos related to your organization.
To make this an ongoing event, consider asking for specific throwbacks. Not sure what to say? Adapt these Mad-Libs style social media post captions to reflect your organization's name and details:
Join us for #ThrowbackThursday! Share your favorite photos from last year's [EVENT NAME].
It's #ThrowbackThursday! What was your favorite [NONPROFIT NAME] impact story? Share yours in the comments!
Check out this #ThrowbackThursday from our volunteer day dedicated to [WHAT YOU ACCOMPLISHED WITH VOLUNTEERS]. Were you there? If so, share your photos with us!
This #ThrowbackThursday, we'd love for you to share about your favorite memory with us. Here's one of our fond memories to get this started!
Donor Communication Tip #4
Implement "Tell Us" Tuesday
The news on TV offers little comfort these days, but that doesn't mean your community doesn't have some good news to share. Give your donors a moment to reflect on something positive by asking them to tell all the members of your community about their silver lining to staying in these past several weeks. (And of course, welcome photos!) You can ask them to tell you about all kinds of things, like their:
Favorite online recipes
Quarantine home hacks
Time-passing projects for kids
Homeschooling tips
Go-to #WFH looks
Four-legged coworkers
Be creative and have fun. Rally your staff members and start your list of ideas for Tell Us Tuesdays together as a team-building exercise that's centered around making your donors smile.
Donor Communication Tip #5
Give Them Opportunities to Help If They're Able
Although times are tough, your mission won't stop and you need critical funds to ensure your services can continue. Many of your donors would consider donating if you ask. They may not give as much and they may not give the same way, but don't ever doubt that they want to pitch in right now.
In addition to making a monetary ask, offer your donors opportunities to pitch in without spending a cent, like:
For those who want to give but are working with a tight budget, suggest budget-savvy options to support your mission in a big way, such as:
The most important element of your donor communications right now is empathy. It's not so much as about whether or not to reach out. Of course, you should! Your focus should be on how to reach out, which is why we gave you the examples above as well as The COVID-19 Fundraising Templates Kit for Nonprofits.
This kit is packed with ready-made communication templates you can send to your donors at this time to:
Promote your nonprofit's COVID-19 relief fund
Equip your supporters to fundraise for you
Invite donors to join your monthly giving program
Let guests know what they can do when your event's canceled
Alert guests to volunteer for tasks they can do right from their couch
All you need to do is fill in blanks like your nonprofit's name and details related to your mission and your COVID-19 communications will be set in no time.
Download your kit now!
COVID-19 Survival Resources Series for Nonprofits
The experts at DonorPerfect and special guest authors have created a series of free resources for nonprofits facing new challenges during the COVID-19 pandemic. Check out the Free COVID-19 Resources for Nonprofits section of our blog for more useful strategies.