June 18, 2020 | Categories Coronavirus / COVID-19 Nonprofit Resources, DonorPerfect Fundraising Software, Featured, Integration, Nonprofit News, Nonprofit Technology, Partners
Download Now: A Guide to Fundraising in the New Normal
Fundraising in the New Normal (Free E-Book)
Strategies, Templates, and Tools for Fundraising Success in a Post-COVID World
Download Now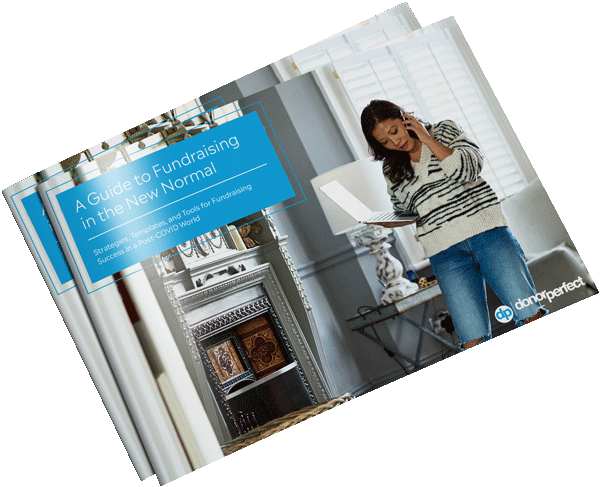 While COVID-19 has changed how you communicate with donors, it hasn't changed what your constituents want out of a relationship with your nonprofit. To succeed in fundraising in the new normal, you need to find new ways for supporters to engage with your mission and make them feel connected.
Remember, it's organizations like yours that showed us the way before COVID-19 and taught us how to give, help, and support those in need during this crisis. Now it's time for you to lead us into a "forward" that helps us create a more equitable future for everyone because just like always, we're following your example.
Here is just a sampling of the advice we gathered from nonprofit professionals like you:
Read even more practical tips from fellow fundraisers and the experts at DonorPerfect that will help you get your bearings in the new normal.
This helpful guide provides actionable tips and tools to help your organization succeed in the new normal. Below is just a peek at what you can find when you download the free PDF.
New Approaches to Fundraising + Donor Engagement
The most important element of your donor communications right now is empathy. Being sensitive to the changing circumstances of many members of your donor community is a good thing. You're in the business of caring, after all. And even though the COVID-19 pandemic affects everyone, many donors are searching for ways to give back and be part of the good that's getting us through – you can offer that by providing them with all kinds of opportunities, from volunteering and crowdfunding to engaging on social media and, yes, even giving. Your donors long to contribute to the good that's getting us through these uncertain times. Discover new ways to engage them in the world we live in today.
How to Create a Compelling Fundraising Video
The authenticity of a homemade, heartfelt video from your nonprofit will speak to the passion you have for your mission. This format will equip your supporters with short, but impactful material that they can easily share with friends and family and will highlight how important it is that we all work together to see it through the COVID-19 crisis.
Learn Nonprofit Video Best Practices:
Keep It Simple
Keep It Short
Use a Video Editing App
Tell Your Story
Show Your Impact.
Repurpose Videos and Pictures.
Make Your Ask Clear
Share Your Video
How to Move Your Fundraising Event Online
Canceled your in-person event due to COVID-19? Transform your face-to-face gathering into a digital event that's set apart by creative ways to engage donors and earn support for your mission. It's not impossible! Nonprofits just like yours are making the move to online nonprofit events and achieving great success.
You'll Learn Online Fundraising Event Tips and Strategies to:
Work with Event Sponsors to Keep Them Onboard
Ask Registrants If They'll Donate Their Tickets
Move What You Can Online
Acquire Auction Items
Promote Your Event
Manage Your Event from Home
Keep the Momentum Going Throughout Your Event
Celebrate Success with Your Supporters
Thank Your Attendees
How to Work from Anywhere
The new normal requires new tools that can help you effectively and creatively reach your donors no matter where they are. Check out these essential, easy-to-use tools and features.
Download your Free Guide to Fundraising in the New Normal
More COVID-19 Fundraising Resources for Nonprofits
The experts at DonorPerfect and special guest authors have created a series of free resources for nonprofits facing new challenges during the COVID-19 pandemic. Check out the Free COVID-19 Resources for Nonprofits section of our blog for more useful strategies.