70+ Standard Nonprofit Reports
Track your success with simple reporting.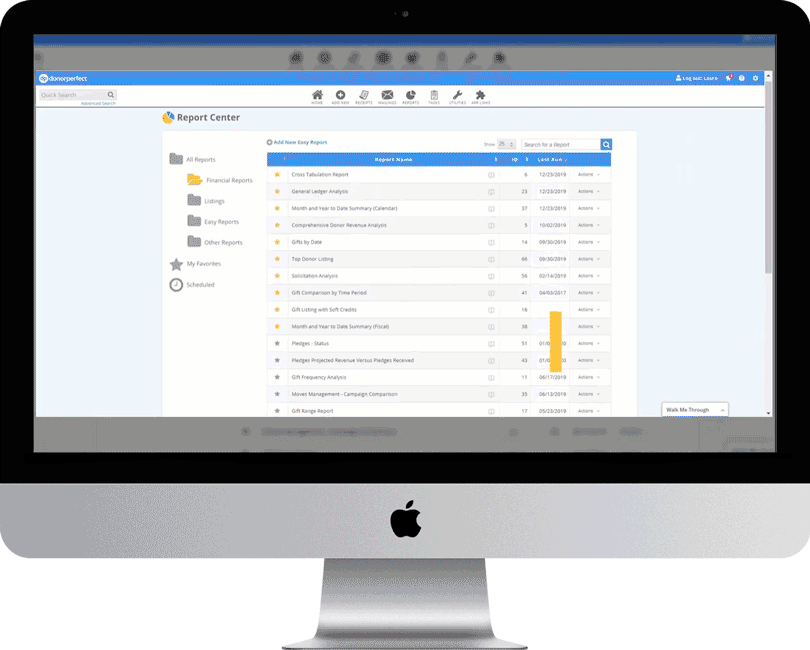 Click Image to Enlarge
Knowledge is power. That's why DonorPerfect is equipped with over 70 reports that present key data needed to make informed decisions for all your fundraising needs. DonorPerfect reports incorporate decades of feedback from everyday users and fundraising professionals to deliver an easy and reliable system.
With just a few clicks, you can discover more about your most important donor segments. Gather insight from key fundraising metrics using the Association of Fundraising Professionals Key Donor Metrics Report. Compare the cost-effectiveness and success of multiple events or solicitations using the Solicitation Analysis. Instantly find lapsed donors with the LYBUNT or SYBUNT reports, or pinpoint your donor MVPs with the Top Donor Listing. Whether you are reviewing the success of your last event or planning your next campaign, DonorPerfect will be there to help you make informed, strategic decisions.
Standard Nonprofit Report Features
Simple Filtering with Sidebar Options
Adjust report options quickly with sidebar filters
Create a catered report experience per user with custom sidebar options
Apply an unlimited number of user-defined filters to focus in on your next target
Standard Reports with Customizable Features
Quickly find statistics like donor retention and upgraded/downgraded donors
Discover your top donors or lapsed donors with a click of a button
Add more information to results with custom export templates
Have a special reporting need? DonorPerfect offers a custom report builder to address specialized reports specific to your organization's needs.
Learn More About 70+ Standard Nonprofit Reports